A family-owned company, Lone Star Bakery, Inc., is sitting comfortably in its third generation, with no signs of slowing down
San Antonio has been home to Lone Star Bakery ("Lone Star") for over 130 years, with its wealth of colonial history and heritage buildings, stone walkways, and bridges along the calm waters of the San Antonio River. Tracy Fletcher is currently the President of Lone Star and is the third generation in her family to be standing at the helm of the business. Tracy's grandfather, Mac Morris, Sr. purchased Lone Star in 1956, and served as President until he passed the presidency to his son, Mac Morris, Jr. in 1983. Mac Morris, Jr. then passed the presidency to his daughter Tracy in 2020. Throughout the years, other members of Tracy's family have contributed to Lone Star's growth. Tracy has worked alongside her mother, her sister, her uncle, and her cousin. Lone Star is a true family operation fueled by the core values of honesty, integrity, loyalty, and passion.
Sweet success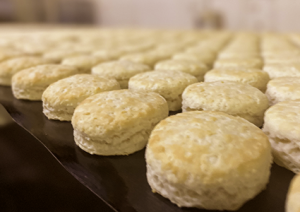 Beginning at the age of 16, Tracy spent many of her summers and vacations working on the product lines and learning the administrative side of the business. After graduating from Baylor University in 1996, she began working full-time at the bakery, and is grateful for the opportunity she has been given to grow with Lone Star. "Third generation businesses usually don't make it, so I'm really proud to still be here today," she elaborates, still amazed that what started out as a little red-brick operation in downtown San Antonio, only selling fresh produce and running a few small delivery routes to local restaurants, has grown into the business she is running today.
In 1987, Lone Star began construction of what is now known as Plant One, having outgrown the little red-brick building downtown. The site has seen myriad changes and additions over the years before finding a new direction in biscuit manufacturing. The bakery experienced exponential success with its biscuit business, which led to the decision to build Plant Two. Plant Two is one of the largest USDA co-manufacturing bakeries in the United States. Tracy continues: "So, here we are today with two plants – one predominantly makes biscuits and the other makes fruit-filled pies, meat pies, kolaches, and other baked goods."
Between the two plants, which are approximately 500,000 square feet combined, Lone Star houses a number of blast spiral freezers, 160-foot band ovens, spiral proofers, ambient spirals, sheeting lines, sigma mixers, roller bar mixers, and uni-fillers, as well as a 60-foot tunnel oven, kettle cookers, ribbon blenders, flow wrappers, and cartoning machines. Alongside its current operations, Lone Star is testing the implementation of robotics. "Our biscuit lines run 24-hours- per-day, 12 days straight, which makes it difficult to eliminate overtime, especially with the ongoing labor shortages. The Staubli robots that we are looking to introduce will simply replace the human element of our stacking, picking, and biscuit placing roles. It is a vision-based system and once they are fully functional, they will eliminate a lot of manual labor. With 1000 biscuits coming down the line at any time, the stacking, picking, and biscuit placing is hard work. Many of our employees have been doing that job for several years. We will be able to utilize their skills in other capacities throughout the bakery," Tracy explains.
Baked-in family culture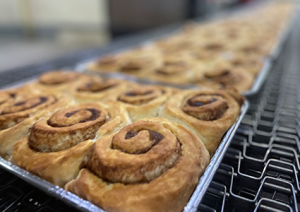 Lone Star's philosophy is to always maintain a safe working environment for its employees, who are its number one priority. "It starts at the top with our family and core values," Tracy confirms. Indeed, Lone Star has been very fortunate to have many employees who love the working culture at the bakery. Tracy understands that it is necessary to continue to empower people and keep them happy. The business employs people from many different cultures and strives to accommodate, and make them feel welcome and appreciated in the workplace. The bakery currently employs people from Afghanistan, and is proud to provide dedicated prayer space. Lone Star knows that without the dedication and loyalty of its employees, it would not be able to manufacture quality products.
Lastly, but equally important, are the many other products manufactured by Lone Star. Besides its reputation for delicious buttermilk biscuits, it also manufactures cinnamon rolls, kolaches (pigs in blankets), fruit-filled pies, brownies, and its popular bundt cakes. Lone Star is always looking for ways to expand its manufacturing capabilities to better serve its existing clients and attract new customers.
Running a bakery is not easy work, and can be quite challenging at times, but Tracy enjoys working in the industry. "I am so proud to be here. I love working with the people in the bakery business. This business has grown on me more and more over the years. I love how all of us here at Lone Star Bakery are like partners. We are family and everyone is important."