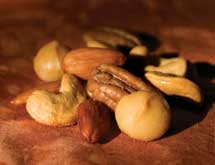 Gordon Liebl, president of A.L. Schutzman Co., is nuts for, well, nuts. In his 29 years with the company, Liebl has taken the time-honored roasting technique and once local business and expanded it into a large-scale manufacturing facility capable of fulfilling orders nationwide. He also expanded the company's offerings of nuts to include trail mixes, dried fruits, popcorn and even chocolate-covered products that today would make founder Alfred Lee Schutzman beam with pride.
Since leaving the world of banking and financial consulting to get into the snack food business, Liebl has steered the company toward substantial growth. When he took over A.L. Schutzman Co., the business was in a 9,500-square-foot plant. Now, the company is in a 260,000-square-foot facility that houses business development, production, packing and distribution offices. Liebl credits the growth and prosperity of this 89-year-old company to his hard-working employees. "We have dedicated, loyal employees who really care about the product we process," he says. It is these employees that, Liebl states, are trained with impeccable manufacturing practices that include GMA training. These hardworking individuals are sticklers for quality; they take their daily tasks very seriously and are masters of their craft.
"Our nut roasters are very experienced; most have been here for over, or about 25 years," Liebl says. "They treat roasting like an art form. They are like brew masters."
The company consists of upper management, product management, package development, supervisors, production and the distribution center. "There are no 'key' employees here," Liebl says. "All the employees play an integral role in the quality of our products and the satisfaction of our customers."
Products from the A.L. Schutzman Co. can be found in many local retailers. Brand offerings include such names as GK Select, GK Snacks, Golden Kernel, Savanna Orchards and Mallory's Finest. The company's private label division allows consumers to package the company's products under their own brand name.
Additionally, it has a division that personalize gift products by offering to print the purchaser's name/logo on, for example, a popcorn tin they wish to give out for occasions like the holiday season.
Community involvement is also something the A.L. Schutzman Co. feels strongly about. Not only do the  company donate several thousand pounds of their product to local food pantries, but it  also is heavily involved with the Journey House. Through corporate sponsorship, family bonds are strengthened by giving underprivileged children a chance to participate in organized sports that incorporates parental involvement.
Healthy Alternative
With the current market focusing on healthy snacks, Liebl decided to provide consumers with food options that support a healthy lifestyle. In fact, the A.L. Schutzman Co. was already making these types of snacks, so it created a new style of packaging to suit this growing market.
It began to pair nuts with dried fruit and provide other healthy mixes to their stable of snacks in addition to their already popular trail mix. According to Liebl, this move has brought the company great success as the public has flocked to its new line of healthy snacking choices. In the past five years, Liebl says nuts and some of the other products A.L. Schutzman Co. processes and distributes have been getting positive publicity. "With the nutritional value of almonds and the antioxidants in the dried fruit and dark chocolate, our snacks are a good choice for those concerned with their health," he says.
As the A.L. Schutzman Co. looks to celebrate its 90th anniversary in 2011, Liebl foresees company growth through an expanded client base and an increased volume of orders from existing customers