Covid-19 has affected every facet of life, and the restaurant industry has been no exception to that. With the impacts on the restaurant industry including closures for extended periods of time, restaurant owners have had to change and adapt to this new normal, and this has included incorporating new technologies into their business models to ensure survival. This has given rise to creativity and innovation within the industry about the different ways technology can be added to the business, including here at Camile Thai Kitchen.
Many restaurants pivoted during the first lockdown to offering takeaway and delivery services for the first time. For many, this posed a new challenge apart from changing the traditional dine-in business model – restaurants began using technology as an integral aspect of the business, making the jump to producing food for home delivery for the first time. This experience has proven the importance of technology and how it empowers a thriving and successful hospitality industry.
Some of the new technologies we have deployed over Covid include:
Virtual kitchens
At the end of May 2020, Camile Thai launched a lower-cost franchise model which targets venues such as hotels, pubs and restaurants that have been forced to close due to lockdown measures, but which have professional cooking facilities that could be converted into Camile 'cloud kitchens' for home delivery. Proven to be very effective for our business, it's a restaurant-model with no storefront, no tables and chairs – no internal seating at all. An abundance of existing restaurants and QSR (Quick Service Restaurant) chains are now venturing into cloud kitchens because of its operational efficiency and low start-up costs, which will continue to play a massive role in the food industry. Through this innovative new franchise programme – hotel, restaurant and pub owners can maximize their kitchen space and bring new options to market, increasing revenue almost immediately with easy-to-prepare menu designed for delivery.
Drone delivery
Drone delivery allows for us to reach a larger geographic swath of customers, and allows those customers to receive their orders in record time. The Camile Thai Kitchen takeaway chain has been one of the restaurants taking part in the Oranmore trial in Co. Galway, West of Ireland, operating from a food truck parked outside the Tesco superstore. We see drone deliveries as a welcome new way of cutting down on the delivery costs that are placing a heavy burden on restaurants.
Camile Thai charges customers a £2.99 delivery fee, but delivery by car or bike actually costs the company somewhere between £5.50 and £6. Then there are the high charges that restaurants pay to delivery companies like Deliveroo and Just Eat, around 30 per cent of an order. Camile Thai has its own fleet of delivery drivers in places like Dublin to try to lower its dependency on the fast food delivery aggregators, but drones could be another alternative as two drones could do the work of several drivers.
If drone deliveries were to become widely available, we can calculate that about 70 per cent of Camile Thai deliveries could be done that way. It won't be suitable for all deliveries — such as to busy urban streets or office blocks. Drones are ideally suited for suburbia, where people have gardens or driveways where deliveries can be dropped. The future of drone delivery is definitely revolutionizing the food industry, and we are happy to be part of that story.
Bringing robotics to restaurant kitchens
Looking forward in 2021, we're collaborating with a kitchen robotics team to automate many of our operations. We aim to continue to be ahead of the curve within the restaurant industry, which is why our strategy is so focused on technology. Automation within the restaurant industry will be extremely important moving forward, as many businesses begin to adopt technological changes. By partnering with kitchen robotics engineers to automate operations, we hope to process more orders faster, growing our guests as well as our business. Automation will also free up employees to focus on more pressing tasks including day to day operations and customer-facing work. Camile guests are the core of our business, and we are continually striving to make the experience better for them.
The use of technology in the restaurant industry will continue to enhance the customer experience, save money and speed up service. We are committed to playing our part in this evolution.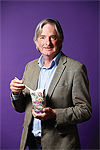 Camile Thai
Brody Sweeney is Founder and CEO of Camile Thai. With more than 35 outlets across Ireland and the UK, Camile is committed to empowering its guests through healthy dining experiences. The company's strategy is tech-centric with investments in drone delivery, kitchen robotics and cloud kitchens and is creating a new premium delivery dining sector based on health, sustainability and speed. Camile also strives to empower consumers to make sustainable delivery choices and was the first in Europe to introduce 100 per cent compostable delivery packing.
Investors include Web Summit founder Paddy Cosgrave, Andy McCue and Brian Caulfield.
For further information, please visit: www.camile.co.uk