Consumers know sweet potatoes are not just for the holidays or casseroles, and A.V. Thomas leads the industry in responding to the market with innovation and quality.
Sweet potato popularity is rising, with good reason: they are delicious, but they are also one of the most nutritious vegetables as an important source of calcium, potassium and vitamins A and C. And as the demand for tuberous root increases, A.V. Thomas Produce is dedicated to meeting those market requests with quality, fresh supplies.
Based in Livingston, Calif., A.V. Thomas Produce is one of the country's leading suppliers of fresh conventional and certified organic sweet potatoes and yams. The company has more than 3,200 organic acres for farming, and sources more than 3,000 acres of conventional product from local farmers.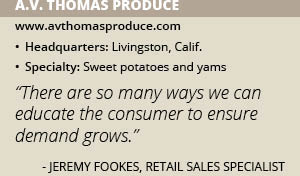 The company was founded in 1960 by Antonio Vieira Tomas, who immigrated from Portugal in 1920, and realized the soil in Livingston was perfect for sweet potatoes. Tomas started with 10 acres and one small packing shed. Eventually his nephew Manuel Eduardo Vieira joined the business, and brought with him a degree in Business Administration. Vieira bought the business from his uncle in 1977 and started the company on a path of substantial growth.
"It all started in 1960 with Antonio," says Brian Escobar, director of organic operations. "We are in the sweet potato capital of California, and California is the second-largest producing sweet potato state after North Carolina. In tonnage, California is the largest organic producing region in the United States."
A.V. Thomas Produce now has 32 buildings, seven packing lines, more than 600,000-square-feet of warehouse space and six loading docks, allowing it to load and ship product 365 days a year. As a leader in the industry, the company was the first to hand-sort sweet potatoes in the field and it was the first to make sweet potatoes available year-round. Today, the company continues to innovate by offering individually wrapped, microwavable sweet potatoes, as well as ready-to-serve trays of baby sweet potatoes. Its ongoing focus is to meet the evolving needs of the market.
"Our organic production in sales outgrew our conventional sales three years ago," Retail Sales Specialist Jeremy Fookes says. "We continue to sell more organic. The cost of producing organic is higher than conventional, but consumers have demanded organically grown product, so retailers reach out to growers and challenge them to grow more organic. For example, Costco now only carries organic sweet potatoes."
Varietals in the Thousands
A.V. Thomas Produce offers five different types of sweet potatoes and within each type there can be up to 3 or 4 different varieties:
* Red skin/orange flesh: Diane/Garnet/DS Reds/Burgundy
* Orange skin/orange flesh: Covington/Jewel/Beauregard—Most popular in USA
* White Skin/White Flesh: White Sweets/O'Henry/DS White/Bonita
* Purple Skin/White Flesh: Oriental/Murasaki
* Purple Skin/Purple Flesh: Stokes Purple, a patented variety grown exclusively by A.V. Thomas Produce
The company's dedication to quality and innovation has helped it maintain its leadership position. "The biggest thing we are known for is our customer service and attention to detail," Fookes says. "Additionally, we are very ingrained within the sweet potato industry. We have partnerships with Louisiana State University (LSU), and we are the first company they ask feedback from for varietal developments at duringthe advanced line trials. For example, the industry is looking for a new red-skinned type like Diane, we're looking for a replacement variety that will taste better, look better or yield better in the fields. In any given year there could be 3,000 different varietals to evaluate."
A.V. Thomas Produce also works with University of California, Davis (UC Davis) to maintain virus-free plant material. This ensures future seed material can survive for an extended period of time. The company works with the schools to develop potatoes with marketable attributes, like skin, sizing and physical appearance. "We give LSU and UC Davis the criteria," Escobar says. "They research for themselves and they do it for our industry. We are the voice that gives them feedback. They will breed different varieties together to make new varieties."
Consumer demand for sweet potatoes not only fuels varietal development, but also A.V. Thomas Produce's ongoing growth. "I've been here 14 years, and we've added additional storage, increased production acres, we've added harvesters, planters and packing lines," Fookes says. "Demand has continued to grow. We have ready-to -eat microwavable products, different sizes, baby sweet potatoes and fingerlings, although we haven't gotten into cutting or cubing them we provide the ingredient for many companies that do. We can pack our sweet potatoes in over 100 different ways."
He stresses that as consumer demand increases, A.V. Thomas Produce will respond with quality and innovation.
"We're always evolving," Fookes says. "Forecasting the next food trend is difficult, but we have many different varietals with different textures and flavor profiles. Sweet potatoes are a great ingredient to use to improve upon an existing recipe. They aren't just for Thanksgiving or Christmas anymore. It is an extremely versatile ingredient. You can make butter out of them. You can make noodles. There are so many ways we can educate the consumer to ensure demand continues to grow."