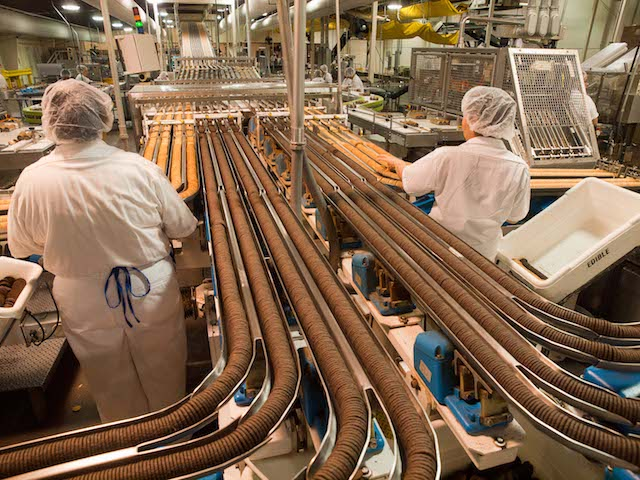 AbiMar Foods is developing a new plan to meet consumer demand for healthier and more nutritious snacks.
Responding to a growing consumer demand for transparency and healthier products, AbiMar Foods is developing a new approach to its business.
The Abilene, Texas-based food company is famous for a variety of cookies and crackers that fall under its two main brands – Lil Dutch Maid and Tru Blu. The company also has a growing private label business.
But recent health trends leaning towards clean labels and healthier ingredients has made AbiMar Foods take a closer look at tweaking its products and possibly creating a new brand.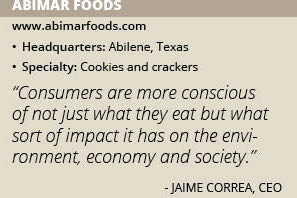 "It's not just about a better-for-you product," CEO Jaime Correa says. "It's also about sourcing it better. Consumers are more conscious of not just what they eat but what sort of impact it has on the environment, economy and society."
For example, the company is working on adding plant-based "green protein" products to its portfolio. It is also starting to manufacture cookies with fiber, low fructose corn syrup and non-GMO ingredients. Some of these alternative ingredients are already available to company's private label products.
"I would say that by next year, some of that may become part of the Lil Dutch Maid or a different brand entirely," Correa says. "It has yet to be determined."
In addition to alternative ingredients, AbiMar Foods may also look at the way it distributes its products. Today, roughly 40 percent of its product moves through a variety of distributors and about 60 percent goes directly to retailers. "The way customers are buying is also changing," Correa adds. "The business-to-consumer is a growing trend."
Variety of Options
AbiMar Foods manufactures around 60,000 metric tons of cookies per year. Its product line consists of numerous varieties and sizes. These include crackers, wire cut cookies, rotary cookies and cream cookies.
Its chocolate chip, coconut macaroon and oatmeal wire cut cookies are made from recipes that have been handed down for many years. Its classic die cut cookie is famous for its old-fashioned appearance and comes in varieties that include the almond windmill, coconut bar and butter cookie.
The sandwich creme line offers a wide variety of flavors such as vanilla, peanut butter, lemon, chocolate, duplex, assorted and strawberry. All of AbiMar Foods' cookies are produced under stringent quality controls.
Ingredients are controlled under strict FIFO (First in First Out) guidelines to maintain freshness and help extend the shelf life of the finished product. Many ingredients are stored under temperature control to ensure the highest quality consistency.
A Strong Partnership
Founded in 1992, AbiMar Foods was previously known as Fehr Foods, Inc. Its manufacturing facility initially consisted of one shift, two ovens, three customers and only about forty different products.
Since then, the company has grown in a variety of directions. It serves customers all over the United States and its brands continue to gain national recognition. The company is currently exporting to Mexico, Central America and the Caribbean. Its customers vary from local and regional distributors to the Fortune 500 retailers.
An important part of AbiMar Foods' growth comes from its private label business. In October 2010, the company was acquired by Grupo Nutresa, one of the largest food groups in South America.
"We want to have stronger brands with a stronger portfolio that complements our business model – to provide higher value brands," Correa says. "Grupo is helping AbiMar with this and Grupo is also learning from Abimar's business model."
AbiMar is now able to take advantage of Grupo Nutresa's more than 100 years of experience in the food industry. AbiMar Foods believes that the support from Grupo Nutresa makes it well suited to face the challenges in a competitive industry that is always changing.
"The cookie division of Grupo also has a strong R&D department that supports AbiMar expansion by innovation," Correa adds. Grupo Nutresa, based in Colombia, has accelerated its expansion process by acquiring companies with significant tradition and recognition in a strategic region.