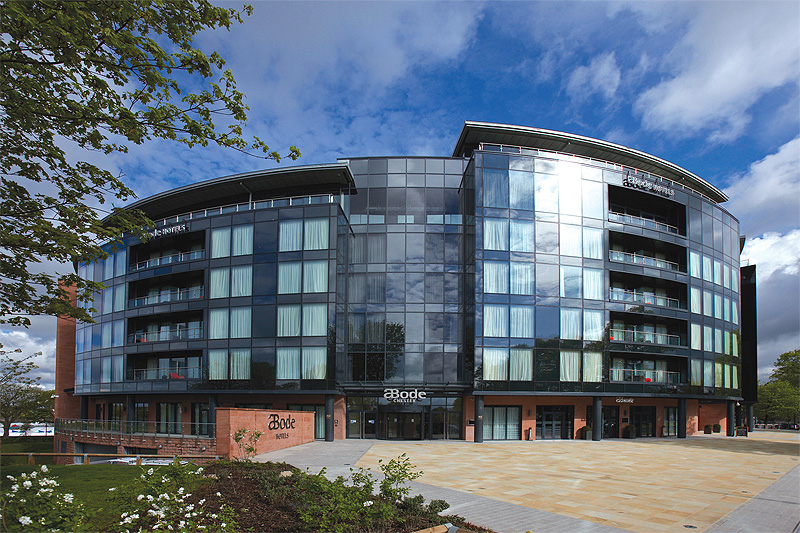 Reclining & dining
With the successful launch of one hotel and the imminent opening of another, ABode Hotels has achieved a rapid rise to become one of the UK's leading hospitality brands
Launched in 2005, five cities around the UK currently contain ABode hotels: Exeter, Canterbury, Chester, Manchester and Glasgow. Exeter was the chain's original hotel but the most recent location – and now ABode's flagship – is Chester, which was opened in April 2010 as the company's first entirely new build. It offers 85 guest bedrooms, a fifth floor Michael Caines restaurant with magnificent views and, contrary to the chain's other outlets, contemporary interior design.
Managing director Nick Halliday talks briefly about how Chester has fared since its opening: "It has been a very good first year, all things considered. May is an important month in Chester because is it sees the start of the racing season so it wasn't the easiest time to launch a hotel, but we made sure to gear up through April and embraced the challenge. The finished product is delightful, in particular the restaurant. It is heavily glazed, possesses a Manhattan-styled atmosphere, and offers diners the opportunity to sit internally or externally on a terraced area."


Prior to the development of Chester, ABode's hotels maintained a traditional feel with older buildings being purchased for conversion; both Exeter and Canterbury, for example, are developments of buildings hundreds of years old. Chester, however, was the company's first newly constructed building, giving the opportunity to take a new approach and consider the brand values with a blank canvas.
As Nick highlights, however, it remains truly ABode despite its contemporary design: "Chester typifies what owner Andrew Brownsword likes with regard to both location and development. Much of our proposition for an ABode is based on opening in cities and specific locations where Andrew Brownsword himself would like to stay. We want our customers to have particular favourites when staying at ABode but yet to feel a certain synergy across group. Whilst Chester may be modern by design and different in feel from ABodes elsewhere – it is still has common threads that clearly identify the experience as being part of the ABode group."
Highly respected chef
One core feature of this ABode character is the presence of a Michael Caines restaurant. As an awarded and highly respected chef, the partnership between Michael Caines and Andrew Brownsword has helped the brand establish a singular identity that marks it out within the market. "If we have a unique selling proposition at ABode, it would have to be the Michael Caines dining and drinking experience," comments Nick. "We have a range of casual dining experiences such as the Well House in Exeter, a traditional local pub positioned at the heart of the city. Complimenting that is the Old Brewery Tavern in Canterbury which is recognised for its home cooked food and local ales. The top tier must be the Michael Caines fine dining restaurants."
The spirit of maintaining individuality within an identifiable brand stretches to the restaurants as well. All menus contain signature dishes from the famous chef and these form the basic dishes, but each executive chef puts their own mark onto the menu by making use of regional ingredients to cater for the local market. Through selecting the best of local produce and blending that with basic dishes on offer throughout the brand, a hybrid menu unique to each hotel is created and helps promote the concept of favouring one ABode hotel over another.
"As long as we continue to market proactively and appeal to local audiences, there is consistent demand for the product in each hotel," explains Nick. "Operating both hotels and restaurants means you have to bring the administration of both down to basics whilst keeping every element busy. You need a certain level of skill to successfully run fine dining and by appealing to a localised audience you can create a continuous level of supply and demand. This is supported by certain centralised functions such as online reservations to help streamline the operation."
This approach to localisation helped ABode weather challenges throughout the recession. Nick explains: "In 2009 we were aware that the economy would face tough times so we were pro-active in ensuring our flexibility of business, controlling cost according to any drops in demand. On a marketing front we chose not to necessarily cut cost but to proactively pursue local marketing campaigns, ensuring that each element of the hotels stood out as being local ambassadors. Doing this meant we capitalised in 2010 and with momentum picking up during the last quarter, we are looking at 2011 with cautious optimism."
Developments
One of the most important developments on the horizon is the opening of a new hotel in Salisbury. In design it returns to the cathedral city style successfully operated in Exeter and Canterbury. The hotel will contain between 40 and 45 rooms, a Michael Caines restaurant and a champagne bar, but will offer the quality guests expect of an ABode location. ABode has also recently launched a line of townhouse hotels named Baby ABode, the first of which has been opened in Chelsea, London.
Nick concludes with confidence about future prospects for ABode: "We are trying very hard to build a national brand that has UK recognition in both corporate and leisure markets, and I believe we are approaching that rapidly. This is one of the most important aspects of our ten year plan, and I believe that within the next few years we will successfully achieve it."