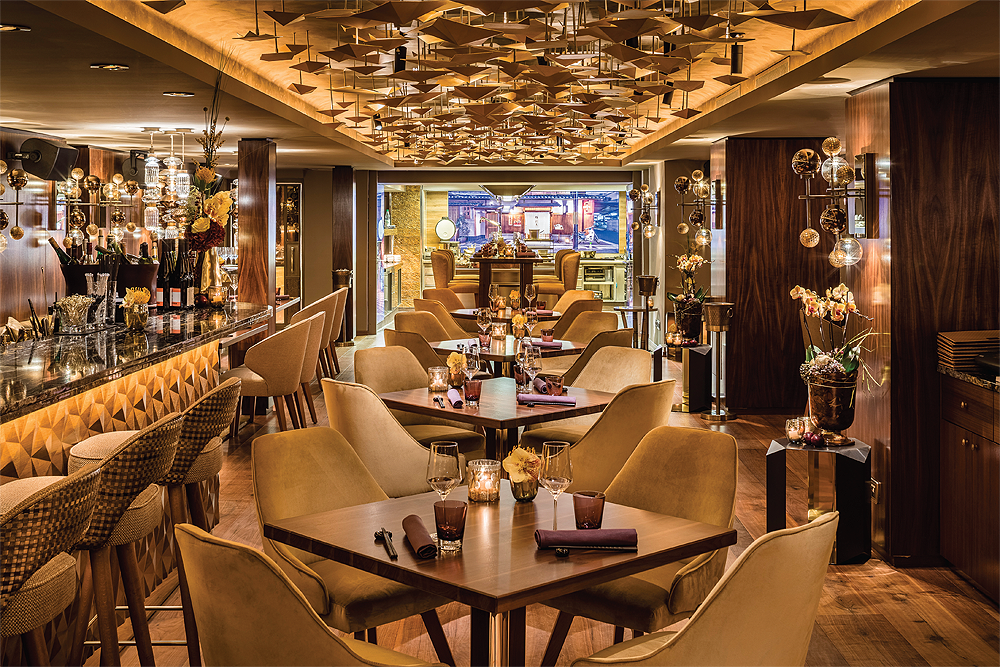 Augmented hospitality
Accor's energetic acquisition policy has enabled the hospitality group to grow the world's best luxury brand portfolio, with the company continuing to create innovative food and beverage concepts all over the world
The fact that people have begun to realise that Accor is no longer the company it used to be, but a more luxury-focused hospitality group, means that the organisation's efforts in the past few years
have allowed it to pursue the course it aspires to follow. "We are actively building our portfolio of luxury brands and the major highlights for us in the last 18 months have been related to the integration of the new names we have acquired," begins Martin Jones, Vice President, Food & Beverage.
Accor's policy of bringing new brands under its management has seen the company acquire prestigious groups like Mövenpick Hotels & Resorts and Orient Express, while also taking a minority share in businesses such as Banyan Tree, 25hours Hotels, and Rixos. In addition, Accor took to strategically expanding in the US by virtue of acquiring a stake in SBE – the group that operates the Delano, Mondrian, and SLS brands on the other side of the Atlantic.
"Due to luxury taking over a dominant part within the business, we had to change the way we do business, in order to meet the expectations of our targeted group of consumers," Martin discusses. "There are two main areas we are trying to develop our capabilities within – namely, guest satisfaction and food and beverage proposition. Thanks to the acquisition of our new hotels, we have been able to create several strong concepts, which we would happily export to hotels and companies outside the Accor group. Such concepts include Isokyo – an amalgamation of Istanbul and Tokyo – for the Raffles brand, which is a Pan-Asian restaurant, showcasing the best the cuisine the East can offer, and NIKKEI NINE, which is a new concept in Fairmont Hotel Vier Jahreszeiten Hamburg."
Recognising Accor's leading role in food and beverage, Martin has decided to organise the inaugural edition of a conference called Service Included, which will be held in Istanbul in 2020. He elaborates: "I want to get everyone who is responsible for our progress in the field together under one roof for the first time ever. This includes the directors of food and beverage, the executive chefs, the general managers, as well as our procurement teams. It will be an event that will set the stage for where we are at the moment and how we are going to move forward. I am really looking forward to it, because the conference promises to be very exciting, offering education and networking opportunities, but also providing inspiration for our people who need to understand that we are now a major player that is on its way to achieving even greater success."
Martin's clear vision of creating excitement around Accor is also informed by his desire to retain as many of his employees for a long time as possible. "The biggest challenge in food and beverage is talent shortage. Some of the jobs we offer, are no longer desirable, because young people are mainly interested in IT-related professions and executing less physical tasks. As a result, we need to
become the employer of choice by showing existing and prospective members of staff that we have exciting projects going on, which can really help them grow professionally, while working for some of the best luxury brands in hospitality.
"I would also like to mention that for three years now, I have been working hard with our global procurement team and our key partners to make sure that we maintain solid win-win relationships. It is my firm belief that we should be treating these companies as partners and not merely as suppliers. We want to grow with their help, but at the same time, we are willing to provide them support in their own business development," Martin points out.
Internally, Accor has also concentrated on operating in a sustainable manner, taking upon itself the duty to raise awareness of working with consideration for the environment. "We have a department called Planet 21 that is looking at all aspects of sustainability. For instance, we apply a sustainable seafood approach, strive to reduce water usage and food waste, and encourage buying from local producers," Martin remarks.
While vegetarian and vegan options have become a staple on the menu across all of Accor's restaurants, the company is currently exploring the opportunity to introduce a wider range of bio-foods to its food and beverage concepts. Martin reveals some of the other experience-enhancing plans the company is hoping to surprise its guests with: "We intend on introducing a wine-by-the-glass programme for all of our luxury hotels in Europe this year. The growth of wine consumption is incredible and we feel that consumers will be pleased with the opportunity. Notably, we would like to focus on bringing wines from companies operating in countries that are probably not so well-exposed in the market, including Croatia, Hungary, and Turkey.
"Furthermore, we will continue improving our breakfast offering, because it is directly linked to guest satisfaction levels and we are also trying to craft a more exciting bar experience, being driven by the importance of the social aspect of being in a hotel," he adds. "Aside from that, the integration of our new brands continues full steam ahead. We have a lot of plans for Orient Express, while making sure that a brand like Mövenpick Hotels & Resorts, which has always been famous for its food and beverage proposition, remains relevant to consumer needs today. I am confident that the dynamic future that awaits us will be exceptionally fruitful for the company."