Warehouse club stores such as Costco, Sam's Club and BJ's Wholesale Club aren't known for their visual appeal. Customers go there to buy large quantities at low prices. But products still need to stand out to shoppers in an eye-catching way.
Accurate Box Company helps food and beverage companies break out of the brown-and-boring mold when it comes to packaging products for club stores. Based in Paterson, N.J., it is one of the largest independent box manufacturers of litho-laminated packaging in the United States.
"When displayed on a pallet in a club store, packaging needs both eye-popping graphics and structural strength," says Mark Schlossman, Accurate Box's executive vice president and COO. "And the graphics need to be extremely consistent over the course of a print run because customers can see differences from package to package when displayed all at once."
Accurate Box uses lithography – a type of photo-quality printing on high-performance corrugated packaging materials – the only kind of printing the company does.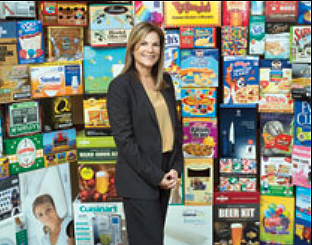 "We're a printer first and foremost," Schlossman says. "Our expertise is printing and creating unusual styles of corrugated packaging – things that are different than your standard product."
For example, the company is branching out into creating novel packaging for quick-service restaurant chains. Bojangles, a Southeastern regional food chain, has been using Accurate Box for packaging multiple items in one box with a handle – called a tailgate box. The packaging needs to be stronger because it carries more weight, and it needs to look nice because it will likely be displayed at gatherings.
Family Business
Accurate Box is in its fourth generation of family operation. Samara Schlossman, the great-granddaughter of the founder, joined the sales and marketing team a few months ago. She says it's something she always wanted to do. "In my mind, it wasn't a question of 'if,'" she says. "It was a matter of 'when.'"
Charlie Hirsh, Samara's grandfather, helmed the company for decades before passing its primary leadership to his daughter, Lisa Hirsh, in the mid-1990s. Charlie is semi-retired but remains active in the company as chairman of the board.
After marrying Lisa, Mark Schlossman, a then-radio ad salesman, was hired by Charlie Hirsh to work in his sales department. "Charlie figured if I could sell air, I could sell empty boxes," Schlossman jokes.
"In many family businesses, there can be control issues," Schlossman says. "But Charlie could write a book about successfully transitioning a family business to the next generation."
Maybe it's because Charlie didn't have the luxury of a transition when the company was passed to him. His father, Henry Hirsh, started a folding carton company in Newark, N.J., in 1944. When Henry died in 1964, Charlie had to take over the business quickly, which at the time was small and struggling. It was Charlie who significantly developed the company and made it successful, particularly by putting graphics on corrugated paperboard through the litho-lamination process.
Accurate Box started experimenting with litho-lamination in the 1970s – at the time, it was being produced primarily in Europe and a couple places in the United States. In 1986 Accurate purchased one of the first Asitrade inline corrugator/laminator in the U.S. and made a name for itself as a pioneer in this type of packaging. "While litho-lamination is common now, it was very unusual when we started," Lisa Hirsh says.
In 1983, the company had outgrown its original location and moved to its current nine-acre, 300,000-square-foot facility in Paterson, N.J., about 15 miles from Manhattan.
Today, the plant converts 30,000 tons of paper into 150 million blanks a year. About 85 percent of Accurate's precision-engineered boxes go through customers' high-speed automated filling systems.
Recent Growth
Under Lisa Hirsh's direction, the company has experienced considerable growth. "In the last six years, we've come close to tripling the size of the company, which is remarkable for a mature, 70-year-old business," Schlossman says.
Hirsh also oversaw a recent three-year modernization of the plant, which included increasing its capacity with the purchase of additional equipment. The company has doubled the number of shipping bays in the past five years – from five to 10.
Accurate Box has been heavily investing in its facility for more than two decades now while many of its competitors have been gobbled up by larger players in a consolidating industry. The buyers of packaging products have also been consolidating, and according to Schlossman, their spending on packaging has likewise gotten much bigger.
"At one time it was hard to convince the large buyers to give us an opportunity because we were not an integrated packaging company," Schlossman says. "Today, we get the opportunity to shine," largely because the company has the best, cutting-edge equipment and a well-trained, dedicated workforce. In fact, Accurate Box has convinced some pretty prominent customers, including Kellogg's, PepsiCo and WhiteWave Foods.
Accurate Box also has the ability to include specialty applications to any package. It invested in automated equipment that can apply windows, date codes, promotional information, handles, coupons and double-sided tape. In addition, its machines can provide many creative gluing options.
Many Niches
Accurate Box has also developed a niche business serving microbrew beer companies. "Microbrews are known for their packaging graphics, and to compete, they need those graphics to be sharp and bright," Schlossman says. Customers include F.X. Matt, Harpoon and Vermont Hard Cider.
The company is also branching out beyond food and beverage packaging and into e-commerce packaging for higher-priced apparel. This market utilizes its high-quality graphics inside the box to create an enhanced customer experience appropriate for the cost of the items. Accurate's customers in this niche include Hanky Panky, Marc Jacobs and BaubleBar.
Still, food and beverage packaging remains the company's bread and butter, and despite its recent growth, according to Schlossman, its size remains its strength. "We're large enough to support the volume of big users of packaging," he says, "but we're small enough to be adaptable to customers' needs."