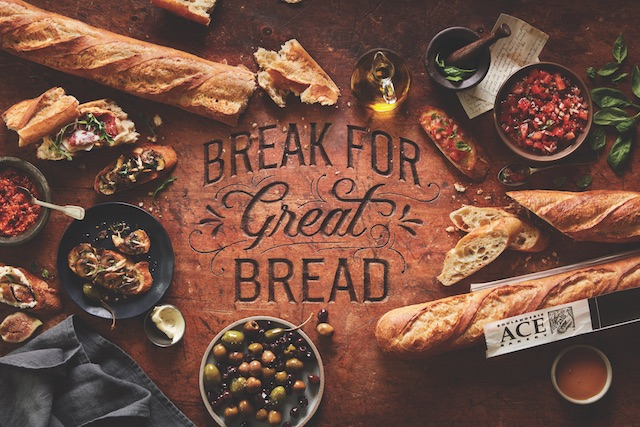 ACE Bakery of Weston Foods produces artisan baked goods while staying true to its principles.
ACE Bakery of Weston Foods doesn't take the word "artisan" casually. "The biggest thing we pride ourselves on is the quality of the product," Category Director Candice Carey says. "A lot of people call themselves artisan bakers but not everyone applies strict rules on how they apply the word artisan."
Artisan refers to food produced by non-industrial methods. Processes and flavors are allowed to develop slowly and naturally in artisan baking.
Martin Connell and Linda Haynes founded ACE Bakery in 1993, going from a hobby to a small bakery in downtown Toronto to a 46,000-square-foot facility with 300 employees and sales of almost $50 million. In 2008, a Chicago-area equity firm bought ACE. Weston Foods, in turn, purchased ACE in 2010 for $110 million.
The company distributes its goods through Loblaw grocery stores – which is owned by George Weston Limited – along with restaurants, gourmet food shops and retailers in Canada and the United States.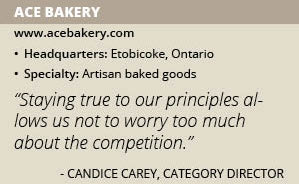 ACE produces artisan products including baguettes, loaves, buns, rolls, bagels, crisps, toasts, croutons, granola and frozen goods. While ACE bakery items for both Canada and the United States are artisan crafted, their recipes can vary depending by what side of the border they are intended for.
"We make products to fit the palates of both countries," Carey explains. "Sometimes U.S. consumers like a little more sweetness on the edge of their bakery product while Canadians might want a little more developed crust." Master baker Marcus Mariathas has been with ACE for 24 years and helps the company maintain its four pillars while developing products, Carey says. "He is constantly competing around the world," she says. "Recently he competed in the Masters de la Boulangerie in France."
Four Pillars
ACE Bakery adheres to four principles or pillars to maintain its reputation for quality baked goods. They are:
* Time – ACE baked goods take from 16 to 48 hours to make it from starter dough, to the removal from ovens. "It develops the flavor in our products," Carey says. "We allow the doughs to ferment to develop the intensity of the flavor and the smoothness of the flavor. We go for an open, airy crumb structure."
* Clean and simple ingredients – ACE does not use fillers or preservatives. "You can find every one of our ingredients in your kitchen," Carey says. "Flour, water, salt and yeast. Cranberries, walnuts and raisins are examples of other ingredients. We are very proud of how clean our products are."
* Hand-crafted starters – ACE has nine starters and will use two or more in any given product. "One of them is over 70 years old," Carey says. "Our team in the bakery feeds it daily." Bill Smilis, director of manufacturing adds, "It makes the bread special in terms of texture, quality and taste."
* Stone deck baking – bread items are baked directly on a stone deck rather than in pans. "It allows for even distribution and allows the crust and internal crumb to be developed and have a really uniform bake throughout," Carey explains. "It also helps seal in all the flavor."
Let Them Eat Bread
Recruiting quality employees can be a challenge, particularly in rural Gaffney, S.C., where ACE opened a plant in 2013 and then invested almost $32 million to expand and upgrade in 2017. "We continue to add production lines in the bakery and support staff," Smilis says. "We have had to look at wages and benefits and make sure we are in line with the rest of the market."
The founders of the company allowed workers to take home bread. That's a perk Weston Foods has continued at its locations, offering up to two free loaves per day. "It's a small perk but impactful," Smilis says.
While there is competition, ACE doesn't spend much time worrying about it. "There is always someone nipping at our heels," Carey says. "As we grow, staying true to our principles allows us not to worry too much about the competition."
ACE has ventured into sub categories such as mini crisps – snacking crackers in the United States – and granola. Like the company's other products, these items are hand crafted with clean and simple ingredients.
Over the last 15-plus years, the overall bread market has been flat or stagnant, Carey says. "As each year passes, the population changes in what it is looking to eat," she says. ACE, however, continues to grow.
Having celebrated its 25th anniversary in 2018, Carey is most proud of the ways ACE hasn't changed in spite of increasing in size. "We have not compromised to grow," Carey says. "Regardless of commodity pressures or trends, we have stayed true to ourselves."