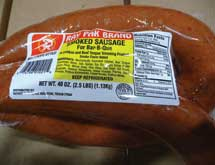 Action Meat Distributors Co.
Action Meat Distributors Co.'s fleet of trucks is constantly ready to delivery fresh meat products to customers across Texas.
"We might close a total 100 hours a year," says Lantz Howell, a co-owner and vice president of sales and marketing. "We're always open, always shipping, receiving and taking inventories."
The company carries a large variety of inventory in meat, poultry, cheese and seafood products purchased from producers across the United States and from as far away as Australia and China. Customers include supermarkets, food service providers, restaurants and processing facilities including major Texas markets such as Dallas, San Antonio, Austin and Action's home base of Houston.
One of Action Meat Co.'s largest clients is Hartz Chicken Buffet, a growing restaurant chain with more than 60 locations in Texas and Malaysia. Action supplies the chain with shipments of fresh chicken three times a week, Howell says.
"We're basically box in, box out," Howell adds. "We specialize in distribution." While Action Meat carries a variety of products including poultry, lamb and cheese, its specialty is beef.
Action Meat's beef products range from steaks and ribs to specialty items such as marinated fajitas and beef tongue. "We have a large, ethnically diverse customer base," Howell says.
The company's product knowledge and diversity of offerings are helping it grow nationally even during difficult economic times. While the company has needed to adapt to rising gas prices and a decline in business from the restaurant sector, it has been able to keep up business by knowing its customers' needs.
"We've done a pretty good job knowing our customers, helping them write the proper advertisements and putting the right items on the shelf, and passing our expertise on to them," Howell says.
Howell says he works closely with retailers on price points and then helps them determine how much product to stock at various times throughout the year to both meet seasonal demands and prevent overstocking.
As an example, Howell cites stocking country-style ribs in the summer in time for grilling season, as opposed to turkeys, which see much more of a demand during the Thanksgiving holiday.
Service Goals
One of the company's current goals is to implement an automated online ordering process and increase its presence on the Internet, giving customers more convenience in placing and tracking their orders. Action Meat already has a computerized inventory and billing system in place, Howell says.
Action is also working closely with many of its retail customers on developing exclusive, private label meat products, particularly with products geared toward a specific ethnic base. "Right now, when customers see the box of product, they know it's from Nebraska, Wisconsin, Australia or wherever," Howell says. "We're starting to develop our own labels, so our customers can look at the box and say 'that came from Action Meat.'"
"We want to try to help retailers build their own labels so their customers will say, 'I've got to go to this retailer to get this product,'" he adds.
The company is also looking to take on more business. "We want to keep all of our existing customers of course, but we're now in a position where nobody is too big for us," Howell says. "We feel we can handle just about anything."
Productive Environment
The company was founded in 1992 by co-owner Fred Cramm as Action Poultry, specializing in selling fresh chicken to fast food restaurants. Howell and his father, Lee, joined the business in 1996, becoming co-owners along with Cramm. Lantz Howell was mentored by both men.
Action moved from a small warehouse in Conroe, Texas, to its current 38,000 square foot facility that it built from the ground up in Houston in 1997. "What makes us stand out is we've been consistent in service and quality, and always have fresh products on hand," Howell says.
Action Meat's management team seeks to provide a positive, productive work environment to its employees. "My dad, Fred and I come to work every day thankful and happy to be here," he adds. "We try to make it fun. Who wants to be miserable coming to work every day?"
The company also regularly participates in charity events and fundraisers in the Houston area, Howell says.