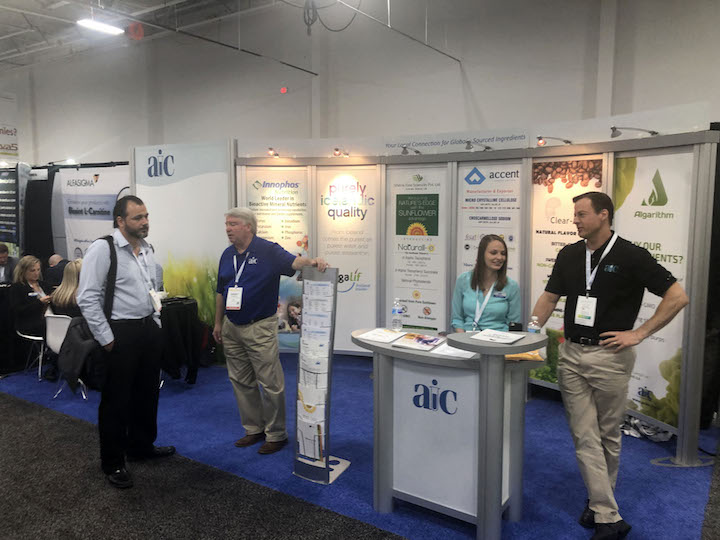 AIC sources specialty ingredients from its trusted supplier network around the world while keeping up with continuous changes in the food industry.
Consumers demand transparency today in just about every industry, but especially so in the food and dietary supplement categories where the ingredient label has taken center stage. To ensure the demands of the end-user are met, companies continue to turn to AIC as their trusted ingredient supplier.
"Consumers are becoming more well informed and driving the market toward more specific demands than just antioxidants or other trends that were buzzwords 10 years ago," Director of Technical Services Sean Warnock says. "They are looking for clean label specialty ingredients, sugar reduction, plant-based proteins, gut health, and trend diet foods. AIC is constantly on the lookout for ingredients that reflect those trends."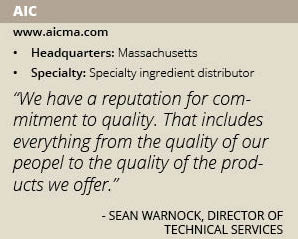 Founded in 1972, Massachusetts-based AIC's mission has always been to provide its customers with raw materials, ingredients and reagents of the highest quality, meeting all required standards, delivered safely and on schedule, at competitive prices from consistent sources of supply. The company offers ingredients to the dietary, food, pharmaceutical, biotech, and personal care industries. "The dietary supplement and food categories make up about half our business while pharma, biotech and personal care make up about 30 percent," Warnock says.
AIC employs about 90 people, of which more than 55 percent are customer-facing roles that include sales, marketing and scientific support. "More than 40 percent of AIC employees have more than 10 years with the company and more than 15 years in the industry," Warnock notes. "We have a really good reputation of longevity and that helps our business on multiple levels."
In 2017, AIC was acquired by LeBaron Brown (LBB) Specialties, which also owns Charkit Chemical for a combined revenue of just over $200 million last year. "That puts us in the top 15 to 20 percent of companies in the chemical distribution industry," Warnock says.
Quality Assurance
Because of its longevity in the industry, AIC has built a solid reputation among its customers and suppliers based on trust. "We represent companies around the world who don't have a sales presence in the United States. We work transparently with our supply partners and customers, facilitating trust on both sides," Warnock says. "Our commitment to quality has also really helped us navigate the continuously evolving regulatory landscape. Our products don't have an AIC label, but our customers know that we have gone through the necessary steps to qualify the manufacturers we represent and they can have confidence in the ingredients they are buying."
AIC is always looking for new supplier relationships as consumer demands continue to drive the markets. "Our research and development efforts are always ongoing," Warnock says. "We have a reputation for selling more specialty ingredients as opposed to commodities. In some instances, companies will approach us with specialty products and sometimes we seek out specific products. Our innovations team regularly reviews new ingredients. We work hard to determine what market trends they would apply to and how these ingredients may compliment other ingredients already in our portfolio."
In addition to selling ingredients, AIC has science and technical staff who offer support on choosing the right ingredient for particular application challenges and incorporating those ingredients into formulations.
Many food trends begin overseas and AIC stays ahead of the curve by traveling to trade shows all over the world. "We look to other regions for inspiration and pride ourselves on thinking globally. AIC stands for American International Chemical and we constantly strive to be that bridge between the North American and International ingredient markets" Warnock notes.
Ahead of the Curve
To stay relevant and up-to-date on the latest changes in the industry, AIC's dedicated quality and regulatory departments helped prepare AIC, supply partners and customers for the Food Safety Modernization Act well before it went into effect. The company also implemented a dedicated quality documents department to meet customers' demands for documents and questionnaires associated with food safety and quality. AIC will continue to monitor regulatory changes including things like nutritional labeling that will impact how sugar is labeled, what counts as a fiber, and how Vitamin E content is calculated. "The biggest challenge we have is that the industry demands for quality are ever-increasing," Warnock says. "As a result, the regulatory landscape is constantly changing but that's a challenge we are well prepared to meet."
Moving forward, AIC expects continued growth for the foreseeable future as LBB Specialties remains focused on doing so both organically and through acquisitions. "We have strong organic growth every year and will continue to be your local connection for globally sourced ingredients," Warnock concludes.