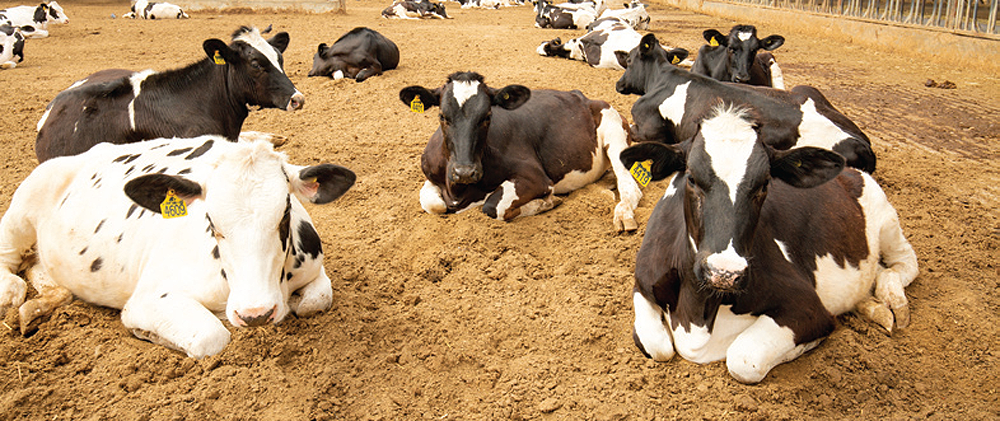 Boosting the nation's health
In the space of 30 years, Al Rawabi Dairy Company has been on an incredible growth journey, one that has been defined by innovation and a desire to push the boundaries of what it possible for a food company to achieve
First formed in 1989 – with a herd of 500 cows imported from Germany and a fleet of only ten trucks – Al Rawabi Dairy Company (Al Rawabi) has spent the last 30 years evolving itself into a leading dairy and juice company in the UAE, and a true pioneer in the Middle East. Today, its operations cover 116 hectares of land in Al Khawaneej, Dubai, where its cattle stock of more than
18,000 cows roam, and from which it produces a wide range of goods, including milk, yoghurt, juices and functional products. Its two processing plants produce approximately 275,000 litres of dairy products and 150,000 litres of juice per day, which is distributed by 340 trucks and vans.
Al Rawabi's fresh products can be found in more than 12,500 stores across the UAE and Oman, while its long-life items are regularly shipped further afield to countries including Iraq, Syria, Sudan, Ethiopia and Nigeria, with plans at an advanced stage to bring them to consumers in Pakistan and India, also. Accredited to ISO 9001:2015, ISO 14001:2015, ISO 22000:2005, HACCP and OHSAS 18001:2007 standards, it has been the recipient of numerous local and international accolades, and was listed among the 40 strongest brands in the Arab world by Forbes magazine in 2008 and 2015, respectively.
At the heart of the company's success over the last three decades has been its embracing of innovation. It introduced plastic bottles into the UAE in 1991, and was the first company to offer fresh juices in the GCC in 1995. Since then, it has also been credited with bringing pasteurised juices to the region, as well as spearheading the growth of functional dairy products. "From the very beginning, we have been a company that has utilised innovation as a major tool to differentiate ourselves and rise above the competition," begins Chief Executive Officer, Dr. Ahmed El Tigani. "This began with creating products in eye-catching packaging, with different flavours and qualities, and bringing to market goods not previously available to customers in, and around, the UAE.
More recently, the company has become particularly well known for its creation of various functional, health-based products, and Al Rawabi remains the only player in the region to produce such a large range of these goods. "Working closely with Dubai's Ministry of Health, we have specifically been targeting some of the major health concerns within the region," Dr. El Tigani continues. "For example, one of the biggest issues is the fact that an estimated 80 per cent of the population is lacking in the right levels of Vitamin D, and this led to our creation of Vitamin D milk, which has been extremely well received.
"We have also been responsible for launching products such as our Supermilk, the first fresh milk to be enriched with multivitamins and minerals, and Nutreeboost, a functional breakfast replacement drink boasting oats, vitamins and minerals, which is great for busy people on the go. Meanwhile, on the juice side, we have launched new juices with anti-oxidant properties and added vitamins to target issues such as obesity, hypertension and diabetes."
Cow health
Al Rawabi's commitment to innovation extends far beyond just the products it produces, also encapsulating its use of technology and automation in the way it monitors the well-being of its cows and operates its facilities. "All of our herds live in special air-conditioned units that protect them from the harsh summer heat, enjoy advanced showering and automatic cooling systems, and have access to round-the-clock medical care," Dr. El Tigani explains. "Each cow is also fitted with electronic chips that record data that monitors their health. This data allows us to measure the rumination of the cow, how many steps they take, their temperature, breathing rate per minute, and other statistics that can alert us to any possible sickness or problems. Inside our facilities themselves, we are making use of advanced automation and robots in the handling of goods, specifically their movement from filling machines to crates, and we are now in the process of planning for a new fermented products plant that will be fully a tomated throughout."
Dairy entrepreneurs
In the last several years, Al Rawabi has experienced fairly consistent patterns of growth, and this has continued into the first six months of 2019, with sales up by around 15 per cent. This has resulted in strong net profits being recorded, dividends being paid out to its shareholders and bonuses being paid out to its hard-working employees. At the same time, its management teams are embarking on a programme of reengineering to identify where best to improve efficiencies and cut unnecessary costs.
"In the coming months," Dr. El Tigani goes on to highlight, "we will also be concentrating our efforts on completing the construction on our own biogas plant. The first of its kind in the region, it will produce 1.4MW per hour of electricity, 1.4MW of heat per hour of heat, and ten tonnes of high grade fertiliser, which will go a considerable way towards our low-term goal of making Al Rawabi energy self-sufficient. We have recently formalised a partnership with German company ME-LE Biogas for the construction of the plant, which we expect to be completed in mid-2020."
Dr. El Tigani has helped Al Rawabi navigate its journey from being purely a dairy products business to becoming a multi-product food company, and today he is applying his insights to help others through the activities of his consultancy Eltigani Consult. "Through my business, I am working with dairy farmers from around the world to help to change their mind-set to one where they see themselves as 'dairy entrepreneurs'," he reveals. "This entails focusing on things such as producing those products that may not be readily avaliable in a given region, and gaining a better understanding of key themes such as how to obtain higher profits, better yields, and most importantly how to turn all of this into achieving a better work-life balance."
Turning back to Al Rawabi, and specifically its long-term outlook, Dr. El Tigani also finds himself today working with a dedicated research team that has been set the task of looking into how human life expectancy can be extended to up 150 years. "Among the things we are looking at include developing ever-better functional, health-related products to target everything from joint conditions and heart problems to dementia. It will be specialised products that respond to these issues that will define the future, not just of Al Rawabi but of the region as a whole," he concludes.