Alamo Drafthouse Cinema plans to continue to thrive by hiring the right people, investing in technology and expanding into the best markets.
Tim League and his wife, Karrie, opened the first single-screen Alamo Drafthouse Cinema nearly 20 years ago on May 25, 1997. With 27 locations today, the Austin, Texas-based chain has become known for dine-in theaters with creative programming –including themed movie nights – and a strict policy of no talking or texting.
"We grew 28 percent in 2016 and are looking for continued growth this year," CEO Tim League says. "We recently opened a new location in Brooklyn, N.Y., as well as one in Chandler, Ariz., which is just outside of Phoenix. I'm really proud of what we have done. In 2017, we will open six new locations in the United States, including the recently opened sixth location here in Austin and our first location in Corpus Christie, Texas."
When League entered the cinema business, he notes that his passion for movies was the only factor that set him apart from competitors. "It has become something of a strange differentiator for us," he explains. "We have expanded by working with both franchise partners, and the people we hired who believe in our mission and are movie obsessed as well. We are passionate about what we do. That is why we have become known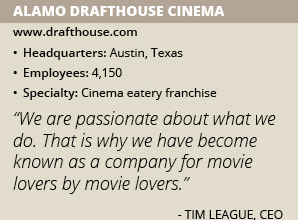 as a company for movie lovers by movie lovers. I think that really helps us strive to continue offering a great product."
In addition, several key people that League has hired over the years have contributed to Alamo Drafthouse Cinema's success. "We've hired some very phenomenal people, including Mike Sherrill," League explains. "He joined the company when we were opening our third location. At the time he was our area director and eventually became our COO. However, a few years ago, we named him chief creative officer. He's been my right hand man for a long time and now oversees a large creative team that does all of the marketing, programing, promotions and special events for the brand. Sherrill brings a financial background in operations to the creative department and has certainly helped build the company."
The Alamo also recently hired Mike Trafton as its chief technology officer. "We're investing big into technology right now, in every conceivable way," League says. "The big priority for us in this first quarter, and the next, are reimagining our online presence, app, online sales channels and also our loyalty programs. So those are big initiatives that Trafton is spearheading."
Innovative Tech
Since the early 2000s, technology has played a critical role not only in Alamo Drafthouse Cinema's success, but also in setting the company apart from other theaters. "We might have been one of the first, if not the first, theater to have online ticketing. That system was built in-house in 1999 through 2000," League notes. "Today about 70 percent of our ticket sales are online, which is radically higher than the industry, so we're pushing the envelope there as well.
"About a decade ago, we saw the roll out of digital cinema and we have re-outfitted all of our theaters with it," League continues. "Also, when I first started in 1997, a viable part of our marketing campaign was to hire people to pass out flyers. The idea of social media, sophisticated customer data tracking and digital ad strategy was nothing at the time. However it's everything now with everyone having multiple electronic connected devices. Due to that we have not taken out a daily newspaper ad in nearly 16 years. So we shifted to digital ads and a digital presence a long time ago and have not looked back."
'Completely Movie-Obsessed'
When looking to hire employees for its ticketing, concessions and other hourly positions, Alamo Drafthouse Cinema looks for individuals who thrive in multiple positions. "We're a fast-paced operation, so we're looking for people with intensity and [who] like to thrive in that kind of environment," League says. "One of the most important positions we have is at the counter, which is our concierge position. So I look for that same qualification I had when I got into the business: a completely movie-obsessed human being. That person takes the job in part because of the great benefit of getting free movies, but can also talk with the customers, give recommendations and be excited about the programming we're bringing in."
Potential employees also have to have a love for food and beverages, too, League adds, noting that the company is one of the highest-volume restaurants in Austin. "We are a causal restaurant and our food is nearly all made from scratch. It's casual fare, we offer sandwiches, salads and pizza," League says. "Local beer is very important to us, too. We usually have 32 craft beer taps, and at least 80 percent of those are local. So we not only have movie nerds, but beer nerds working for us as well.
"We like to have fun and try to offer the best experience at the movies for our customers," League adds. "That's why we were recognized as 'Best Theater In America' by Entertainment Weekly and 'Best Theater Ever' by TIME Magazine."
'An Awesome Place'
For the past few years, Alamo Drafthouse Cinema has grown 20 to 25 percent annually, and expects to continue that growth by expanding into the right markets.
"We're not looking to create any sort of hockey stick growth profile, but are going to keep up that growth pattern by moving into the best, coolest, fun markets in America," League says. "I have an ulterior motive as we have started a film distribution company, Neon, which buys and plays films at our cinemas and other theaters around the country.
We started this about six years ago and it allows me to have a platform for independent films, films that we're passionate about, and find a bigger audience for great, cool emerging talent and up-and-coming movies," League continues. "We've released about 35 movies over the years and have been nominated for three Academy Awards – two for documentaries and one for a foreign language film. Ultimately, we just want to have an awesome place for people to watch a wide selection of great movies. And we're providing that one theater at a time."