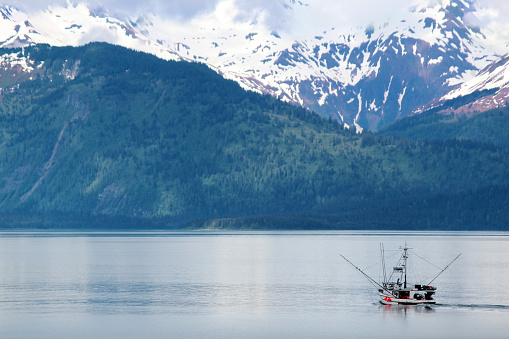 Alaska Glacier Seafoods Inc
Alaska Glacier Seafoods Inc. has grown in 20 years into a worldwide wholesale exporter of high-end seafood, and is starting a home delivery business.
Alaska Glacier Seafoods Inc. (AGS) celebrates its 20th anniversary this year. The seafood processing company is owned and managed by the Erickson family: Mike, his son, Jim, and their wives Bonnie and Kristie. In 1996, it began somewhat of a hobby selling a few pounds of shrimp on the weekends at a roadside stand.
Now, Alaska Glacier Seafoods processes approximately 12 million pounds of seafood annually at its processing plant in Southeast Alaska. The plant measures approximately 10,000 square feet and is on the waterfront in Auke Bay just 13 miles north of Juneau, where it can accept seafood deliveries directly from its fishing fleet. The plant runs 24 hours a day from mid-June through September and cuts back to a normal 10 to 12 hour day during the off-season.
In the beginning, AGS was run by the family, but over the years it has grown to employ more than 60 year-round workers and just over 200 people at the peak of the season. "At this point, the company has been expanding from 7 to 8 percent annually," Erickson says. "It's a pretty cool thing to have that happen. I don't want to use the word 'lucky,' because to some degree it diminishes the hard work everybody has put into this place to get it where it's at. We didn't win the lottery – it's just hard work. If you set your mind to it, I think hard work and honesty will get you a long way."
Processing Seafood
Although most of the initial processing for salmon is done by machinery, the final check for pin bones and quality are done by hand. Other species such as halibut, rockfish, true cod and lingcod are all filleted by hand. AGS has made a concerted effort to do as much value-added processing as possible at its plant in Juneau. The company also has moved into nearly full utilization of the fisheries resource by producing high quality pet food ingredients with the fish carcasses.
Alaska Glacier Seafoods specializes in wild-caught fish only, which can be a challenge. "The only thing consistent about wild fish is its inconsistency, with different sizes, weights and thicknesses," Erickson laments. "But we have built a great business based on Alaska's wild fishery and have gotten very good at managing those inconsistencies. We like to process fish here and get it into a consumable state as much as possible."
Unlike most seafood processors, AGS processes year-round. Alaska Glacier Seafoods' products include five species of wild Alaskan salmon, salmon roe and caviar, halibut, king, Dungeness and tanner crab, rockfish, Pacific cod, sea cucumbers and sablefish. The diversity of AGS' products keeps its plant busy all year long; it helps to keep work more consistent for employees, which reduces turnover and ultimately allows for a higher quality product.
Distributing Seafood
It is possible to ship fresh seafood from Alaska great distances successfully. "We can ship fresh all the way into Miami, but you've got to be on your toes," Erickson cautions. "It takes a lot of babysitting to make sure no fresh fish gets left anywhere and all the transfers are done properly. If some fish get left in Seattle or Chicago, it becomes a monumental task to get it on the next aircraft before you have a lot of money involved, and the first thing everybody does is point a finger at somebody else."
Despite its small size, Alaska Glacier Seafoods ships frozen seafood around the world to countries including Japan, China, Germany, France, Spain and England. "Up to two years ago, we were doing some Russian business until the embargo was put in place," Erickson says. "Most frozen product is transported via barge to Seattle, and from Seattle to Hong Kong, Tokyo or wherever the final destination is. Frozen product is hardly ever flown.
Taking on Retail
Seafood lovers would like nothing better than to be able to drop a fishing line into a bay or river in Alaska and eat what they catch. Now seafood wholesaler Alaska Glacier Seafoods is offering that same amazing seafood to consumers through its new Alaska Home Pack program.
Alaska Home Pack got its name from its fellow fishermen. Alaska's commercial fishing families enjoy bringing home a portion of their catch to share with their friends and families throughout the year – their home pack.
Consumers can sign up for seafood through the www.akhomepack.com website, and it will be shipped frozen to them directly to their doorstep. "People absolutely love the product coming out of here," CEO and co-owner Mike Erickson maintains. "With the Home Pack project, they will get the best of the best – no question about it.
"Our seafood is already a premium product, and to be one of the few vendors that our wholesale customers will buy from speaks for itself," Erickson adds. "We wanted to make our product available to all without having to purchase the 100-pound minimum accompanied with a resale license. This is a convenient way for friends and families to include wild Alaskan seafood on their dinner plates.
"These make fantastic corporate gifts, especially when looking for something unique or exotic for clients or employees," he continues. "We include recipes with the Home Pack as well as step-by-step instructions on the website. The Home Packs can be set up to be delivered regularly each month as well as a one-time purchase."
Erickson credits Project Manager Robin Silk for bringing the idea of Alaska Home Pack into fruition. "She has totally taken this project on herself," Erickson says. "We're very pleased with what she's done, and we are excited to see how this project grows."