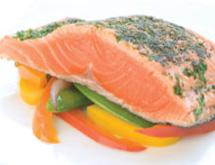 Lumber companies replant forests – it would end their business to chop down every tree. In the same way, seafood companies are concentrating on maintaining dwindling fisheries. "Our primary focus now is sustainability and making sure that we offer the largest choice of sustainable seafood to our marketplace," declares John Milobar, president of Albion Fisheries Ltd. Albion searches for fish that meet the criteria of Ocean Wise, the Marine Stewardship Council (MSC) and SeaChoice for sustainability. "Those are the three most noted organizations that we follow," Milobar notes. Of course, selling only sustainable fish species is a challenge when a company's goal is to be a world-class distributor of sustainable seafood in western Canada.
Founded in 1963, the company already is the largest and oldest continuously operating seafood distributor in western Canada."We do not sell only sustainable sea­food, but we are rapidly increasing our offerings to allow buyers more sustainable options than anywhere else," Milobar pledges. "Our focus as a company is to be the best seafood distributor in the nation." From its four processing plants in western Canada, Albion Fisheries serves restaurants and retailers, which sell its fish under various brand names as well as unbranded.
Flying Fish
Much of Albion's product comes from other seafood processors. "We are primarily a secondary processor," Milobar explains. To ensure it is buying sustainable fish from these processors, Albion focuses on MSC products that are tracked by lot number. "To handle the volumes we move, we have to buy off of many different processors," he says, add­­ing that the size of those volumes is confidential.
The company also buys product directly from fishing boats. Some of the fish Albion purchases are flown to its plants from all over the world. "We really don't fly much of ours out," Milobar admits. "A little bit, but in reality, we fly very little of our products. Generally, small quantities of fresh fish are flown from day-boat fisheries overseas."The logistics of Albion's supply chain > > has surprising benefits for western Canadian consumers. Milobar points out how a fish caught in Hawaii can be fresher than one caught off of western Canada's coast when it lands on a diner's plate.
"We'll fly seafood from other parts of the world that can be from fisherman's boat to consumer's plate in less than three days, which is incredible," Milobar stresses."Hawaii might have day boats that catch the fish that day, bring it in, sell it, and it goes on a plane and flies to Vancouver right away," he says. "Local fishermen can be out for a week, so the fish is in the hold. By the time we get it, it's been in champagne ice for a week. It's still very good and fresh, but fish can be technically fresher from flying across the world!" He estimates frozen fish can remain good for approximately 12 months.The company sources salmon from around the world. "You name it, we have every species of salmon that is available," Milobar maintains. "Most of it is various species of wild salmon."
Sustainable Future
The future of Albion Fisheries is focused on value-added, sustainable seafood. "Value-added is when we're able to take a product and change the form and shape of it to add some value to it by making it a product – maybe crab-stuffed salmon fillet, salmon roll or any number of things you'd see on the counter," Milobar explains.He is proud of his company's pioneering efforts in seafood sustainability. "We were one of the first 200 members of the MSC when it was not necessarily popular, when it wasn't the stylish thing to do," Milobar contends. "We're also proud to be a founding supply partner of Ocean Wise, which is an initiative to encourage restaurants to use sustainable seafood."
Milobar points out that his company focuses on growing sustainable sea­food options for its customers. "We have to do what's right, not expedient," he emphasizes. "Everybody understands that the oceans are crucial. If we want to keep feeding the world from our oceans, we are going to have to find a better, more sustainable way of doing it."
History and Sustainability
Albion Fisheries Ltd. was founded by Dave Athey in March 1963 out of the back of his pick-up truck. Since then, the company has grown to employ 200 people in Vancouver, Victoria, Calgary and Queen Charlotte. From its original customer list of a few restaurants, Albion now has a customer base of more than 2,000 worldwide.In 2005, Albion joined GFS Canada Co. Inc. (Gordon Food Service) so it now can offer coast-to-coast distribution in Canada. Its offerings include more than 3,500 products that come from the Pacific Northwest to as far away as New Zealand, Russia, Namibia, Ecuador and Vietnam.
Albion says it can determine the exact area and method that all products are harvested under and if there are any concerns with that fishery.