A valuable ally
Now 100 percent employee-owned, Alliance is one of the UK's largest, and most progressive, providers of non-food equipment and disposables to the catering and hospitality sector
Stocking over 30,000 products, from cleaning materials to glassware and kitchen utensils to bar supplies, Alliance is one of the leading providers of non-food catering equipment and disposables in the UK. For Managing Director David Elder, the company's success begins with its unique take on culture and the impact this can have on an organization.
When Alliance was launched 21 years ago, David and his team created three key principles upon which the company needed to act in order to be successful. The tenets the company's leadership team settled upon were Staff Satisfaction, Customer Satisfaction and Cash Management.
"Staff satisfaction was always going to be vital," David says. "We knew that if staff didn't feel secure and respected in their roles, they wouldn't perform. As a result, we have always strived to make their time at work as fulfilling and meaningful as possible, which allows for an environment where creativity can flow and team members are much more likely to stay with the business. We are hugely serious about what we do here, but we also don't have many job titles or much of a hierarchy, which facilitates better problem solving and more personal accountability.
"In terms of customer satisfaction," David continues, "we realised early on that many of our competitors were simply not hitting delivery time targets or they were applying product switches that customers didn't know anything about. We responded by carefully managing our stock, delivering great service and having an open understanding with our customer base. This transparency develops a trust and gives us long-term relationships. It also develops our reputation, which in turn opens up more opportunities with new contracts and clients across the board. This, in turn, helps with our cash management and puts us in a much more stable financial position than those companies being forced to make replacements or not winning any return business."
Variety and choice
As of September 2021, Alliance operates from a national distribution center (NDC) and 13 regional depots, each with its own dedicated General Manager and sales team. This advanced network allows the company to cater for a wide range of clients with varying needs.
"Our distribution network allows us to work with regional customers in a much more intimate way, providing local service without burdening our depots with activities like commercial purchasing, HR or finance, which we can deal with centrally," David explains.
"The network also enables us to seamlessly cater to different customer types. For example, there are customers who are most interested in control and compliance. They tend to be heavily brand-driven and want to make sure that brand-standard products are going into specific stores, whether they be in Plymouth or Aberdeen. Our NDC deals with most of these control and compliance style accounts.
"Alternatively, we have a lot of customers looking for differentiation from the big brands," David adds. "They want variety and choice and they can't be managed in the same way as many of the big nationals. These clients need a much more intimate relationship with a supplier and that is why they often go through our regional, local branches."
"Our Alliance On-Line platform runs in parallel to our National and Regional networks, offering our full product selection to the market, whether trade account customers or not. As a complete aside, it also acts as an early entry point for new business. We reach out to customers who have tried our site a few times, and seem to like it, and we develop those customers into trade accounts which we manage through our Regional platforms."
A foothold in Europe
Alliance's Ireland location is the company's most recent addition. Opened in 2019, the site has been tremendously successful in serving existing Alliance clients – many of whom operate in both the UK and Republic of Ireland – as well as providing the firm with a foothold in Europe.
"We had looked at opening up in Ireland many years before we actually did, but we decided, at the time, that David states. "When we finally did open two years ago, we started to change the game over there in terms of service and reach. We quickly realised that our competition was far behind us in terms of service and reach. Our new Alliance Ireland On-line site has changed the market there for sure.
"As a company with a lot of major clients in the UK that also operate in Ireland, we were able to get traction very quickly. Of course, the pandemic meant some things went on hold for a while, but now everything is opening up again and business is very, very good.
"One more added bonus of an Irish location is its position in Europe. Brexit has created a lot of challenges for the UK, but being in Ireland has enabled a lot of things to work for us in terms of purchasing and our reach into the European markets."
An enduring factor behind Alliance's continuing popularity with clients is the firm's ability to supply everything a hotel, hospital, caterer or similar setting could need to be successful. From front of house profit products to back of house cost ranges (and everything in between) Alliance continues to provide vital catering and hospitality solutions thanks to its experience in the market.
"Whatever the requirement, our expertise sets us apart from both our regional and national competitors," David asserts. "Collaboration helps too, and by way of example, we are currently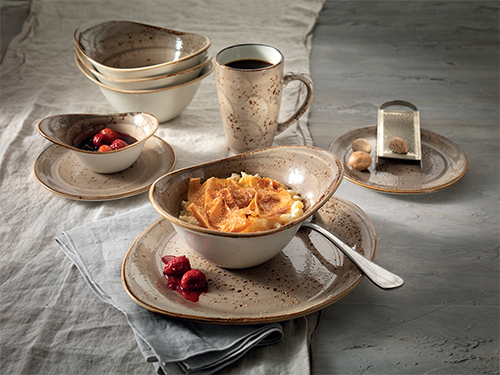 working very closely with a major national to support them in the refurbishment of their infrastructure. The conversation started in the sense that they had a problem, we had warehouses and vehicles, and by working together we could find solutions.
"More recently, we have been supporting one of the UK and Ireland's premier leisure operators with the refurbishment of their lodges in both the UK and Ireland. If you put the value of service into perspective, this is a business at such high occupancy levels that they can't afford to have any of their lodges not available for customer occupancy following refurbished, simply because they have customers booked all year round. By having an operator like ourselves working with them, they are able to maintain their rate of business and we have been able to expand into a new area of operation. It's a project we have really enjoyed working on and one that we are excited about going forward."
Not only has Alliance been busy acquiring new business of late, but the company has recently undergone a major transformation in its management structure. In July 2021, it was decided that 100 percent ownership by an Employee Ownership Trust was best for Alliance's longevity, culture, durability, stability and future growth.
"Employee ownership means that shareholders are effectively working in the business," David points out. "While myself and my fellow directors have no interest in working elsewhere, we still need to start thinking about bringing through the next generation of management. Selling a business to either a trade buyer or venture capital company can end up substantially changing the way a business operates, but we didn't want to do that. Protecting our customers and protecting our staff was a priority, and consequently, a key driver in finding a different way forward.
"With the help of the Government's EOT scheme, we decided employee ownership was best. It not only safeguards the culture of the business, but it means employees gain a vested interest in Alliance's success. We are very proud to say that the running of Alliance, and the firm's future, is now in the hands of the people that matter most – the company's workforce."
Quality service
Over the course of the last 18 months, strong contacts and lasting relationships in the public sector have helped Alliance continue growing in a difficult business climate. Bolstered by its ability to supply some of the most essential items coveted by public authorities during the pandemic, such as cleaning materials and PPE, the company is set to round off 2021 in a better position than ever.
"Since Covid-19 started, we haven't stopped," David declares. "In fact, we have seen trading levels significantly ahead of where they were before the pandemic and that is massively encouraging. Customers are now opening up again all over the place and they are demanding products immediately, so the pressure on us is huge but we are responding very positively.
"In years to come, I think we will continue doing the things that have made us a great business over the last two decades. One of the reasons Alliance has been attracting new customers and new contracts lately, on top of our existing customer base, is because we have built a reputation for reliable, quality service. I think our strategy is correct for the market right now, so I'm certain that our growth will continue.
"The potential for Alliance as a business is huge," David concludes. "Our future success is going to be all about making sure the infrastructure we have keeps pace with the growth we envisage. After that, we see our existing management team taking more responsibility and really driving the business forward during the next ten to 15 years."
www.alliancenational.co.uk