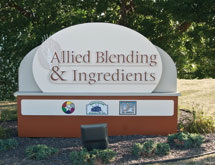 Allied Blending & Ingredients Inc.
Allied Blending & Ingredients Inc. specializes in solving its customers' problems, President and COO Randy Schmelzel says. "We take functional ingredients and provide prepackaged solutions for manufacturers of food products."
The Keokuk, Iowa–based firm manufactures products such as cheese blends, tortilla formulations, bakery ingredients and specialty items. Co-owners Chuck Carvette and Peter Brooks started the company in 1981 after working as salesmen in the corn-refining industry.
When the two started the firm, they originally founded it as Industrial Ingredients Inc., a distribution business. Three years later, Carvette and Brooks also formed Mississippi Blending Co. Inc., and began a history of manufacturing many proprietary bakery based formulations for niches in the food industry.
In 1995, Schmelzel says, the two formed Allied Blending as their market leadership company and sold the distribution business 14 years later. "It had become a minor focus for us," he explains. "We are invested in manufacturing functional proprietary products with in-depth technical strength to support them."
Today, Allied Blending largely focuses on manufacturing products for the cheese and tortilla marketplaces, in¬cluding anticaking systems for shredded cheese, imitation cheese blends, batch packs for flour tortillas and preservatives for corn tortillas. In addition, Allied Blending has items it considers to be its "legacy products," Schmelzel says.
For instance, "We make a line of laundry starches and pharmaceutical tableting starches," he explains. "They remain core to our business and we have decades of experience in each area to support our long standing customer base."
An Ideal Environment
Schmelzel, a nearly 30-year veteran of the food industry, joined Allied Blending in 2003. He notes that he was drawn to the company by its philosophy. "It was started by two salespeople who fostered a culture of innovative customer service supported by in-house technical product development," he says.
He says the company reflects this philosophy today with the way it deals with challenges and market urgency. "Like any other company, we have issues that have to be dealt with," he admits.
But, he asserts, the company remains focused upon solutions. "All we ever care about is how do we fix it and how do we resolve it," Schmelzel says.
Allied Blending also maintains an environment that is open to new ideas. "At some larger corporations, it's sometimes difficult to gain agreement that a project just isn't working out as expected and needs to be reworked, modified or simply re-started from a new direction," Schmelzel says. "We don't have that problem here. It's a very refreshing environment that promotes growth, rewards success and is not adverse to risk taking.
"A recent example is our response to a dairy market plagued by rising ingredient costs and customer requests to provide them alternatives," he continues. "We went outside the box of just finding ingredient alternatives and developed complete, one-bag formulated solutions that brought price stability and improved product qualities to our customers. The result has been an entirely new product line supported by our Dairy Research Center just opened by us in St. Louis last August."
Appealing Products
Allied Blending has enjoyed rapid growth in recent months. While the company had sales growth of 32 percent last year, it expects an additional 20 percent growth by the end of 2012, Schmelzel says.
This increase is supported by its relentless product development and is largely thanks to consumers' continued purchases of cheese and tortilla products, he says. "The economy for the last three years has caused an increase in consumption of the basic food groups," he says.
Many health-conscious consumers have chosen to purchase tortillas for sandwich and meal wraps, while the more cost-conscious have moved towards imitation cheese. "Cheese has fluctuated in price from $1.40 to over $2," he says.
"When consumers see one cheese package of individually wrapped slices is $1.89 and another for 99 cents, they try the lower cost alternative," he says. "The lower cost product is not necessarily going to be the same, but it is quite appealing for the price."
Schmelzel adds that Allied Blending has used its technology to make its imitation cheese products more like the real thing. "Our products provide price stability for the manufacturer with the texture and eating qualities their customers prefer," he states.
Coping With Costs
Allied Blending has not gone without its challenges in the market, Schmelzel admits. "The biggest challenge that any food manufacturer faces today is the rising cost of ingredients," he says.
For instance, the company has seen increases in such products as guar gum, "a basic component in many foods," Schmelzel says. However, oil companies also use the product during oil and gas exploration, which has led to a price increase.
Other products that have had their prices surge, Schmelzel says, are basic starches made from corn. "The uses for corn in ethanol production coupled with drought conditions throughout the Midwest growing regions have led to dramatic price increases affecting everything from prepared foods to animal feed for our dairy and meat products," he states.
To cope, Allied Blending has sought approaches to minimize its use of ingredients with unstable prices. For example, "As of July 1, we stopped using guar gum," he says. "We developed in-house alternatives that support more price stable ingredients."
The Go-To Guys
Allied Blending plans to stay customer focused, Schmelzel says. "We are recognized as the go-to guys, providing technical innovation and support to the industry," he says. "Our customers have come to rely on us for the latest innovation and support to grow their product lines profitably. Together, this team approach to our customers creates a win-win scenario."