ALLIEDFLEX Technologies Inc.
People often do not look at packaging as an area where they can save money, but ALLIEDFLEX Technologies Inc. has helped many companies save millions of dollars. This has been managed by getting them to switch to flexible packaging, President Dennis Calamusa says.
"The cumulative effect is huge," he says. "It's a total ripple effect of cost that starts at the beginning of the supply chain [and goes] all the way through to the retail shelves."
Based in Sarasota, Fla., ALLIEDFLEX sells machines that can package items in formats such as the popular standup pouch, a single-serve portion packet and a flat-bottom bag. When the company started operations in 2002, it saw potential for the use of flexible packaging in the United States.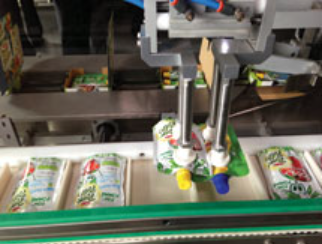 At the time, very few companies were using it stateside, Calamusa notes. However, "We had seen success around the world with that package design," he recalls. "So our company was basically established to offer a consultative approach to transitioning from traditional rigid, older-style packaging to new, innovative packaging."
Today, ALLIEDFLEX has many customers that use pouches in the marketplace, with products that range from baby food to powdered food drinks. "Today, we now have literally thousands and thousands of products that have been introduced in this packaging format," Calamusa says.
Promoting Changes
ALLIEDFLEX's client base includes many multinational consumer product companies; mid-sized food, beverage and personal care product companies; as well as new, entrepreneurial firms, Calamusa explains. Its clients, he notes, are often "looking to do something different."
But some are not so willing, he admits. "It is not easy to convince people because they literally have decades of infrastructure that have become a normal mode of operation," he says. "We try to work with them to illustrate the multitude of advantages with this packaging format."
For instance, by helping a client make the transition from a rigid container to a standup pouch, ALLIEDFLEX's customers can whittle down the number of truckloads it uses to transport products. Additionally, the pouches give end-users less to dispose of when they are finished with the product.
A good example of this, he notes, are the pouches used for selling tuna that have replaced the traditional metal can. "That's been out in the marketplace for the last eight years," he says. "It literally reinvented the category as it become more convenient to use the pouch."
Today, the pouch-packaged product represents 20 percent of all tuna sales in North America, Calamusa says. "[Tuna] was entrenched in a can for many, many years," he says. "Consumers embraced the change."
Self-Sufficient Staff
ALLIEDFLEX operates with a team that is skilled at presenting the benefits of flexible packaging to its clients, Calamusa says. "Most of our people have many years of experience in the packaging industry," he says.
"We bring that experience to the party every day when we're working with customers," he says. This experience gives ALLIEDFLEX's associates expertise about its clients' processes, and the advantages and disadvantages of certain types of packaging.
The company also offers support after sales, with spare parts, and ongoing technical and engineering support. With much of its equipment coming from overseas, "It's important for us to be a self-sufficient satellite," Calamusa says.
Down the Road
ALLIEDFLEX is looking forward to continued success.
"We're looking down the road not just one or two years, but 15 years," Calamusa says. "The future is bright for this [industry's] continued transition to flexible packaging."
The signs for the industry certainly look strong. Recently, PCI Films Consulting Ltd. reported that spending on flexible packaging in North America will reach $25 billion by 2018.
ALLIEDFLEX also will maintain the partnerships it has formed, including those in the materials supply chain. For instance, "We work closely with packaging materials suppliers that provide both premade packages and pre-printed roll stock, spouts and specialty reclosure features," he says.
It will continue promoting the benefits of flexible packaging. "We participate in a lot of conferences together as an industry," he says. "[We also] have many articles published on flexible packaging and [its] advantages."