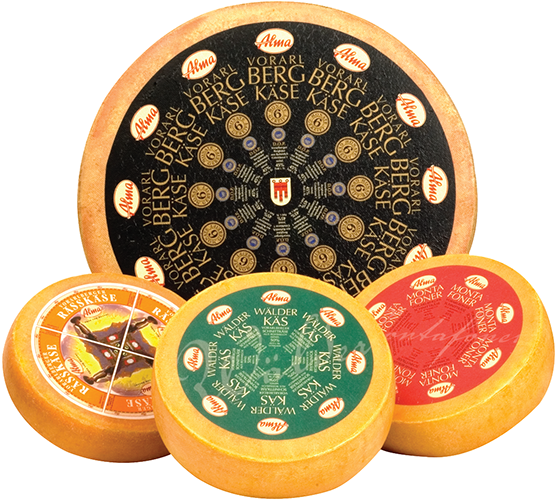 Alma Vorarlberger-Kasefabrikation
The big cheese
Producing approximately 15,000 tonnes of cheese each year, the Alma co-operative is one of Austria's leading dairies
Specialising in natural and processed cheese, Alma Vorarlberger-Kasefabrikation is a co-operative business that consists of over 250 members. Exporting over 65 per cent of its products, the company has a growing impact on the worldwide market, supplying a number of the leading European supermarkets, as well as customers in North America, the Far East and the Middle East.
"Founded in 1921, we still have the same structure today; we are still a cooperative with a small selection of dairies and farmers, and still produce the same two basic products of natural and processed cheese," says managing director, Philipp Nachbaur. "We have one location in Hard, Austria, and a subsidiary that runs a further three dairies. This primary co-operative produces cheese, hich we then cut and promote."
Describing the company's origins, Philipp comments: "The biggest problem in the 1920s was the loss of the industry's distribution network, due to the reduction in Austria's size. This led to a surplus of cheese, and a need to find a solution for the distribution. The result was the foundation of Alma, with the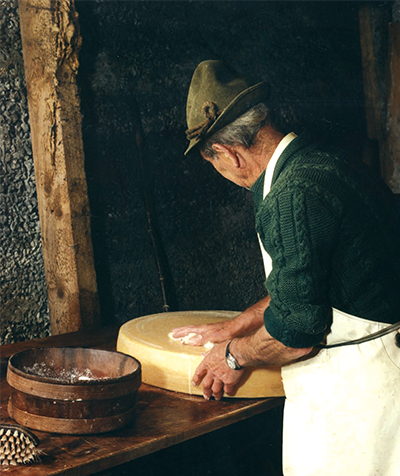 target to market all of the produce from the dairies in this area. It was in 1925 that a machine was purchased for processed cheese, and this offered a way to reduce the huge stock and serve customers many miles away."
Explaining the nature of the cooperative's memberships, Philipp continues: "In the past anyone could apply, but three years ago there was a change in the process so that it was only people that delivered milk to our dairies or cheese directly to us. The number of votes they get in meetings depends on how much milk or cheese they provide, ensuring that those with the biggest impact get the majority share. Otherwise you end up with about 500 members, all with one vote each; and this is not the way to manage a company."
While the emphasis remains on natural and processed cheese, the co-operative has increased its product base, with a number of niche offerings. Today approximately 60 per cent of its produce is private-label business, with customers including Spa, Billa, Aldi, Adeka, Asda, Metro-Makro, Carrefour and Auchan.
Priding itself on reliability, flexibility, competitive prices and excellent product quality, Alma has steadily expanded its customer base over the last decade, developing a strong reputation for its natural produce. To ensure the quality of the cheese, all suppliers are based in Austria and are required to achieve a certificate recognising that certain standards have been conformed to. "In terms of suppliers it is quite a local story," says Philipp. "All of our members are within 70 kilometres of our head office."
An example of this commitment to high quality, natural products is the cooperative's Alpkäse range. "From May to September our farmers go into the Alps, with their cattle, to small farms approximately 1000 to 1800 metres above sea level," explains Philipp. "With the cows fed 100 per cent naturally they produce milk, which half of the farmers then use to produce cheese with by-hand. Through their small dairies they use the fresh milk, avoiding the use of any machinery."
Despite being the biggest producer in this niche segment, Alma has only recently started to fully take advantage of its work. "The product itself isn't new, because we have done it for decades, " says Philipp. "In the past it was sold in a normal packet, alongside our other cheese. There was no promotion or selling channel for it, and the volume was very low."
Recognising the potential of these cheese products, Philipp explains that the co-operative is looking to increase its focus on this area: "We want to give it more marketing to ensure that we give the product the standing it deserves as a speciality. We are in talks with potential customers in Austria, and with some supermarket chains across Europe; so there is significant interest in the cheese."
Describing this interest in further detail, Philipp continues: "We have a good demand for our products, with our strategy focused on our natural cheeses ahead of the processed ones. We are currently involved in a number of interesting discussions, and if only half of them get positive results we will be in a very good position. Processed cheese is more difficult for us, as it is still a very tough market with very tough price competition."
Expanding on the challenges that the company faces, Philipp says: "As a cooperative our farmers have a very high target for their milk prices, which means that we have to sell our products incorporating this. Competing with local producers from the Middle East is tough, as they are entering the market with very competitive prices. As a medium-sized business it can be quite tough especially with processed cheese, where there are very low margins."
Alongside competitive price levels, the trend for healthy-eating is another key characteristic of the market. Philipp comments: "All of our natural cheeses are from milk, which are not held in tanks or given any additional processes. Our cows eat fresh grass, without any silage-food and while this is costly, it is an advantage in terms of promotion, as there is only two per cent of European milk made in this way."
Despite exporting across the world, Austria remains Alma's predominant focus, as it looks to continue developing its domestic market. "Further growth in the US and Scandinavia would be good, but I think it is important to continue to expand in our existing markets, rather than opening new ones," says Philipp.
By emphasising the natural production of the co-operative's Alpkäse range, Alma is committed to furthering its reputation as one of the most popular cheese makers in Austria, and is set to increase its impact across its worldwide markets. Philipp concludes: "Our strategy is to focus on natural cheese, more than the processed and speciality ones. We want to bring our customers closer to us, helping them realise that there is more than just Gouda and Edam in the market. Our dream is that the whole of Europe can try more cheeses."