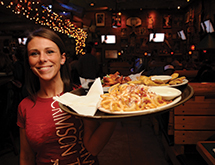 Aloha Hospitality International LLC
Some sports personalities license their names to a restaurant and stop by every now and then for a free meal and to get a mention in the celebrity newspaper columns. For the most part, these celebrities are not involved with the restaurant's day-to-day operations. That is not the case with Bob Baumhower, who had a 10-year career as a nose tackle for the Miami Dolphins of the National Football League (NFL) from 1977 to 1986. Before he had even retired, he knew he wanted to own a restaurant company, and the more hands-on, the better.
"I'm two-hands-on," Aloha Hospitality International LLC CEO and founder Baumhower quips. He got hooked on the hospitality industry like a marlin in deep water when a friend took him to a Buffalo wings restaurant in Fort Lauderdale, Fla. He and a friend from high school soon opened their first wings restaurant.
"We were the first folks to serve Buffalo wings in Alabama in 1981," Baumhower declares. "We had to give them away for a couple years. People thought I was crazy basing a restaurant off of fried chicken wings. They didn't get the Buffalo piece back then. That got me hooked. I loved watching folks come in and enjoy what we did, and when I retired a few years later, that's when I decided to make the hospitality business my career."
At the beginning, he worked every position in the restaurant. "When I went full-time, I was pretty much doing it all for a long time, whether cooking wings or taking orders," Baumhower recalls. His wife, Leslie, also works in the business, and this summer, all four of their children volunteered to work there, too.
Baumhower wanted his restaurants to succeed without the celebrity of his name. "When I got into the business full-time, I was bound and determined to make things work without using that sports background as a lever," Baumhower emphasizes. "My first restaurant did not have my name on it and was not a sports-related restaurant. Here in Alabama as time went by, people kept telling me I was nuts not to capitalize on my name."
In the beginning, Baumhower stayed with the name "Buffalo Wings" for his restaurant. "We were the only game in town as far as Alabama for a long time that served Buffalo chicken wings," he recalls. "Then as more and more players got into the game and the wing phenomenon, now wings are a niche in the restaurant business, where they didn't used to be 15 or 25 years ago. Now, if you call your place 'Wings,' it's going to be confusing because there are so many wings places. So we went with Baumhower's."
The name change also reflected the fact that the restaurants had always served a varied menu that included far more than just Buffalo wings, such as steaks and seafood. Now Baumhower's company, Aloha Hospitality, owns nine Baumhower's restaurants and two Bob's Victory Grilles, all in Alabama, and a Bimini Bob's and The Compleat Angler restaurants, both at The Wharf in Orange Beach, Ala.
Four Concepts
The name change from Buffalo Wings to Baumhower's Restaurant was made in 2012 to get away from the wings, beer and sports formula. Instead, Baumhower's has a comprehensive and expansive menu featuring chicken, burgers, seafood and steaks, along with sports and live music. "We have a little bit of a Southern flair at Baumhower's," he says.
The two Bob's Victory Grilles originally were named Wings U, but with their new name, they now emphasize their broader menu but retain a sports theme. "Both restaurants have the first coal-fired ovens in the state for coal-fired pizza like what you would get in New York or South Florida," Baumhower notes. "We also do American cuisine. All our desserts are made from scratch. We make own mozzarella cheese. Everybody was thinking wings, beer and sports, and so we repositioned Bob's Victory Grille. It has been a good thing for us."
Bimini Bob's is a cabana café in a mixed-use venue called The Wharf. "It's an interesting little restaurant in that all the dining is al fresco," Baumhower says. "The main dining area is covered, but there's only two walls that are open to the water and a good bit of outside dining in that location. In some areas, it goes out over the water at dockside."
The Compleat Angler is a large waterfront restaurant also located at The Wharf. It is named after a hotel bar in Bimini that writer Ernest Hemingway used to frequent when he was big-game fishing. "Our restaurant has got an interesting menu in that a good bit of it is Gulf-seafood-based with some Caribbean influences," Baumhower says. "We also have a some really good burgers. After you're down at the beach for a couple days, people are looking for a good burger other than seafood." Legendary gumbo also is highlighted at The Compleat Angler.
Getting Fresh
All of Baumhower's restaurants feature fresh and local ingredients. "We work really hard to be as local as we can," he stresses. "We use some different folks for seafood. They're all in the lower part of the state. There's a big push down here after the BP oil spill in the Gulf to support the local fisheries in the Mobile Bay area, which include a big emphasis on shrimp and crab, flounder, red snapper and big-game fish. We feature all of those in our restaurants."
Baumhower emphasizes that although the company's vendors are its partners, constant vigilance of their products is required. "We work real hard to make sure our managers appreciate the fact that there is no guarantee that whoever you're doing business with that your product is going to be correct and consistent and timely in its delivery," he says. "We have had really good fortune in the fact that 99.9 percent of the time we get what we want, when we want it and how we want it."
Besides seafood, the restaurants also obtain other proteins locally. "We have a good relationship with SRA Foods out of Birmingham," Baumhower asserts. "They're basically our butcher shop. We buy all our chickens through them, all fresh. They do a really good job with handling the product. We buy all our red meats, all our beef products and import products from them, as well."
Sports Radio
One of the marketing techniques used by Baumhower is a program that runs from August through January during football season on a sports radio station in Mobile, Ala. "We do a radio show down here called 'The Gumbo Express,'" Baumhower says. "It's a tailgating football show. We talk about anything and everything and take the gumbo approach – you never know what you're going to get in a bowl of gumbo. We have a lot of fun with it."
The restaurants also host coach's radio shows in Tuscaloosa, Ala., and Auburn, Ala., and Baumhower takes advantage of those relationships from his sports background to publicize the restaurants. The restaurants also use social media extensively. "Our No. 1 focus is, has always been and always will be making word-of-mouth our No. 1 source of getting people in the door," Baumhower stresses. "We work really hard on infrastructure and operations and creating a consistently good experience for the guest. That is a positive part of who we are."