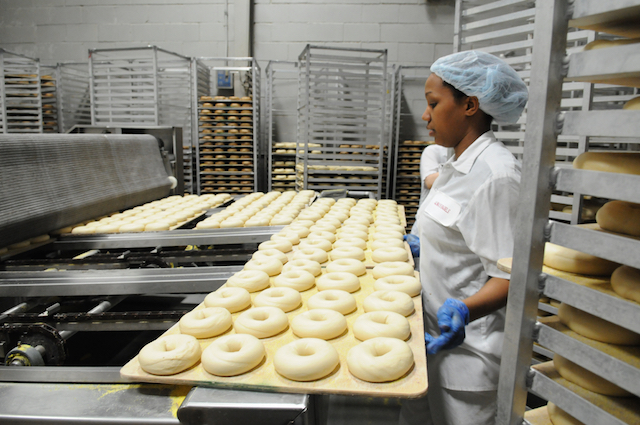 Always Bagels' dedication to flavor and quality in its production methods makes its bagels favorites in retail and foodservice operations nationwide.
Always Bagels' secret to success is simple. "What makes us really stand out is that our bagels are the highest quality in the industry," says Anthony Pariti, vice president of the Bohemia, N.Y.-based company.
The quality of Always Bagels' namesake product is a result of its old-fashioned methods. The company produces its bagels from scratch, using recipes that it makes itself instead bases. The dough used by the company goes through a 12- to 14-hour fermentation and retarding processes, which gives its bagels a flavorful crust.
"This is a step most other companies don't invest in, because there's a large cost involved and a larger physical footprint needed for it," Pariti says of the fermentation and retarding processes. "We excel at these processes, which truly distinguishes us within the in-store bakery, club and food service businesses we serve."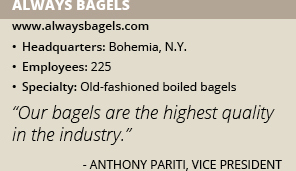 Bagel ingredients are mixed and bagels are formed prior to the fermentation and retardation processes. Afterwards, bagels are boiled before baking, giving them a thicker crust and allowing them to maintain moisture. After baking, the company's products are cooled off before being blast frozen and ultimately packaged and shipped.
The company operates production facilities in Bohemia, N.Y., and Lebanon, Penn., which offer a total of 92,000 square feet combined, with 160,000 square feet available for future expansion. Always Bagels produces more than 200 million bagels annually, the company says.
Retailers including Stop & Shop, Giant Food Supermarkets and Acme Markets carry the company's high-quality premium bagels. In addition, the company serves foodservice clients including Gordons and Sysco Corp. The Always Bagels distributes to accounts across the United States, as well as to select international distributors in Japan and Israel.
'Heart and Soul'
Always Bagels dates its history to 1985, when it opened a single retail bakery location in Port Jefferson, N.Y. Over time, the company added more retail bakeries and started serving local delis and schools.
By 1996, customer demand had led Always Bagels to build its first manufacturing facility to mass-produce, freeze and distribute bagels to a supermarket chain in Pennsylvania. That facility was later replaced by the sites in Bohemia and Lebanon as demand for the company's products grew. "We have been honored to serve our customers, from a single owner/operator to multi-store chains, with a bagel that surpasses the rest," the company says.
Always Bagels' status as a family owned company is another key differentiator. Pariti has worked for Always Bagels since its inception. He and his father, President Tony Pariti, lead the company, which employs many members of their family, including his mother and siblings. "[Clients] like the idea of dealing with a family business, and the heart, soul and the TLC that comes with it," Pariti says. "[There are] certain types of businesses out there that need that type of heart and soul."
The company's family oriented culture has also earned it the loyalty of many longtime ingredient suppliers and other vendors. "We've had loyal vendors for many years and depend on them to be our eyes and ears into the markets for us," he adds. "We're always checking [supply] prices and are able to be very competitive because of the relationships and volumes we have."
Ahead of the Curve
Food safety and quality are high priorities throughout the company's operations. "We're doing things each year to improve our quality and our facilities and comply with the Food Safety Modernization Act," Pariti says. "We've invested in modifications to our plant and are updating our traceability program and investing in more sanitary equipment to not only stay in compliance, but to keep ahead of the curve."
The company recently invested in a new lot-tracing program that will trace products from the moment raw ingredients arrive to when products reach customers. . "Our current traceability system is done manually, so it can be cumbersome," he adds. "Our new system is very up-to-date and can calculate information within minutes."
Future investments for the company will likely include automated palletizers and an automated vision quality control system. The company currently maintains the high quality of its products manually. Both of Always Bagels' facilities are Safe Quality Food (SQF) certified.
"We have processes in place including conducting visual inspections upon mixing minor ingredients, and employ quality control people on our floor who examine products while they're being baked, as well as people at the end of our ovens picking off bagels that don't meet our specifications," Pariti says. "While our process is very effective, we're looking to take it to the next level."
'A Big Push'
Always Bagels offers bagels in a variety of flavors including standard varieties such as plain, sesame, "everything," cinnamon raisin and onion. It also offers seasonal and specialty flavors such as sundried tomato, french toast, chocolate chip, country apple and cranberry orange. In addition to its standard bagel sizes of 4 to 5 ounces, the company five years ago began offering 2-ounce junior bagels that are available in bulk as well as in packs of eight or 12.
The company is developing several new products including a sprouted grain bagel with no sugar added. "Not everyone can afford to eat organic even if they want to eat healthy," Pariti says. "Offering clean-label and whole grain products will be a big push for us, as well as establishing a flavor profile of products that do not use sugar, since we know that in today's world, people are looking to cut back on sugar where they can."
Other new products the company intends to introduce in the coming months include an expansion of its cheese bagel line that incorporates different ingredients mixed in as well as new toppings.
Product development and quality play a major role in the company's growth strategy. "Our growth comes from acquiring new customers, and a lot of that is directly tied to the quality of our products," Pariti says. "The products that we have out there get us noticed from one retail chain to the next."
Plans for the company will likely include expanding its facilities to not only produce new bagels, but other products as well. "We are looking into expanding our lines to offer other products that could complement our bagels and diversify ourselves," he adds.
The Bagel: A Brief History
1600s: A common legend suggests a baker in Vienna created the bagel in 1683 as a tribute to Polish King Jan III Sobieski for saving Austria from Turkish invaders.
1880s: Bagels arrive in New York following the mass immigration of Eastern European Jews to the city. Roughly 70 bakeries in the city offer the baked good by 1900.
1907: The International Bagel Bakers Union is founded in New York City. The group closely protects the recipe for bagels, which were typically boiled. Bagel makers work in groups of four, with two men making dough and shaping bagels, one boiling them and the fourth baking them.
Late 1910s/Early 1920s: Meyer "Mickey" Thompson, the son of a bagel maker in Winnipeg, Canada, begins experimenting with a bagel-making machine. His first two models are said to be seriously flawed, while the third works well, but is said to be too complicated and expensive to build.
1958: Thompson's son, Daniel, picks up his father's work and invents the Thompson Bagel Machine, capable of producing 200 to 400 bagels an hour.
1960s: The Lender family licenses Thompson's machine and begins mass production of frozen bagels that are distributed across the country in supermarkets.
1988 to 1993: Bagel consumption rises from an average of one bagel per month among Americans to one bagel every two weeks, according to the American Bagel Association.
2016: More than 200 million Americans are reported to regularly eat bagels.