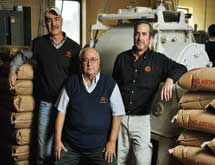 If you want an original Italian sandwich, there's only one restaurant to visit in the Northeast: Amato's. The sandwich stuffed with meat, cheese and fresh vegetables would be nothing without its signature ingredient, which – according to the book "Mouth Wide Open: A Cook and His Appetite" by John Thorne – is "bread, bread, bread. Fresh every day." The book, like many food historians, credits Amato's with creating the original Italian sandwich.
Of course, Amato's gets its impossible-to-duplicate bread from only one place: Amato's Bakery. The bakery and restaurant both trace their roots back to the work ethic of founders Giovanni Amato and his wife, Michelina.
"My great-grandfather purchased our original Maine bakery on India Street [in Portland] in 1902," says John Amato, the bakery's general operations manager. "He built the company on hard work, dedication and strong family values, which after 109 years are still what Amato's bakery thrives on."
In 1902, the two began selling sandwiches to workers on the Portland, Maine, docks from a pushcart. Hungry men with little spare change began requesting meat be added to the Amato's signature crusty-on-the-outside, delicate-on-the-inside roll. Requests for a little cheese and a few veggies soon followed. By the turn of the century the couple opened a sandwich shop to complement the bakery. In the 1970s, a previous Amato's employee, Dominic Reali, bought the shop and added his own twists to the sandwich — pickled olives, a zestier pickle and his own special blend of infamously dripping oils.
Under Reali's management, the sandwich shops grew to 12 corporate-owned shops, 40 franchised shops and a catering division. All are indebted to the original Italian roll made at Amato's bakery, which is still managed by the family today.
"I'm the fourth generation running Amato's Bakery," says Amato, who works alongside his brother Anthony, the bakery manager. "I remember making all these breads with my grandfather. And believe it or not, my recipe for making the signature Italian roll has not really changed much."
Amato's Bakery distributes rolls to all Amato's restaurant locations spread throughout Maine, New Hampshire, Vermont and New York. In addition to this partnership, the bakery receives daily orders from schools, hospitals, retailers, restaurants and other sandwich shops. Over the years, the bakery has added to its offerings with other breads to complement the signature Italian roll. The large Italian roll – which is the foundation of each Amato's sandwich – has a miniature twin in the small Italian roll. Amato's also bakes traditional rye and wheat breads.
Another revenue source is its dough line used to make traditional favorites such as pizza, calzones and bread sticks. The bakery sells a raw-dough pizza shell as well as dough balls, which are both perfect for by-hand stretching and come with a six-month freezer life. John Amato says all of these products have been with the bakery since he was a child, but nothing outsells its flagship roll.
"Some of our breads like the focaccia loaf have been gaining more popularity recently, even though it's been around for a while," he says. "But our best-selling product is still the signature Italian sandwich roll."
The Old-Fashioned Way
In its early days, that foundation was made completely by hand – hand mixed, hand stretched and hand cut. With its array of customers, including all the Amato's sandwich shops, Amato says the recipes are unchanged but the pro­cess needed to be tweaked to keep up with demand. That demand requires 200 to 300 pounds of dough to be mixed at one time and an output of 10,000 signature Italian rolls each day.
"I needed to bring the operations to the 21st century while staying tried and true to the original recipe," he explains. "Auto­mation is our biggest change. My grandfather told me to always make it by hand, but now that we have so many locations you can't do that. It's not labor-friendly."
All the mixing is done by large mechanical mixers, and the bakery brought in automatic scalers and bagging machines that cut and bag the breads automatically. But in between those two stages, the breads still receive some hands-on attention.
"Much of our product is still hands-on because it just tastes better," Amato says. "It's all still hand-stretched. At the end of the day the less your product goes through a machine, the better."