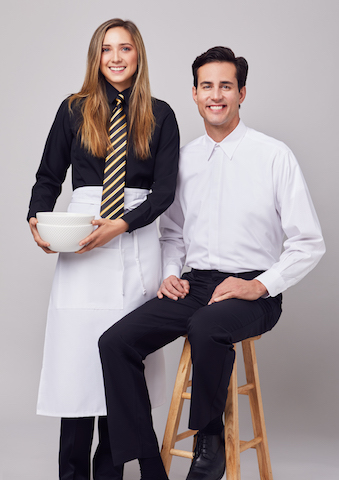 Ambassador Uniform is expanding its portfolio and focusing on bringing fashion to uniform apparel.
A manufacturer and wholesale distributor of contemporary and traditional uniform apparel, Ambassador Uniform specializes in dressing the food and beverage and hospitality industries.
Founded by Allan Behm in 1991, the Manalapan Township, N.J.-based company started as provider of uniforms to casinos in Atlantic City. Over the years, it expanded its apparel offerings and diversified its customer base.
Today, Ambassador Uniform caters to country clubs, banquet facilities, hotels, casinos, restaurants, college food services, hospitals, nursing homes/extended care facilities and rehab centers, in addition to many small and large privately owned businesses. It offers apparel and uniforms for employees working in the front and back of the house, front desk, housekeeping and building and grounds.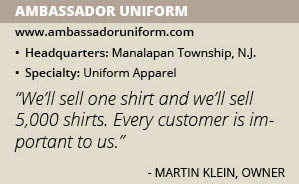 "Our business is growing by double digits every year," says Martin Klein, who bought the company from Behm in 2015. "I think it has to do with our superb customer service. We are extremely selective when it comes to hiring customer service representatives."
Ambassador is a family-owned and operated business that believes in treating its employees like family. "We come to work because we love the atmosphere," Operations Manager Peggy Zaccaria says.
Staying Competitive
Ambassador sells directly to companies whose management purchases apparel for their employees. The company prides itself on competitive pricing and same-day shipping on stocked items.
"We actively work with about 30 different manufacturers," Zaccaria says. "We're careful not to be dependent on any one particular manufacturer. That allows our pricing to be very competitive and we offer tier pricing as well. The more you order, the better the price."
The company's best-selling products include formalwear, casualwear and polos for the food and beverage industry. Service vests are another big seller. Although the majority of its apparel comes from other manufacturers, Ambassador Uniform manufactures its own higher-end vests and a number of other popular items. "We're looking to expand our upscale vests business," Zaccaria says. "That's been doing very well."
The company carries brand names that include Edwards, Neil Allen, Blue Generation, Fame, Dickies and Red Kap. Ambassador Uniforms does not require a minimum order size for purchase.
"No sale is too small," Zaccaria says. "Our customer base varies from individuals to major organizations. We'll sell one shirt and we'll sell 5,000 shirts. Every customer is important to us."
Trend Spotting
Ambassador places a high value on keeping up with the latest trends. It likes to think of itself as the "fashion coordinator" for the food, beverage and hospitality industries. "The restaurant uniform business is usually a year behind the retail trend," Zaccaria says. "So we have a little bit of a head's up because the trends of today will be the uniforms of tomorrow."
In general, most companies are looking for classic colors. "The common denominator of all the products we carry is color," Zaccaria says. "Our clientele wants mostly solid color merchandise."
Burgundy-colored apparel appears to be popular this year, she adds. However, black and white will always be in style. White is popular in high-end restaurants while black seems to span the spectrum. "Black is always going to be a top seller," she says. "Many of our customers have a color scheme they are outfitting their employees in."
Roughly 15 percent of the items that Ambassador sells are embroidered with a company logo or an employee's name and/or position.
To cater to a variety of clientele, the company has added more inexpensive apparel to its portfolio. "Our customers like items that are practical and inexpensive yet get the job done," Zaccaria says.
The company also differentiates itself from its competitors by offering its customers annual paper catalogs that are also available in digital format. "A lot of companies don't publish them anymore," she says. "And we find that our customers appreciate the catalogs."
In 2016 and 2017, Ambassador Uniform received the BoardRoom Excellence in Achievement Award for logo apparel and design from BoardRoom magazine. Winners are selected for overall excellence in their respective fields, achievements, innovation, vision for future growth and continued impact on private club operations.