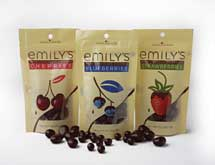 Little did George Paulose know when he began his humble cashew processing and distributing business in his garage that his products would eventually reach a worldwide market. The name "AMES" is an amalgam of family names – his daughters, Amy and Emily, and his wife, Susan, provide the initials for the corporate moniker. Emily's Chocolates was named for Paulose's daughter.
Today, AMES International Inc., which began in 1987, along with its wholly owned subsidiary, AMES Food Processors, India, processes and distributes cashews, mixed nuts, dried fruit mixes and gourmet chocolate-covered dried fruits, nuts and cookies in many countries. Its products include roasted cashews, dark and milk chocolate-covered almonds, dark and milk chocolate-covered fortune cookies and dark chocolate-covered strawberries.
AMES' Teaosophy brand, established in 2004, processes and distributes high-end teas that are imported from top estates in India and Sri Lanka. The flavors include Assam, Ceylon, Darjeeling, Earl Grey, green Darjeeling, Kerala and Nilgiri.
Emily's Chocolates prides itself on obtaining the freshest and best nuts, as well as premium all-natural dried fruits and chocolate from around the world. Paulose himself travels to source nuts from Vietnam and India, rather than purchasing from an agent or broker. He inspects the product's freshness and flavor before it is sent to the Fife or Kerala factories.
Both Emily's Chocolates and Tea­osophy are well-known in the United States for their high-quality products. Yet, while traveling abroad to obtain ingredients for its U.S. operations, Paulose saw myriad opportunities in China, Southeast Asia, the Middle East, Europe and Africa for distributing food products.
"The food distribution industry in India, for one, is very fragmented and unorganized," Paulose notes. "In addition, more than half of the world's population resides in Asia, which offers tremendous opportunities for growth."
Taking on the World
A native of India, Paulose decided to give back to his community by building a state-of-the-art production facility in Cochin, Kerala State – the village where he was born. Located near the port city of Cochin to provide water transport of the products, the Indian location plants AMES factories on opposite sides of the globe – and expedites product shipments to the entire world. "Our Kerala factory could probably ship product to New York faster and less expensively than our factory in Fife [Wash.]," Paulose notes. "We now have two strategic, port-based factories to take on the world."
The 70,000-square-foot Kerala facility incorporates high-speed packaging and highly automated production machinery that mimics the production facility in the U.S. "We wanted to make sure that the quality standards and processes were exactly the same at both the Fife and the Kerala plants," Paulose says.
"[AMES is] very well known for its high quality standards," Paulose says.  "For the Kerala operation, we employed a Belgian quality-control company, Bureau Veritas, to make sure the products were being manufactured to American standards." Also, because many of the products are sourced from the Far East, the products are fresher when they arrive at the plant.
"Our operations are HACCP-certified," Paulose says. "To ensure the highest sanitary measures, no one is allowed in the production area unless authorized to do so." The Kerala operation also launders the employee uniforms at the factory site to ensure they're washed and dried in hygienic conditions. "We can't afford to risk the quality of our products," he observes.
Socially Responsible
AMES has been careful to create a socially responsible culture both among the employees and the production facilities themselves. "We've incorporated solar water heaters and water harvesting systems for the landscaping within the new grounds," Paulose notes. "The plant itself was designed with daylighting systems that require no electrical lighting during the day." In addition, the company recycles everything possible.
When Paulose visits his suppliers' plants, he wants to ensure they adhere to the same socially responsible practices that AMES does. "In addition to ensuring the quality of the products themselves, we want to make sure there is no child labor being used, as well as to support female work forces in developing nations," he states.
The company also makes a point of hiring local women who, many times, have difficulty finding adequate employment. "These people are some of the best workers I have," Paulose boasts. "Tears come to my eyes when I see the success happening there.
"We have very good people both in the U.S. and in India who continue to produce the highest-quality products," Paulose adds. "From the highest-level employees all the way down, our people understand our culture of quality and reliability."