Amigos Foods' strong service keeps its clients loyal.
When it comes to customer service, Amigos Foods specializes in doing the impossible for its clients, President Max Hurtado says. "Sometimes, our customers scratch their heads and ask, 'How do we get that done?'" he explains. "We're the best at doing that."
If a transportation team is required to get the job done, Amigos Logistics will make it happen. "We do whatever we can to satisfy our customers," he says. "That's why our customer service is second-to-none."
Chicago-based Amigos Foods distributes a full line of protein products, such as beef, pork, poultry, lamb, veal, seafood and cheese items. Partners Francisco Moreno and Rafael Ortega founded Amigos Meat Distributors in Houston in 1994 when Ortega had trouble sourcing meat for his stores from other distributors.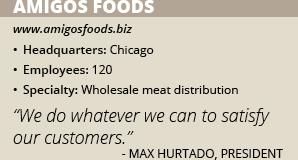 Ultimately, Amigos Meat Distributors became one of the largest meat distributors in Houston, and expanded its reach when it opened Amigos Foods in Chicago in 2001. The companies' success only grew, leading to a national presence with the opening of distribution centers in Atlanta, Phoenix and Dallas.
Today, Amigos Foods employs a staff of 120 people. It serves its clientele in more than 20 states through its own transportation company, Amigos Logistics. "We probably have with us at least 50+ [trucking] units," Hurtado says.
Another unique advantage for Amigos Foods is its ability to back haul product. The main core of its customer base is also located in the same region as many processing facilities. "Our drivers will make deliveries to those customers, and then can also pick-up product to bring back to our warehouse," Hurtado states. "This allows Amigos to be more efficient than the competition."
Amigos Foods' customers primarily consist of Hispanic grocery markets. However, "We've expanded our distribution to a larger clientele to include your major retailers throughout the country," he says.
Many of the company's clients, Hurtado adds, are repeat. "In rare situations, a customer may go out of business. Otherwise, we probably never lose you as a customer," he declares. Thanks to its customer service, "We're very good about keeping customers."
A New Dimension
Amigos Foods recently added to its operations with Amigos Frozen Solutions, a 42,000-square-foot cold storage facility that opened in January. The facility is located a block away from its distribution facility in Chicago.
It also features a small processing area, which has enabled Amigos Foods to go "into another dimension," Hurtado says. "We didn't process anything [before]."
Although Hurtado expects Amigos Foods to process Hispanic-related items, it is not limiting its options. "We're pretty much open to suggestions," he says. "We're taking [ideas] from our current customers, including technology to temper product out more efficiently."
All Stars
Amigos Foods operates with an environment where people work at a fast pace, CFO Manny Rangel Jr. says. "Everybody's pretty busy, [trying to] get out as much work as possible," he says.
Despite its modestly sized staff, the company has managed to boost its sales, Rangel adds. "It speaks a lot to the efficiency we have here," he says. "I like to think we have a group of all-stars."
Those all-stars, Hurtado notes, include its entire sales department and Rangel himself. "Manny has done a good job on the financial side," Hurtado says, adding that many have been with Amigos Foods for more than a decade.
"The core of the company has remained consistent," Rangel says, adding that the company has a "family" environment.
A Young Nucleus
Hurtado sees growth in Amigos Foods' future. "The sky's pretty much the limit for us," he says, noting that many of its employees are eager to grow their skills. "We have a pretty young nucleus of a company."
Although the company does not have any plans to add to its operations, Hurtado does not rule it out for the future. Starting something new is always a possibility. "As a smaller company (versus a large corporation), we have the ability to change quickly and adjust to our customers' demands and needs."
Finally, Hurtado states, "I would just like to thank all of our customers and all of our supporters,"
Enhancing Lives
Amigos Foods has contributed to charities through events such as its 11th annual Golf Outing Benefit, which was held in July 2015 at Crystal Tree Golf and Country Club in Orland Park, Ill. The company partnered with former athlete Bo Jackson's Give Me A Chance Foundation, President Max Hurtado notes. "The foundation is dedicated to enhancing the lives of deserving youth by actively supporting educational and athletic programs that guide minority kids through the challenges of achieving successful personal and professional growth," Amigos Foods says. It raised more than $50,000 for the cause.