Amplify Snack Brands Inc.
Amplify is preparing to operate as an independent snacking arm for The Hershey Company.
These days, consumers are looking for healthier options in their snack foods. This can mean a step down in flavor when it comes to some products, but Amplify Snack Brands Inc. excels at offering foods that are healthy and have a great taste, embodying the firm's philosophy of "snacking without compromise."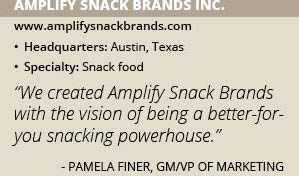 GM/VP of Marketing Pamela Finer says the Austin, Texas-based company started operations in 2014 as the SkinnyPop Popcorn brand, a lower-calorie snack with no GMOs, gluten or preservatives. "[We're] very transparent about what's in and not in our products," she says.
"We created Amplify Snack Brands with the vision of being a better-for-you snacking powerhouse," she continues, adding that company started looking strategically for other brands that would bolster its portfolio and fit in with its mission.
Today, Amplify also has Paqui, its tortilla chip brand that uses freshly cooked ground corn; Oatmega, its protein bars which are made from a combination of premium grass-fed whey and Omega-3s; and Tyrrells, which are hand-cooked potato chips. But the company also is positioned to add more.
This January, The Hershey Company acquired Amplify. "The decision has been made to form a snacking hub for Hershey in Austin with the goal of being the clear leader in better-for-you snacking," President and Global Chief Operating Officer Craig Shiesley says.
On Trend
Amplify will add Hershey's snacking brands to its portfolio, including its KRAVE Jerky Snack Products, BarkThins and Brookside. "Once we integrate and begin to scale these brands alongside the existing Amplify brands, we will transform this company into a snacking powerhouse," Shiesley says.
Amplify will operate independently of Hershey, which is unique for the industry. "Most companies acquiring new businesses and brands will fully integrate them into the parent company, and many of those that try to keep them independent have challenges in truly running them as autonomous businesses over time," he says.
Hershey is making a bold statement as part of its broader transformation agenda to become more than a chocolate company but rather a leader in the broader snacking universe. That starts with Amplify transforming the better-for-you snacking space.
Here to Stay
Now is a good time for Amplify to be in the healthy snacking business, as it is a $5 billion industry, Shiesley says. "It is one of the fastest growing categories within snacking," he declares. "Those trends are here to stay. You'll see the better-for-you piece of the total snacking universe getting larger."
The end consumers also are becoming better at discerning which foods are better for them and which are not. "They're looking for few, simpler and more transparent ingredients but still desire great tasting snacks," Shiesley says.
Amplify's aspiration is to be the leader in this segment, while staying agile. "We've been able to be one step ahead of where the market is going," Finer says, noting that the company stays close to changing consumer needs and behaviors to ensure it is delivering the optimal solutions.
"We like to lean in and take calculated risks," she says. "It has paid off with really strong growth." For example, Amplify has been able to take a platform innovation from idea to launch in under six months.
In fact, Shiesley says, Amplify has set itself apart by enjoying a consistent average of more than 15 percent growth in the past five years. "You also don't have many companies that have undergone as much growth and transformation as this one has," he says.
"We've gone public, then been acquired and will be continuing to grow and innovative aggressively," he says. "This agility and growth mind-set are some of the attributes that will help us stand apart in the future as well."
Truly Special
Finer is proud of Amplify and how it has been a true transformational company. "This place is truly special for the people that opt in," she says.
"[We have] the ability to adapt and change as the landscape changes," she says. "I'm most proud of the way this organization has been able to grow and sustain this momentum."
Vice President of Operations Richard Price agrees. "What I have found to be extremely exciting about this business is when you talk about the brand, how it was founded and what it believes in from a consumer standpoint," he says.
He notes that Amplify's employees share belief in its mission. "It's amazing how it permeates throughout the facility," he says. "They live and breathe the values that we have. It's exciting to be around."
Shiesley predicts a strong future for Amplify. "I see everybody at Amplify delivering great results while building a company that is great to work for and is purposeful, mission-based in all we do," he says.
The company also plans to grow. Currently, it has approximately 100 employees, but over the next 12 to 18 months, "that will nearly double as we increase our snacking footprint," he says, noting that it wants to expand its space. "We'll be exploring that in the future."
Amplify also wants to add more products within its current brands. For example, SkinnyPop has added microwavable, cake and puff products. "We've been able to take that brand and leverage what works," Finer says.
"You'll continue to see us do more of that with the SkinnyPop brand," she predicts. "You'll see innovation across the portfolio as well."
Shaping Snacks
Amplify Snack Brands Inc. recently completed a study with the Center for Generational Kinetics that determined that millennials are driving the growth of the better-for-you snack category. "Thanks to these health conscious and influential consumers defining both how we snack and our expectations of those snacks, better-for-you choices are now sought after by a mainstream audience," the company says.
Amplify reports that 64 percent of millennials believe that shorter ingredient lists means a snack is better for the consumer. Additionally, 79 percent of millennials say that being able to understand all the ingredients boosts their trust in a packaged snack.