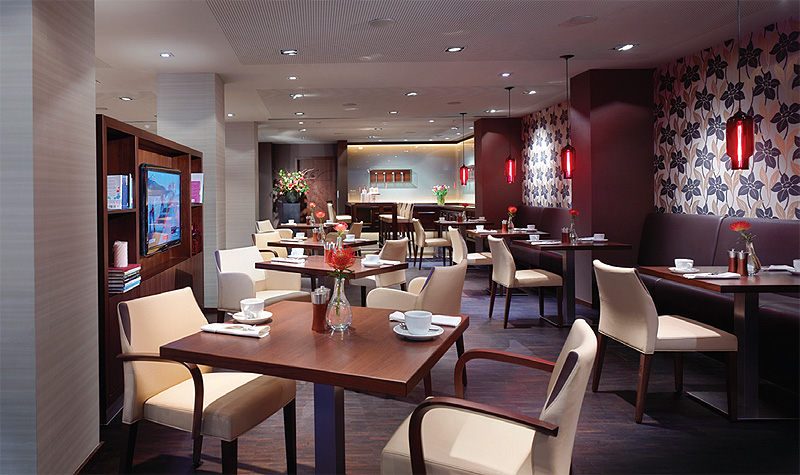 Prestigious destination
The recent, complete renovation of Amsterdam Marriott Hotel's building has led to an incredible recovery from the economic downturn
As a renowned international chain of hotels, Marriott International has an 80-year history of providing high quality hospitality to customers across the world. There are now over 3000 branches of the company throughout the world under a variety of brands including Marriott Hotel, Renaissance Hotel and Courtyard by Marriott. Whilst each location has independent control over its building, it must approve changes through Marriott International.
When it was opened in March 1975, Marriott Hotel Amsterdam was the brand's first foray into Europe. Its situation at the heart of Amsterdam and near the Leidseplein makes it ideally located for holidaymakers and business travellers alike. During its 35-year history it has become a destination renowned for both its sleeping and dining facilities, possessing five star rating for its 395 guest rooms.


Seeking to reinforce its position as a leading hotel in the city, the building recently underwent multi-million euro renovations on its lobby, executive lounge, restaurant and kitchen. The refurbishment was carried out not only on interior decoration but structural changes were also introduced such as the expansion of public spaces, LED lighting throughout its public areas and a new air-conditioning system.
Ronny Maier, general manager at Amsterdam Marriott Hotel, goes into further detail about the reason for modifying the building's layout: "The hotel is 35 years old and people today look at space differently. For example kitchens were much larger 35 years ago 27as there was a greater need for storage space than there is today, so during our renovation we were able to compact our kitchen into a more efficient operation and open up the extra space into public areas."
A decision was also made to move the executive lounge. Whilst it previously had a traditional location amongst the guest rooms in the hotel's higher levels, it is now incorporated into the fresh space at ground level. The advantages have been immediate: because it is closer to staff and managerial areas, the service available to guests has become both more efficient and of a higher standard.
The hotel's relaunched steakhouse now serves premium quality USDA beef sourced directly from the US, and as Ronny highlights this has received a very positive response: "We have rolled out a very successful steak concept called Midtown Grill, and this is present in several of our hotels across Europe. Here in Amsterdam we really specialise in USDA beef and the customer feedback is incredible. It's an expensive product because we import everything from Creekstone Farms in the US, but the cuts we receive are outstanding. I think that quality is extremely important because good food sells rooms."
Authenticity is important to the hotel so it took the extra step of also importing the appropriate broiling equipment used by steakhouses on the other side of the Atlantic. It has also hired a pastry chef to make the sweets and dessert foods in-house rather than relying on pre-made frozen desserts, offering customers a consistent dining experience and resulting in restaurant headcounts increasing by three to four times since the renovation. This type of extra investment is key to the hotel's commitment in providing guests with a charming visit.
One of the most significant developments for the hotel, however, is the introduction of LED lighting into its public spaces. In collaboration with Phillips, the hotel has introduced a system that enables cycling through warm and cold LEDs to mirror natural daylight even in rooms that have no windows. The technology also allows for manual adjustment, which is particularly useful for the event and conference halls dotted throughout the building.
Many of these changes, such as the introduction of LED lighting and new air-conditioning systems, have been chosen because of their energy efficiency; further changes planned for the near future in this regard is the replacement of all the hotels windows. Whilst these elements are not immediately noticeable to guests, it is important to the business not only to add depth to customer experience, but also to ensure it retains its position as a competitive player in the market. Customers, it seems, are already responding well with guest numbers having almost returned to 2007 – 2008 peak numbers.
Despite the economic recession making a dent on the hotel's financial figures, Ronny explains why a six million euro investment during this time was a good decision to make: "Firstly, investing is good for the economy. Secondly, it shows strength and it shows that you believe in your own product. We were confident that it would be wise to commit to such a large investment, and we have definitely come out stronger. It will take other companies a long time to catch up."
This belief in itself is well founded as it rode out the recession with minimal impact. The hotel did not have to make redundant any of its staff during the financial crisis, and Ronny attributes this not only to the established brand to which the hotel belongs but also the quality of all its employees. He explains how this has benefitted the hotel as a whole: "We have a great product and were able to hold on to every single person in our employ. Your associates know they can trust you and we gain loyalty from them. We are proud of this and feel that it has given us a very strong position."
Over the next few years Amsterdam Marriott Hotel will continue its ongoing cycle of renovation, with guest rooms next on the list after the replacement of windows. Already one of the city's most prestigious hospitality destinations, recent feedback to the changes suggests it will continue growing as a popular and well-loved hotel. Ronny concludes with an upbeat outlook: "We have guests who have come back every year for 20 years and I think that is special. Our hotel is a milestone with so much company heritage, history and culture, and that makes all of us feel proud."