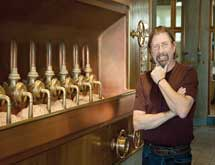 San Francisco is not the same city it was in 1896. However, its beer has remained the same. The city's own Anchor Brewing Company has produced its signature Anchor Steam craft beer for more than a century. Beloved by locals and beer enthusiasts around the world, the Anchor Steam brew has experienced little change to the recipe or process. This is a result of the brewer's dedication to preserving its heritage – a signature trait of the company.
Although Anchor is focused on preserving its heritage, it has made some changes along the way. Throughout the years, the brewery has maintained its artisan beer-making techniques while expanding its product line. For example, its Anchor Steam beer now is joined by a number of brews, including a coveted Christmas Ale, which celebrated its 36th anniversary this season. And, in the early '90s, Anchor added a distillery to make rye whiskey.
With more than a century's worth of experience, Anchor Brewing has become one of the most successful craft beer operations in the country. The company's unwavering dedication to quality and its uniquely San Franciscan flair have helped propel the craft beer segment. However, as the segment continues to grow, it poses some unique challenges for Anchor Brewing.
The Art of Craft
Over the past several years, the craft beer segment has experienced significant growth. According to those in the industry, consumers are opting for craft selections for a number of reasons. As explained by Keith Greggor, CEO of Anchor Brewing Company, there has been a powerful movement among beer drinkers to embrace beers with an authentic heritage and that are handmade using only the finest ingredients.
"Overall, we're seeing individuals willing to spend a little more for the reward of knowing they're experiencing something special and that's been made with passion and a commitment to quality and tradition," he adds. "The craft beer trend is only one aspect of a general consumer trend towards authenticity, quality and natural ingredients seen across most food and beverage sectors."
To give definition to the craft beer segment, craft selections are brewed by an independent brewery with a longstanding dedication to traditional malt-based brewing techniques. Acc­or­ding to Greggor, craft beer can only be brewed using traditional methods free of adjuncts, such as rice or corn, which are typically used to produce beer for a mass market.
"Anchor was at the forefront of craft beer innovation years before the term 'craft brew' was coined," Greggor says. In modern American brewing times – defined as Prohibition to present – Anchor was the first brewery to produce many beer styles in the United States. The brewery produced items such as Anchor Porter (1974), a seasonal Our Special Ale (1974), Liberty Ale (1975), Old Foghorn Barley Wine (1975) and Anchor Summer Wheat Beer (1984).
The brewery is unique in its dedi­cation to the craft of beer-making. According to Greggor, Anchor employs no modern shortcuts. Thus, its beers are manufactured much the same way they were nearly a century ago. "Each brew is virtually handmade with an all-malt mash in our copper brew house," Greggor says. "We know of no other brewery in the world that matches our efforts to combine traditional, natural brewing methods with the most careful and modern methods of sanitation, finishing, packaging and transporting."
Growing Pains
Much of what makes Anchor Brewing successful is a dedication to its manufacturing techniques, which are more than a century old. However, as the craft beer segment continues to grow, Anchor Brewing has been faced with some delicate decisions regarding its own growth and modernization.
In the early 1990s, the company was faced with the decision to expand or maintain its output. The company's then-president, Fritz Maytag, chose to maintain Anchor's production capacity to around 80,000 beer barrels.
"There is an industry perception that growth is associated with a decline in quality, and this is a challenge," Greggor explains. "Growth has its challenges and can strain a brewery that has been humming for many years." According to Greggor, today's management team is at work addressing improvements to increase capacity, storage and packaging capabilities versus cutting corners that compromise the beers.
"Today's customers are discern­ing and demand integrity," he says. "There­fore, you have to be true to who you are and allow your products to represent that passion and honesty."
Taking steps to grow the company is no easy task. Satisfying the need to expand with the craft beer segment is a must, but so is the need to preserve the legacy of Anchor Brewing Company. "Beyond our recipes, techniques and brewery, we have more than a century of heritage and an authentic connection to the culture and history of San Francisco," Greggor says. "It's not only what separates us, it's what drives and inspires us to carry forward the Anchor legacy that's celebrated both locally and around the world."