Ancient Harvest thrives by bringing consumers nutritionally dense products.
Not many companies can say they are pioneers in an industry, but Ancient Harvest can. "[We were] the pioneer in bringing quinoa grain from South America to the United States roughly 35 years ago," CEO John Becker says.
Boulder, Colo.-based Ancient Harvest specializes in non-GMO and organic gluten-free food, such as pasta, quinoa, macaroni and cheese, quinoa flour and flakes, and ready-to-eat polenta. When the company started operations approximately 35 years ago, it worked with farmers in Bolivia to develop a sustainable agriculture system to grow and commercialize quinoa.
"The company developed one of the first supply chains to bring quinoa to the United States," Becker says, noting that the company now has more than 40 products that it sells in the United States. But its main product remains quinoa.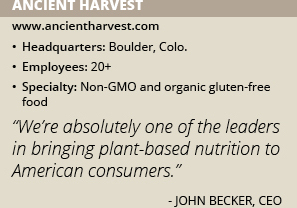 "Quinoa is a complete protein, containing all of the amino acids that your body needs to function," Becker says. "You can use it as an ingredient in recipes or products, or cooked by itself much like rice. It's just a terrific, nutritionally dense product."
Ancient Harvest also is one of the largest, natural gluten-free pasta brands in the United States, with spaghetti, penne, elbows, rotini and other shapes. "We commercialized that category 25 years ago," he says.
New from Ancient Harvest is the new sub-brand POW!, a high protein, high fiber line of pastas, meal kits, and macaroni and cheese. "A real point of difference with this line of pasta is there is more than double the protein and fiber of traditional gluten-free pasta," Becker says. "There are 25 grams of protein and 12 grams of dietary fiber per serving! Made from beans and lentils, POW! is just packed with the positive nutrition that today's consumer is looking for," he says, noting that the items recently hit the shelves of Whole Foods Market and Sprouts Farmers Market, among other retailers.
Staying On Top
Ancient Harvest's reach extends across the nation, as well as into Canada. "We're in every major grocery chain," Becker says. "We're absolutely one of the leaders in bringing plant-based nutrition to American consumers."
It's a good time for Ancient Harvest to be in business because people are shifting towards plant-based nutrition and proteins. "The American consumer has traditionally gotten his or her protein from meat-based sources," he says.
But meat is less sustainable in a supply chain, Becker says. "Plant-based sources are a much more sustainable, responsible way to continue to deliver dense nutrition to the U.S. consumer," he says.
The growth in interest in plant-based nutrition has led to an increase in competition. "It's a very attractive space to introduce products," Becker admits. "But it keeps us on our toes in coming out with great products [that] taste great and meet all of the nutritional requirements. We're making sure that we stay on top of our category leadership position."
Strong Connections
Becker, who recently joined Ancient Harvest, praises its staff and work environment. "We're a very collaborative, progressive company," he says. "We work strongly together as a team.
"We have strong connections with our consumers and retailers," he continues. "We work collaboratively with those groups as well as internally. That's what makes a good team great: working together to bring the best products to fit the needs of our consumers and retail customers."
Ancient Harvest plans to build on its status as a category leader, Becker says. "We'll continue to grow products that are made with quinoa or other ancient grains," he says. "They have superior nutritional profiles," he states, noting that the company will introduce them in ways that are familiar to the American consumer. "We'll see that continuing in our current categories as well as potentially in some new categories."
The One-Stop Shop
Quinoa is the cornerstone of Ancient Harvest's products, but many consumers are still unfamiliar with it. "Known to Bolivians as 'the mother grain,' quinoa is one of the few plant-based sources of complete protein," the company says.
"With its mild flavor, light crunch and impressive protein content, quinoa is the perfect gluten-free substitute for pasta, rice or couscous," Ancient Harvest says. "It's also frequently milled into a gluten-free flour that can be used in baking, or as the base for gluten-free pastas, cereals and more."
Quinoa – which is a relative of Swiss chard, spinach and beets – provides the nine amino acids necessary for good health. "Wheat, rice and most other grains are missing one or more essential amino acids, but quinoa is a one-stop shop," the company states.