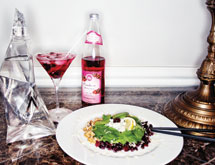 AnestasiA Vodka – A New Sensation
Although Mamontova respects the traditions of her family and others who have gone before her, she has very different ideas when it comes to the drink. "Looking at the market for vodka, I knew there was a place for something new," she says. "Everything out there was kind of the same, and there was no added experience. I love to have fun, drink and enjoy life, and I like vodka, but wanted something new and exciting."
Mamontova four years ago set out to create a new vodka she feels will excite – and maybe even shock – those who partake of the spirit as a mixer or straight. The result of her quest, AnestasiA Sensational Spirit vodka, launched in October 2012 and can be found in specialty liquor stores in New York as well as online.
AnestasiA Vodka is owned by Numbrands Inc., the company Mamontova co-founded in 2008 for the express purpose of developing and marketing the vodka. Mamontova and her partner financed a large portion of the company with their own money, as well as through investors.
Standing Out
Everything about AnestasiA Vodka is unique compared to what most people expect from vodka. First and foremost is the taste – as vodka is not aged like other alcoholic beverages, people drinking it straight commonly experience a burning sensation. AnestasiA Vodka, however, goes down more easily.
"AnestasiA Vodka is made from a formula developed by food scientists that reduces the burn inherent in alcohol, especially vodka, making it more pleasant to consume," Mamontova says. This gives it a distinct tingling or cooling sensation some drinkers have likened to mint, though it does not contain menthol.
The vodka is produced not in Ukraine, Sweden or other countries known for it, but instead in Bend, Ore., using locally grown organic corn, Cascade Mountain spring water and other natural ingredients. AnestasiA Vodka is distilled five times and also filtered five times through charcoal and crushed volcanic rock. It is a naturally gluten-free beverage, Mamontova notes.
"We pay a lot of attention to quality control," she adds. "We go to the distillery in Oregon every time they make a new batch to taste it."
Mamontova felt AnestasiA Vodka could only be contained in a package befitting its experimental nature. Numbrands contacted Karim Rashid to design its bottle, which has several glass panels, giving it a faceted look.
The bottle, manufactured in Italy from more than 40 percent recycled glass, also is shaped in a manner that makes it easy to grab and pour. "Because the product is so unique, we wanted the bottle to reflect that," she adds. "We really wanted something that stood out in both a bar and a store."
Mamontova says Rashid, who operates a studio in New York City and has 3,000 designs and 400 awards to his credit, "loved" the idea behind the product and is also a minor shareholder in the brand.
A Shot of Potential
Mamontova knows AnestasiA Vodka may take some getting used to for drinkers used to traditional vodkas, but likens it to carbonation, another development that initially shocked but later delighted consumers. Numbrands is already seeing a positive response locally as well as from unexpected places such as Canada and the Dominican Republic, she says. Plans are under way to gradually increase distribution.
AnestasiA Vodka's distinctive tingling sensation makes it not just a good choice for a shot or to consume straight, but also as a palate-cleansing after-dinner drink. Its potential in mixed drinks – such as with a mojito or even Sprite – is also large. "Bartenders like it because it gives them a whole new realm of experimentation," Mamontova adds.
At $39 for a 750-milliliter bottle, AnestasiA Vodka also is reasonably priced. "We are a premium product, but believe we offer added value," Mamontova says. "We're not just another vodka in a pretty bottle – we give an added experience to the consumer and our bottle is something people will want to hold on to after it's empty."