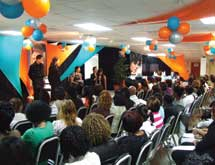 Anthony P. Scott & Co. Ltd.
At Anthony P. Scott & Co. (APSCO) Ltd., operations are not only focused around the marketing and distribution of professional products, but also strong customer support, Marketing Manager Nalini Mohammed says. For instance, the company provides quarterly training so that its employees can better serve its customers.
"Our IT systems support customer service," she says, noting that access to the customer's information is available at the employees' fingertips. "All decisions are made pretty much with that [philosophy] in mind – making sure our [customers] are happy and well-serviced."
Based in San Juan, Trinidad, APSCO provides products through seven departments: food, personal care, pharmaceutical, hardware, paints and coatings, packagings and Avon. Founders Anthony and Germaine Scott started APSCO 40 years ago as a two-person operation.
Today, the firm employs a staff of more than 200 and serves supermarkets, drugstores, and variety and cosmetics stores, along with industrial, health and government clients. In addition, APSCO represents 30 brands, including Eden Foods, Munchy's, Goya, General Nutrition Centers (GNC) Inc., Paul Mitchell and Champion National Raisin Co.
APSCO also provides training to its clients on marketing and products. "That's one thing that's different from our competition in the local market," Mohammed says. "Also, [all of our] communications materials are done in house."
The firm also remains a family owned company, with Germaine Scott as chairwoman and other members of the Scott family as directors. "They all have excellent relationships with our customers," Mohammed says, adding that the company has coped well with the economic downturn.
"We actually started growing other departments before the recession hit," she recalls, adding that this initiative was led by Managing Director Daniel Scott. "He really has seen the importance of getting new brands [and] building divisions so that we have a good mix."
Food Options
Although food does not comprise the majority of APSCO's business, it still reflects the company's mission statement of enhancing the values of its clients' lives, Mohammed says. This has led APSCO to avoid carrying any products that would be detrimental to consumers, she says.
"A lot of our products are healthy," she says, noting that these include soy items and juices without added sugars. "We're really guided by providing healthy alternatives and options."
She adds that the company has seen many changes in the food market that it is now adapting to. For example, frozen foods have increased in popularity, due to busy lifestyles.
"That's because [in] most families, both parents work," she explains, adding that parents also have to balance food preparation time with spending time with their children. "You find a lot more people looking for convenient food."
Although APSCO does not distribute any frozen food items, it is currently exploring opportunities to add them, Mohammed says. In addition, the company has found that many of its clients are becoming its competitors, as stores have started selling their own brands.
One way to counter this is by aggressive trade discounts with incentives and trade plans for the retail customers. For consumers, the company uses more direct marketing using technology and loyalty programs.
Broadening APSCO's Focus
Looking ahead, Mohammed says APSCO has its sights set on branching out further, by targeting regional chains as its customers. This has included nutritional supplement company GNC, which will be opening stores in the company's local area. "GNC is going to be really huge for us," she predicts.
The company also is in the process of expanding into housing and is in the process of building a factory for its housing division where it will build the steel structures for affordable homes. With the shifts in power in the supply chain, it is trying to get closer to the consumer making itself less vulnerable to shifts in the supply chain and competitive activity.