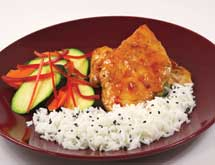 While running a 50-year-old family-owned butcher shop and retail store in San Francisco, Sil Antonelli learned the styles and tastes of its affluent clientele. So in 2002, he decided to "take a shot" and formed Antonelli's Inc., which offers fully-cooked, gourmet, home-style "center of the plate" food. "I invested a little money into this company and obviously it worked," he says.
Based in San Francisco, the family-run business now offers hundreds of items such as entrees featuring chicken, beef and pork, as well as a variety of homemade sauces, side dishes and deli salads. "We have taken our experience and our passion for good food and created our newest venture – mouth-watering, high-quality meals that are delicious, reasonably priced and incorporate the best ingredients available," the company says. "We are one of the leaders of gourmet homestyle foods and entrees."
A diversification process several years ago led the firm to offer more variety of precooked items such as crab cakes, lasagnas, quiches, cordon bleu, stuffed mushrooms and salmon burgers. Its items are available in the western half of the United States in a variety of stores such as Safeway, Whole Foods and Trader Joe's.
"Basically, the economy dictated our need for diversification," Antonelli explains. "It was the vision I had for myself and at that point, it seemed like the right time."
Antonelli's variety of products allows it to attract a broad range of customers. "We have customers that want to cook it all, and others that don't have the time," Antonelli notes.
Quality First
"We do not compromise quality – we only do the best," Antonelli stresses. Much of the company's R&D effort goes into making sure its products are all natural. None of its food has artificial flavors or coloring.
"Our food contains only the freshest, all-natural ingredients," he adds. "It's the quality of the product [that is important]. We refuse to compromise. We don't use 'regular' best foods; we use things like all-natural mayo. Everything is made from scratch and everything is made ourselves.
"We may not be the cheapest out there," Antonelli acknowledges, "but we make food people will want to buy a second time.
"I cannot and will not depend on an outsourced [entity] to supply my product," he stresses. "We don't want to be like everyone else. We make all components of our food fresh and in house."
Nutritional value is also important to the firm. For example, "We are very big on low-sodium," Antonelli says. "We don't like to be preservative-dependent. Our shelf life dictates whether or not it's used and that depends on the distribution areas we have to hit."
The company started using its own trucks to distribute products in Northern California this past year to ensure quality upon delivery to its customers, he adds. The company's fleet has four trucks. "Just because of the timeframe and the high perishability of our items," he explains as the two other reasons why the firm made this change.
Big Confidence
Antonelli's has not been impacted by the economical conditions. "We had to be both reactive and proactive," Antonelli explains. "We had to discover the needs and voids. It was basically innovation. We had to find a need in a changing economy and come up with a product that people wanted."
For example, during the summer the company concentrates on offering grilling items such as hamburgers, hot dogs, barbecue kits and ribs, as well as potato salad and macaroni salad. During the winter season, the company offers comfort food like beef stroganoff, macaroni and cheese, and meatloaf. "We figured out what [customers] needed and reacted," Antonelli explains.
"It was very difficult to define our diversification," Antonelli points out. However, "We were fortunate because we made the right decisions. Opportunities were available to us and our reputation helped us immensely. Our vendors had confidence that we could do the job, and do it well."
Competition isn't a problem for the company, he adds. "My staff and I are confident we can do the job," he says. "There is not a lot of competition because not many companies are able to accomplish what we can.
"I have to be pretty confident to ensure the growth of the company," he points out. "People can make similar items, but not like we do. They can't react quickly to the needs of customers like we can."
"Our production facility is USDA-certified and inspected daily, which assures the highest level of safety and quality," the company says. "We regularly receive the highest grades for cleanliness and our state-of-the-art facility allows us to develop innovative methods.
"In short, our goal is to continue to be at the forefront of packaging and home meal technology so that we can continue to provide our valued customers the same great quality and service that Antonelli's has prided itself on for over 50 years," the company says.
Great Potential
The company has 68 employees – all of whom Antonelli trained personally. "For about 10 years, I've had the same staff," he says. "I do not lose staff. We have respect [for each other] and a common goal – to meet customers' needs.
"They don't work for me, they work with me," he adds. "I'm very proud of my staff. They don't wait until tomorrow [to be innovative]."
Family continues to be the main aspect of the company, Antonelli stresses. "I've strived over the years to keep this company family owned and operated," he says. "It has proven to be a great success. Everyone in my management team is part of my family in one way or another. We work together to expand and enhance the company into the next generation – not only as Antonelli's Inc., but as the Antonelli family."
He sees great things for the company moving forward. "We don't just sit and take account of what we have," he states. "I don't want us to grab everything – we like to do things one step at a time. We have a new campaign for redevelopment right now and a lot of plans for the future."