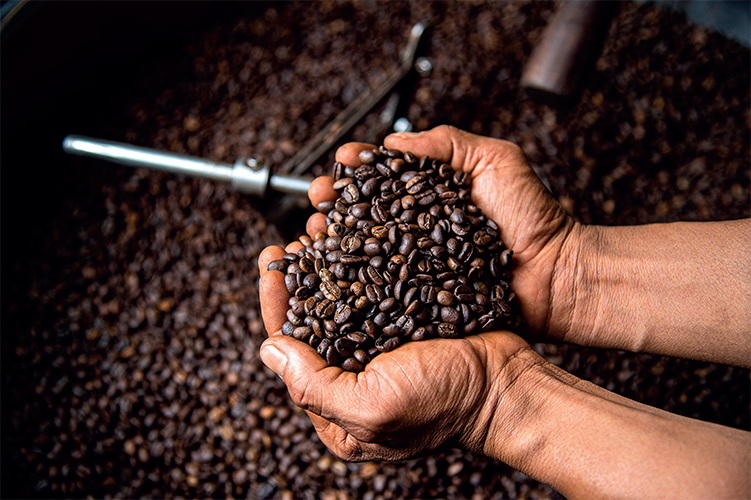 Many coffee roasters today face the same challenge – how to keep up with growing demand for unique, specialty coffees. Coffee lovers not only want exceptional quality, distinctive flavor, and a unique provenance story, they also want to know their coffee purchase is having a positive impact on farmers. Micro lot coffee has fast become a by-word for all these but, while highly sought after, great micro lots are notoriously hard to find and bring to market.
That's where I come in. After working as a barista, a green coffee buyer, and a farmer in Brazil, I now discover specialty coffees from across Central America for ofi. That involves three things. Discovering those exciting micro lots in the first place, no easy feat when many of these farms are found in remote, mountainous regions where high altitudes make for great coffee. Helping the farmers to deliver the highest quality beans. And finding customers for their product. Olam Specialty Coffee carefully selects these micro lots, connecting US and European roasters with traceable specialty coffees from all over the world.*
These diamonds in the rough are discovered through a major amount of work. But what does it really look like in practice? it's important to note a few things before answering this. There are no two identical coffees. Even from the same farm. Every lot or batch can taste slightly different. There are also factors that farmers can control and factors that they can't. For example, a farmer can decide when to wash a coffee at the end of the fermentation process, but they can't control the weather. During the drying process, an afternoon rain shower can destroy the quality of the lot. At Olam Specialty Coffee, we are obsessed with giving every coffee a chance. Each lot that comes in has its own potential. It's a massive undertaking but that is how farmers get feedback and new areas are discovered. Often, the best lots are the smallest ones representing less than 15 bags (1035kgs) of coffee.
We overcome the first of these challenges by sending a team of talented 'coffee hunters' to roam Central America in search of promising new micro lots, small plots of coffee which typically produce fewer than 75 bags each. Often farmers don't have a buying station nearby, so we have a roving coffee cupping lab come buying station that we can take to them. Fully kitted out and manned by our trained Q-graders, this allows us to test the flavor and quality of a farmer's coffee and transact with them, wherever they are, no matter how remote.
Often new discoveries have huge promise but may need help to reach their full potential. Alongside genetics and terroir, post-harvest processing has a huge impact on flavor and quality, but some farmers don't have the skills and knowledge to make the most of this.
Even then, farmers can struggle to bring their beans to market, which is why we promote many smallholders' micro lots through Olam Direct, a smartphone app that allows farmers to negotiate and transact with us directly, using the latest coffee prices. We are using this to source from some brilliant micro lots in San Pedro Necta and Santa Barbara, which are known for beautiful coffees with sweet floral notes and some of the highest altitudes in all of Guatemala. This helps farmers to retain a higher price for their crop and allows customers to trace their beans right back to the individual micro lot, driving greater traceability and transparency.
Marketing is also a powerful sales tool. In some cases, we create a new brand for micro lots to help farmers to find an audience for their exceptional produce. Examples of this are our Lote Especial brands, a range of amazing Guatemalan coffees curated from farmers we know are looking to build meaningful relationships with roasters. Each of these coffees is sold as a complete lot and has received 'TOP LOT' cupping scores from our quality control team. It makes sure these coffees don't go undiscovered and returns a premium to producers.
Take Rosa Maria Ramírez, a smallholder producer from Caserio La Pinada, Huehuetenango, where the mountains rise above 2,000 meters. The smallholders of the region are known to produce one of the best deep blue parchment coffees in Guatemala. A woman working in coffee by herself, Rosa Maria, has less than 3ha of land and produces about 40 bags which we sell under our Lote Especial program. By doing so, we can bring her coffee to market and find customers who truly value the special beans she produces.
I don't see the appetite for new micro lots slowing any time soon. Consumers will only want more exclusivity, more quality, more flavor, and more sustainability impact. This means we must continue to unearth the unique stories and flavors the coffee belt has to offer, and do this in a way that is transparent, traceable and unlocks opportunities for farmers. Whether that's discovering new farmers in new regions, helping smallholders to do things a bit differently, or changing the way we support farmers. All so these small farm plots can pack a big punch.
olam food ingredients (ofi)


Byron Holcomb is Specialty Coffee Manager, olam food ingredients (ofi). ofi is a new operating group born out of Olam International, offering sustainable, natural, value-added food products and ingredients so that consumers can enjoy the healthy and indulgent products they love. It consists of the industry-leading businesses of cocoa, coffee, dairy, nuts, and spices. ofi has built a unique global value chain presence including its own farms, farm-gate origination and manufacturing facilities. ofi partners with customers, leveraging its complementary and differentiated portfolio of 'on-trend' food products, to co-create solutions that anticipate and meet changing consumer preferences as demand increases for healthier food that's traceable and sustainable. www.ofi.com
*To find out more about the work of micro lot producers and our teams at origin, visit: olamspecialtycoffee.com