Apple Market thrives with its catering services and ability to source rare items.
Some might see a large corporate structure as an asset to their operations, but Apple Market sees it as a hindrance. As an independent retailer, the company's store truly thrives, owner David Apple says.
With its simple structure, Apple Market can place a stronger emphasis on customer service and respond faster, he says. "[We have] the ability to adapt and change to not only customer demands, but the environmental changes in the market," he declares.
Based in Pensacola, Fla., the grocery store is known as "the biggest little store in town," with a large variety of specialty and local items, including fresh-cut meats, homemade food and local produce. It also has its deli hot bar, which "is one of the most busy lunch and dinner spots in town," Apple says.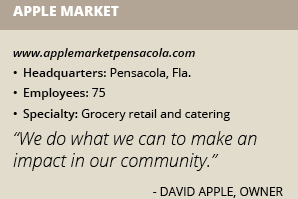 He started working in the grocery business at a young age. "When I was 16 years old, I was working for Safeway stores in Dallas," Apple recalls. "By the time I was 23, I was managing stores in Dallas."
Apple later went to work for Sam's Club, which sent him to work in Pensacola. Although he and his family later moved, "We wanted to come back here to raise our kids," he recalls.
"When we came back to Pensacola, we knew we had to find a way to make a living," he continues, noting that the grocery business was a good fit. "When I was a kid, I always wanted to have my own grocery stores."
Ultimately, Apple and his family bought a former IGA store, which has thrived ever since as Apple Market. "We've had it now 20 years," he says, noting that the store has grown its sales to $8 million and employs a staff of 75.
Brothers in Food
Apple employs other family members in his business. "I've got two brothers who are lifetime all-star chefs," he says, noting that the two came to Apple Market looking for a less "fast-track" environment.
"They joined with me to develop a pretty extensive home meal replacement-type of program," Apple recalls. "But several years later, we began to really try and cultivate [our] catering and banquet business because of their expertise."
Today, Apple Market has the buying power to operate just like a traditional caterer and offer a superior product. For example, "We put out a first-class prime rib and crab cake buffet for [a client's] wedding at a 40 percent savings over what they would find [at] a traditional caterer," he says.
Flexible Retail
Apple Market also offers a home delivery service and has the ability to obtain rare foods. If a customer asks for a particular brand of herring, the store will source it for them.
"Even though they could get it online, we'll go through our list of suppliers and find a supplier to get it for them a little bit cheaper," Apple says. "We'll get items that are hard to find."
This has allowed Apple Market to build customer loyalty. "That's also the flexibility you have with a one-store operation," he says. "You can flex that to meet your customers' [needs]."
Making Impacts
Apple Market has been recognized by local news publications, but Apple is more proud of how the company has helped its customers with its wedding or banquet catering services. "[Those] can be one of the largest expenses that a family can [have]," he says.
"I'm real proud because we're saving people money in our own way," he says. "We do what we can to make an impact in our community."
The future is bright for Apple Market, Apple says. "As long as we remain open minded and adaptable to the demands in the market and from our customers, we have some unlimited opportunities ahead of us," he says.