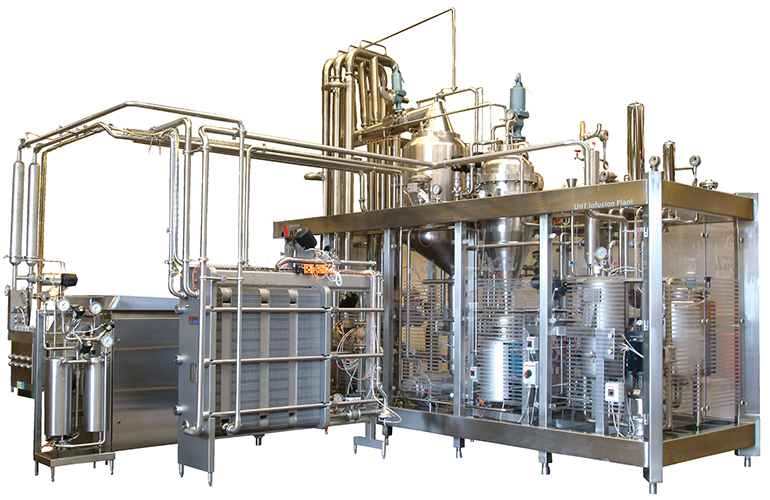 Cream of the crop
David Todman highlights APV's developments, visions and goals
APV has been recently investing significantly in one of its major developments, Lean Creme – a new technology process to turn whey protein into fat substitute. Speaking to Food Chain from his office in Crawley, David Todman, APV's global marketing director explains: 'In most cases where low fat products are required, the norm is to make the product as you would normally and only remove the fat after. Lean Creme is a different concept altogether because it uses a by-product of the dairy industry – whey – which is high in protein but virtually fat free. What is also very important is the way in which whey is processed. There is certain viscosity of the fluid that lets the consumer know it is cream and not a cream substitute. We have successfully achieved the taste and mouth experience of eating dairy cream but without the guilt.
'With this being a virtually fat free alternative, we see it as a huge attraction for major food processing companies. The challenge has been that in the last year whey prices have increased due to the demand from the food processing industries that have developed in China. So the business proposition isn't as straight forward as it was a year before, but we believe the product enhances the benefits and opportunities for fat free products and will still be the driver for future growth.'
Moving on, David outlines other developments within APV: ' There are markets we have identified where milk has not played a role in their traditional diet, for instance Korea. Milk products have become more developed in Asia though the limitation remains that consumers in that market dislike the flavour but want all the advantages of long shelf life milk for their distribution systems, as well as to cater to the shopping patterns – milk is purchased on a weekly basis rather than a daily delivery as it is in the UK.'
'This led us to develop a technology called Steam Infusion – the ability to produce long life milk that tastes like fresh milk. Traditional long life milk undergoes high temperature pasteurisation treatment that gives it an odd flavour. When the dairy milk goes through the steam infusion process, it is heated at very high temperatures to kill the bacteria. The longer you dwell at high temperatures, the more you destroy the natural ingredients, so we have developed a dwell time of just three seconds, killing the bacteria but minimising any damage to the product. This product is very successful in the Asian market especially in Korea and we are hoping that long shelf life opportunity is something that we can develop in Europe and the UK.'
What makes APV unique is that it has never stopped inventing new products or improving its processes. Over the years, there has been a constant focus on minimising cost in all industries. That means developing products to help minimise cost and making processes more efficient. APV has also helped to introduce lean production, adopting all the necessary tools and techniques to make manufacturing more efficient, faster and cheaper.
In what is an increasingly competitive world, responding to and meeting customer demands is no longer enough, particularly when you are a company like APV. APV wanted to demonstrate to its customers how it could provide value to their business in other ways. To understand how it could do this, APV asked its customers and employees what was important to them and what they believed APV brought to their business. The feedback gained was invaluable; it told them that its people and the relationships they developed were the company's key strengths.
As a result, APV re-launched its identity in September 2006 with a proud new slogan: 'the people behind your performance'. As part of the global relaunch campaign, this slogan is present on all external APV communications. APV's new slogan highlights what it does best – it listens, designs, engineers and delivers. APV has spent the last century engineering innovations to meet its customers' exact requirements. 'APV's fundamental belief is that everything goes through our employees,' explains David. 'Our people and the strong relationships they develop with customers are our major strength, which is why we have been re-branding over the last few months. We want to illustrate to customers that just meeting their demands is not enough; we want to exceed expectation and are effectively telling the customer that wherever they are or whatever they need, the employees of APV are behind them.'
As a subsidiary of Invensys plc, APV (known traditionally as Aluminium Process Vessel) is today a world leader in the supply of process solutions and support services to the dairy, food, beverage, pharmaceutical and healthcare industries. With employees in over 50 countries, the company offers a range of manufactured products that include heat exchangers, homogenisers, and pumps and valves for hygienic applications, while its service also includes an extensive global network of after-sales support.