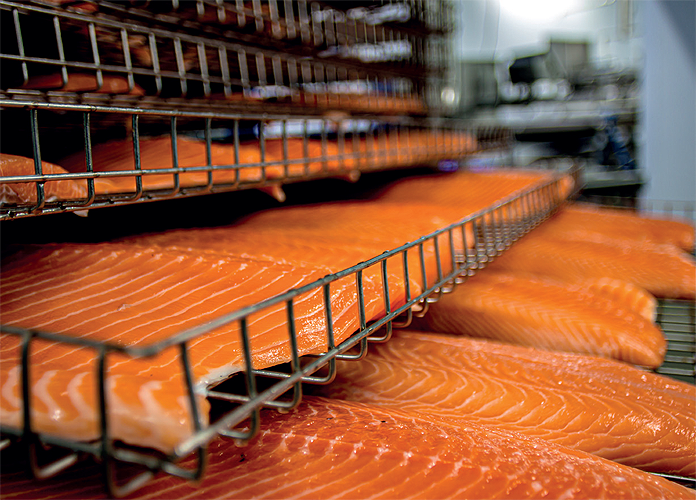 Go Fish!
Specializing in responsibly sourced seafood processed in the Scottish Highlands, Aquascot is an employee-owned business with its sights set on a sustainable future
Located deep in the Scottish Highlands, Aquascot is one of the UK's leading specialists in salmon and trout processing. Since 1987, the company – and its diverse range of seafood products –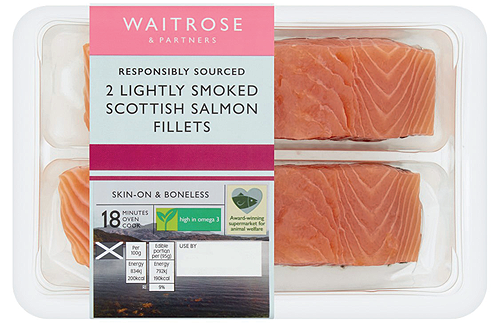 has been an integral part of its local community, and a firm favorite of consumers around the UK.
From fillets of Atlantic salmon to seasoned burgers and kebabs, the company's offering includes both raw ingredients and value-added products, like Thai Salmon Fishcakes and Salmon En Croute. Fully traceable and sustainably sourced, Aquascot seafood is popular with the firm's sole retailer partner – Waitrose.
Dedicated partners for almost 30 years, Aquascot and Waitrose have enjoyed an exclusive and mutually beneficial relationship built around sustainability, innovation, and trust since 1993. According to Managing Director John Housego, the arrangement continues to benefit both parties.
"Waitrose is a values-based business and so are we," John declares. "The level of dedication and trust between us means we can have real conversations on both sides. If one of us has a problem, we can share it with the other party and they will provide a solution.
"We live in a very commercial, competitive environment. Waitrose has expectations of us as a long-term partner and we have similar expectations of them. It is a very mature relationship."
Operating from two sites in Alness, Scotland – the same town in which the company was founded – Aquascot has grown into a £50 million organization, whilst remaining true to its founding values and beliefs. For example, the firm has played an instrumental role in helping Waitrose become associated with positive, sustainable, aquaculture practices.
"We are not just a supplier of seafood to Waitrose; we are knowledge custodians of aquaculture for the supermarket," John says. "Waitrose has lofty environmental and sustainability goals – not only in relation to fish, but also in terms of carbon, food waste, plastics, and energy. We keep Waitrose well-informed and directed from an aquaculture perspective, while also helping it meet its CSR objectives through our own food waste, landfill and recycling initiatives."
Perhaps the only milestone in Aquascot's history more significant than the initiation of its partnership with Waitrose arrived in 2008, when the firm embarked on a journey to become an employee-owned business. Almost a decade later, in 2016, Aquascot finalized the ownership process and became one of Scotland's largest 100 per cent employee-owned organizations.
"We're relatively unique in the marketplace because, although we compete against some huge multinational firms, employee ownership means we retain a highly-respected independent aspect to our business," John states. "We are not bound by absent shareholders and therefore don't have to stretch ourselves or do things we don't want to do. Our goal is the same as when the business was launched: to be a bedrock of the local community; a great place to work that delivers food of exceptional quality."
As John suggests, employee ownership benefits Aquascot in a number of ways, but the flexibility and responsiveness it lent the business during the Covid-19 pandemic was invaluable. Decisions concerning PPE and social distancing that may have taken hierarchical corporations weeks to enact were resolved within hours at Aquascot in early 2020, meaning people stayed safe and production continued unhindered.
"We let our teams get on with what they needed to do," explains Andy Wilson, Head of Sales & Marketing at Aquascot. "Everyone in our team knows that Aquascot is their business, so they responded appropriately to the pandemic in order to take care of it.
"We have a Partnership Council where partners have a voice and that allowed us to understand people's needs and find solutions instantaneously. There were no long lags, we got feedback straight away, and things moved very quickly around PPE, social distancing, and shift patterns. Our adaptation was rapid."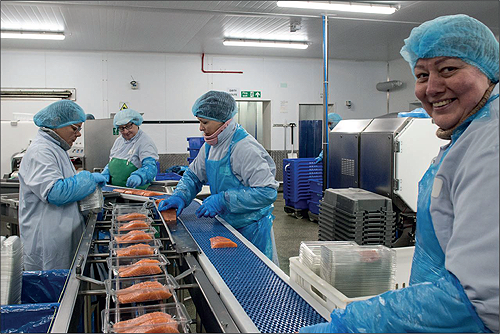 Aquascot's ownership structure, and the speed with which the firm reacted to Covid-19, enabled it to achieve a record-setting year in 2021, despite the challenges the company faced. Working closely with its partners to facilitate a shift in consumer buying patterns, a large chunk of Aquascot sales moved to Waitrose's online platform, with 20 per cent of the company's total revenue now derived from digital channels.
A sharp increase in demand for Aquascot in 2020 meant the company had to upgrade both its Fyrish processing site and its Riverside value-added facility. As well as rearranging both locations to ensure they were fully Covid-19 safe, the firm invested heavily to keep its equipment at the market's leading edge.
"Key improvements last year included upgrading splitting equipment from Marel, which enhanced quality, yield, and throughput, and proved vital in meeting the increased demand," Andy reports. "Capacity was also boosted by a modern packaging machine from Packaging Automation, alongside burger and kebab machines to support our barbeque offering, flow pack wrappers, and various innovations from Ishida."
Not wholly focused on the production side of the business, Aquascot has also commenced an overhaul of its IT infrastructure. Having established a roadmap to help take the company's IT systems forward over the next two to three years, John is now overseeing Aquascot's transition from a largely paper-based business to a more digitally friendly organization.
"We've introduced paperless quality assessments on the shop floor thanks to our QPulse System, which is being deployed as we speak for improved efficiency, accuracy and data collection," John reveals. "Now we are in the process of deploying a new MES (Manufacturing Execution System) in our Fyrish plant, and that will roll over into our Riverside plant once the first stage is complete."
In search of industry-leading innovation, quality and reliability, Aquascot continues to add people with a technical mindset to its workforce. The aim? A future that will see improvements in the company's process engineering, sustainability practices and environmental credentials.
Of course, Aquascot's number one priority going forward will be to retain, and grow, its partnership with Waitrose, which remains the firm's number one customer. Beyond that, John, Andy and the company's Leadership Team hope to further develop Aquascot's reputation across the UK as an employee-owned business providing nourishing and delicious fish from passionate people in the Scottish Highlands.
"Our destiny is very much in our own hands," John asserts. "It's a great position to be in. The more we work as a team and pull together in the same direction, the better we will be.
"As a respected employee-owned business, we want to keep fostering skills and increasing development opportunities for those within our team. We'll also carry on working with associations like People Matters to develop leaders of the future.
"At present, we partner with FusionFSM in the food service arena, Scottish Development International for export opportunities, and, most importantly, Waitrose. We may introduce new customers in the coming years, but if we do, it would have to complement Waitrose. It is a supermarket chain with ambitious plans – ethically, as well as commercially – so we are very optimistic about our future with them."
www.aquascot.com