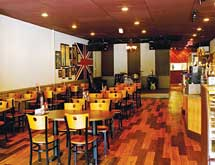 When Scott Hagg stepped in as director of operations for Arabica Coffeehouse in 2005, it signaled the company's desire to move from a regional chain to an international brand. However, before brewing plans for expansion, Arabica took a step back to pare down. "We really wanted to make sure our quality was second to none," Hagg says. "And so first we made some necessary changes." Before it could venture from its original Cleveland market, Hagg knew that Arabica needed a definitive brand with enough flexibility to mesh with any community – starting with its reputation.
Arabica's reputation dates back to 1976, and Ohioans call it the "grandfather of Cleveland coffeehouses." It was founded by Carl Jones, who, after gaining a loyal following, opened two other stores in 1979 and 1982. Hagg says the original idea was to create a comfy, cozy and quality regional chain of coffee-houses for greater Cleveland. Now, the company's 2011 vision is looking to spread that quality to the East Coast, and according to Hagg only quality stores are allowed.
One of his first steps as operations director was to reduce the number of franchise stores from 40 to 25. In doing so, he set a standard for all current and potential franchisees. "Some franchisers will take your money and not care who you are," he says. "Someone can offer me $100,000 and say, 'I would like to open five of your stores.' But if I don't feel confident in them I say, 'No,' because we don't need a black eye, and opening a store that fails and closes is not good for anybody."
Speaking From Experience
Before coming to Arabica, Hagg ran a successful franchise himself; being familiar with the process, he wanted to keep franchisees happy. For instance, the company has partnered with its suppliers to help fund promotion, taking some marketing cost away from the franchisees. "We're keeping costs at an extreme minimum," he says of the company's franchising fees. "We've cut royalty fees to have more of the profit go to the owner because if their operation is not in business, there is no Arabica."
With premium operators in place, Hagg's next step was to update and perfect the Arabica image. Store interiors and logos were modernized slightly to retain its 1976 charm but in a new millennium way. The company also modified its menu to reflect the tastes of today's consumers.
None of these changes were made on a whim. The company conducted consumer surveys and formed a product committee involving the company's franchisees. Product development and tasting are conducted from the one company-owned store in Berea, Ohio. "Our original coffee is the best, so that will never change," Hagg says. "But some of our private blends were not that popular so we did some tweaking there." For instance, its new American coffee blend of four beans from Brazil, Columbia, Costa Rica and Guatemala moved the beverage from 10th bestseller to one of its favorites with guests.
In addition to coffee and tea, Arabica also carries simple food items like sandwiches, wraps, soup and pastries. Each operator is encouraged to carry specialty items unique to that community's tastes. One store may stock Reuben sandwiches, while another serves steaming minestrone. Since each location caters to unique tastes of its neighborhood, Arabica is able to successfully compete against a Seattle-dominated industry.
Coffee Convenience
Product development isn't Arabica's only strength. The company has a diverse portfolio and a knack for achieving accessibility. Arabica distributes its coffee to grocery stores, restaurants and even other coffee shops. Re­cently, it teamed with Uncle Al's Pizza in downtown Cleveland. Hagg's family has owned the restaurant since 1981, and for the past three years he's been looking for the right person to operate a kiosk there. He finally found one: Paul Chuppa. "Paul and I have had a business relationship for five years and I trust him," Hagg says. "He has been a big part of helping me with Arabica-related thoughts and ideas."
"One of the things we've concentrated on is co-branding, where we can fit in with another concept that matches well with our product," Hagg continues to say of Arabica's co-branding efforts. "This partnership is a good example of how to manage future co-branding programs, so we can cater to people's needs at breakfast, lunch and dinner."
In addition to restaurants, the company has partnered with hospitals and libraries and is looking to open kiosks in airports, as well. For its stand-alone shops, Arabica is scouting locations that can accommodate a true café ambience with outside seating.
However, no matter what the franchise's location or type, Hagg says quality will remain the company's key ingredient. "Here in our Cleveland market, it's hard," he says. "We are a steel city with a lot of manufacturers, and jobs and disposable income are down. In order to stay ahead in this economy we have to make sure that we have a quality, affordable product."