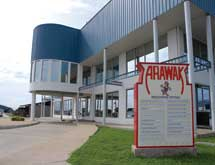 Last month, having been invited to a global-inspired potluck and assigned to bring a dish representative of Trinidad and Tobago, a quick internet search made it clear what I should prepare: chicken curry. Due to the heavy West Indian influence on the islands and large Hindu and Muslim populations, consumption of beef and pork is frowned upon, and chicken curry is practically considered a national dish. I was able to find Trinidadian spices for my dish, but if I wanted to be truly authentic, I would have sourced my meat from the islands' largest producer and oldest national brand – Arawak & Co. Ltd.
Founded in the mid-1960s, Arawak began as a poultry processing facility, buying its chicken from local contract farmers. Through various mergers and acquisitions over the years, the company grew to be a totally integrated poultry operator, processing more than 350,000 chickens each week.
"The majority of our product is for local consumption," Director of Marketing Robin Phillips explains. "We supply groceries as well as the Caribbean locations of large international brands, such as KFC Popeye's, McDonald's and Pizza Hut."
Phillips says Arawak built up a complete scope of poultry processing operations in-house to ensure consistent quality "from farm gate to plate," and to deliver the best-tasting chicken in Trinidad and Tobago. With more than 1,500 employees, the company runs its own grain and feed mill, hatchery, broiler farms, two processing plants and a far-reaching distribution network.
Expanded Automation
To keep its quality from being compromised, Arawak runs a state-of-the-art facility. The company built its processing plants in 2003 to HACCP standards, and had design assistance from European Union experts, Phillips says. Its facilities are constantly updated with new technology to ensure quality is maintained.
"We strive to always exceed the international standards in quality and safety," Phillips says. "When we originally built our plants, we insisted on following the highest standards. We want to deliver the best product to local customers and to the international franchise brands that we serve."
He notes Arawak has been integrating more automated machines into its operations to reduce human handling of the meat. The company recently added a machine that will split a chicken into nine pieces for its quick-service restaurant customers, and another that will split a chicken into eight pieces for supermarket clients. Arawak also upgraded its automated packaging equipment to further reduce the risk of contamination.
Employees understand Arawak's safety and quality standards, Phillips says, but working with the Eastern Caribbean Institute of Agriculture and Forestry Campus of the University of Trinidad and Tobago helps it to continuously improve its safety program.
"We send employees and management to the university for classes so they always understand the newest advances in the industry," Phillips says. "It is a great partnership, because the university sends its teachers and students to our facilities to learn exactly how an operation like this works."
Outside of its primary facility, Arawak works closely with its farmers to ensure safe and clean conditions are maintained on its farms. Phillips says every part of its supply chain is continuously monitored and audited to ensure it meets the company's standards.
Improving Convenience
It seems as if consumers the world over are looking for more convenience in their meal preparation, and Trinidad and Tobago is no exception. Arawak has responded by supplying more user-friendly products and boneless goods, as well as those that require less prep time, Phillips says, such as ready-to-eat and ready-to-cook items. He says even sees a future for Arawak in the meal replacement business.
For the commercial sector, Arawak is supplying more "retail-ready goods," Phillips notes. These customers want Arawak to supply products that are already marinated or prepared as much as possible, so there is little for them to do at their own locations.
"About 18 months ago, we added a deboning machine to support the demand for more convenient products," he explains. "Customers want us to add value to our products, and we are happy to do that. Value-added products are especially popular if they are tailored to the Caribbean palate, and there are opportunities for us to expand with these products locally, regionally and in large metropolitan markets in major cities around the world."
He states that as Trinidad and Tobago's oldest national brand, Arawak has gained a large base of loyal customers by consistently providing quality products and responding to their needs. There is a high demand for chicken right now, he adds, and Arawak has been working hard to ensure clients have the products they need at all times, while other producers have had to cut back or raise prices. He stresses Arawak's mission is to not only provide a high level of service and quality products, but also competitive prices.
"Our focus on quality and service and improving our operations has led to a major growth in sales in the last decade," he says. "We have been very fortunate to have partnered with the companies with the fastest growth platforms in the quick service restaurant and supermarket sectors and their success has been our success. Of course, what drives this is a non-compromising commitment to quality standards."