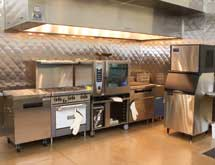 Arizona Restaurant Supply Inc.
When Arizona Restaurant Supply Inc. was started in 1975, it was known as Tucson Scale, a company that offered sales and service of scales. During its first 10 years of operations, Tucson Scale expanded to offer restaurant equipment parts and service, and sales of used restaurant equipment. Soon, it would be known as Tucson Scale & Food Equipment.
In 1985, Tom Carr purchased Tucson Scale & Food Equipment and split off the restaurant service and parts business into a separate entity called Tucson Restaurant Equipment Service a few years later. Tucson Scale & Food Equipment remained in the reconditioned restaurant equipment, and sales and service of scales business, but also entered into the new restaurant equipment market.
"In 1991, we expanded our business to include the sale of smallwares and supplies," President Tom Carr says. "In 1999, we changed our name to Arizona Restaurant Supply to more appropriately reflect the markets that we are serving, which includes projects throughout the state as well as the southwestern United States and Mexico."
Today, Arizona Restaurant Supply is a wholesale supplier offering a complete line of goods and services to the restaurant industry including kitchen design/build services, a full line of restaurant equipment, custom fabrication, smallwares – such as pots, pans, utensils – and installation. In addition, the company has a 12,000-square-foot showroom and an experienced project management team.
Arizona Restaurant Supply focuses on a variety of target markets including schools, casinos, hotels, resorts, institutions, healthcare, privately owned restaurants and chains. "We can handle any size project from a small single kitchen up to a large casino/resort with multiple venues," Carr explains. "The largest project completed to date was valued at approximately $8 million. Signature projects recently completed include Desert Diamond Casino & Resort with six kitchens and four bars, and the Talking Stick Resort at Casino Arizona with 11 kitchens and 10 bars."
The Changing Market
Like just about every company in existence today, Arizona Restaurant Supply has been hit by the recession. However, instead of panicking, the company's management committee developed a strategy in 2009.
"Instead of having a reduction in force like many of our competitors were doing, we decided to take a more aggressive approach and expand both our sales and project management departments," Carr recalls. "As a result, we have implemented a plan where we have hired a sales manager and two additional sales associates, and we will be hiring a third sales associate later this year.
"On the design/project management side of our business, we added one CAD associate and two project managers," he continues. "We felt very strongly that we needed to increase our level of service to our clients, not decrease or maintain the status quo. We implemented a preferred vendor program with selected manufacturers to assist with marketing funds to further promote our growth and their products. We worked with our team to forgo wage and salary increases for a one-year period."
Carr adds that information technology and the formation of Internet restaurant supply companies have provided all buyers with a greater wealth of knowledge. "Internet companies have driven down the price in the marketplace resulting in many manufacturers adapting Minimum Advertised Pricing Policies," he says. "However, Arizona Restaurant Supply continues to be one of the market leaders in the Southwest offering quality products, excellent service and competitive prices."
Expanding and Specializing
In 2007, Arizona Restaurant Supply moved into its new corporate headquarters – a 40,000-square-foot facility, which includes 12,000 square feet of showroom, 6,000 square feet of office space and 22,000 square feet of warehouse. The company also has expanded into the Phoenix market under the name Scottsdale Restaurant Supply focusing on existing and new restaurants.
"In order to continue to maintain a competitive position in the marketplace and to better serve our customers with quality custom fabrication products, we started Stainless Concepts in 2008," Carr explains. The company is capable of producing a wide variety of restaurant related custom stainless steel products, he says.
In other developments, Arizona Restaurant Supply acquired Catena Development Services to pursue restaurant chain business in 2009, which already has expanded to the hotel and hospitality market, which focuses on hotel chain business.
Also in 2009, Arizona Restaurant Supply created Complete Design Build, which offers kitchen and interior design, engineering services, construction documentation and construction management services.
Moving on Up
Carr says Arizona Restaurant Supply will continue to expand by moving into new markets but the company won't get too big and forget how it became successful.
"We celebrated our 25th anniversary this year," Carr beams. "Our business has grown tremendously over the past 25 years and I attribute that growth and success to a number of factors. The overwhelming factor that has led to our growth and success is our people.
"It is our people that set us aside from our competitors," he adds. "It's not our building, IT systems or pricing that has convinced our customers to do business with us, but it's our dedicated and knowledgeable team of people. They have a 'can-do' attitude and share a common goal: To provide our customers with products and services that will help them become more productive, more profitable and more efficient. Many of our employees have been with the company for more than 10 years and several for more than 20.
"Our affiliation with the Pride Marketing & Procurement buying group has provided Arizona Restaurant Supply with the opportunity to rise to a different level," Carr adds. "In addition to the standard manufacturer contract negotiations provided by a buying group, Pride offers a variety of other services including IT services, professional marketing/advertising pieces and most importantly a forum to discuss industry issues.
"Our partnerships with the food equipment manufacturing community has provided a source of knowledge, training and expertise and has enabled us to tackle difficult projects and solve problems in the field.
"I believe our mission statement, which was developed by our employees, speaks volumes about our company philosophy and our people. Our mission statement is:
"Teamwork, communication, integrity and quality – our design for success since 1985:
Teamwork – We respect and value the contributions of all.
Communication – We are open, re­sponsive and timely.
Integrity – We make fair and honest decisions, then follow through.
Quality – We provide exceptional services and products.
We have our mission statement framed and displayed in a number of places in our company as a reminder of who we are."