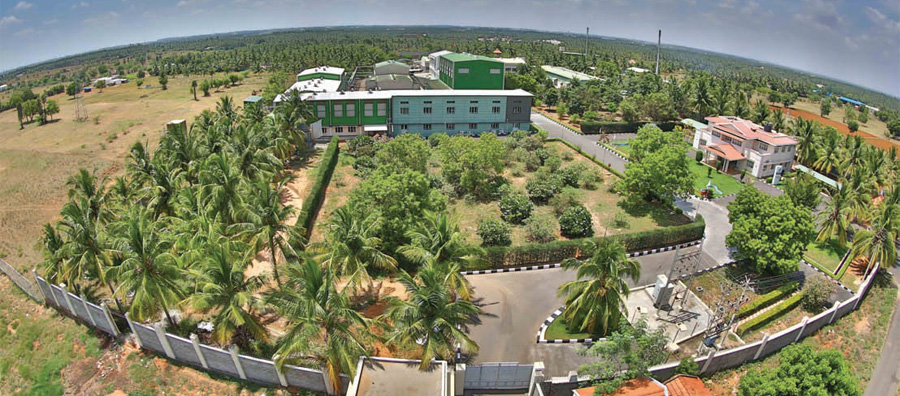 Arjuna Natural Extracts Ltd
The natural approach
Using its expertise as India's leading manufacturer and exporter of standardised botanical extracts for pharmaceutical and nutraceutical industries, Arjuna Natural Extracts Ltd (Arjuna) has expanded into natural food preservation and natural food colours for the food industry
Since its establishment in 1989, Arjuna has enjoyed significant success, with customers located in approximately 40 countries; it also has several international patents to its credit, the majority of
which are commercialised globally. Today the ISO 22000 certified Arjuna develops and produces a range of patented products at its four facilities that amass an area of 400,000 square feet. Here its production processes and products meet global market-specific regulations and its herbal extracts meet all international standards. The company is also GMP certified with Star K Kosher and Halal certification.
Playing an integral role in the Arjuna's success is its highly advanced and complete R&D facility, which the company spends approximately ten per cent of its turnover on. By putting superior R&D at the heart of its operations and thus ensuring a pipeline of exciting launches, Arjuna is able to compete against global majors and stay afloat in evolving markets. Approved for in-house research by the Ministry of Science & Technology, Government of India, since 2002, Arjuna further strengthens its R&D capabilities by associating with reputed universities during certain projects.
Looking at the company's progression as an innovator, Antony Kunjachan, Executive Director at Arjuna Natural Extracts begins: "We have been operating for more than 25 years with a focus on innovative natural extracts for the health food industry. Starting operations as a manufacturer of the essential oil of mustard, in 1990 we became the second company in the world and first in India to manufacture the essential oil of mustard.
"From there, we shifted into the natural health food space with the manufacture of curcumin, a turmeric extract, and progressed into branded ingredients and patented products. This resulted in the launch of BCM 95, the world's largest selling bioactive turmeric extract on the market. Moving forward, we began to manufacture Omega-3 from fish oils and were the first in India to do this; we won a national award for developing this product in-house and supply Omega-3 to all major pharma companies in India. More recently, we have launched the first Amaranthus extract standardised from nitrate for sports endurance; this too, is patented. Continually focused on innovation, we sought to enter the food industry, and after two years of research we launched our range of natural preservatives for bread, cake, mayonnaise, fruit juices, meat and frying oil."
Ideal for those who seek green or clean labels, Arjuna's new natural solutions for food products enhance shelf life and quality without compromising safety or sensory attributes. By combining anti-bacterial, anti-fungal and anti-oxidant components that are isolated from different natural sources, the company has created a solution that meets the demand for products with fewer
synthetic additives, while also offering increased quality and shelf life.
"The entire food industry has to use chemical preservatives, so few offer natural solutions that are antioxidant and anti-microbial together, so there is a lot of interest in our product so far as people want to shift into the natural space," says Antony, who goes on to explain the process of developing anti-microbial products: "We have a dedicated microbiology team who are focused on the development of anti-microbial solutions. The products are specific to applications, so the natural preservative of bread will be different to fruit juices, and customers of fruit juices may have a different combination of micro-organisms that cause spoilage. In response to this, we usually offer a standard solution, which may require fine tuning; if this is the case, we request a spoil sample, which our microbiology team will then culture and identify the micro-organisms. Once identified, our application team will find the natural extracts or ingredients to fight the micro-organisms and make a blend, which will then undergo a challenge study. Once the blends suitability is proven, we have a chef in an application kitchen, where the blend is fine-tuned to ensure there is no sensory impact to the food."
While the launch of its natural food protection solutions is certain to be a focus for Arjuna, the company is also keen to generate attention for its branded and patented Oxystorm product. Using an extract of Amaranthus, one of the highest dietary sources of nitrates discovered, the company has developed a product that provides four times the amount of nitrate compared to conventional sources such as beetroot. This 100 per cent water soluble extract has neutral pH of seven, is oxalate free and available to 31customers in a convenient powder form. "We have a patent on Oxystorm and have done trials to see the level of nitrate in the blood through saliva; we also did a clinical trial on athletes to see how much their performance was enhanced after consuming our product. So far, three trials are published and two are ongoing," highlights Antony.
With a number of product launches in the pipeline, Arjuna anticipates further success in the short-term as it focuses on its natural preservative range and Oxystorm. Looking further ahead, Antony believes Arjuna will continue to grow through the delivery of high quality, innovative products that meet the needs of the market. "We aim to be a leader in the natural extract space as we continue to bring out products that are clinically documented and have enough scientific evidence and credibility behind them," he concludes.