ChefMod was born from Ark Restaurants' diversified locations and industry connections to create a stronger purchasing platform for the industry.
Ark Restaurants' distinctively designed dining establishments have hosted highly publicized events such as the inaugural parties for presidents Barack Obama and Bill Clinton, movie premieres and MTV Music Awards after-parties. "We are not a cookie-cutter company," COO Vinny Pascal says. "We are run by a lot of entrepreneurial people and founder Michael Weinstein is driven by concepts, design and being on the cutting-edge."
Weinstein left the world of investment banking in 1975 to open his first restaurant with two friends and a $6,000 investment. The Museum Café in Manhattan opened that year and Weinstein fell in love with the foodservice industry. He continued to open more restaurants until he founded New York City-based Ark Restaurants in 1983.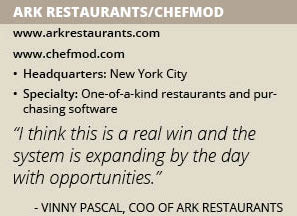 One of the concepts was called "America," which turned out to be the right name at the right time. "America opened in 1984 and that was really our flagship and put us on the map," Pascal notes. "At the time, everyone hated America and there was this big idea to reboot America and feel good about the country. Time did a piece on America and the resurgence of patriotism, noting that when you called the restaurant, America, they would say, 'Hi. Welcome to America.' From there it exploded."
Today, Ark Restaurants owns and operates 22 restaurants in New York City, Las Vegas, Washington, D.C., New Jersey, Boston, Florida and Alabama. "It's a pleasure to be of service to people and then to make money doing that," Pascal says. "I find it such a gift and I am fortunate to do that."
Purchasing Power
Each of Ark Restaurants' locations features a unique menu because each restaurant is one-of-a-kind. John Oldweiler joined the company in 1988 as a purchasing agent and within a few years became the director of purchasing. "For the next 10 to 15 years, my primary function was purchasing for Ark Restaurants, which was a multi-unit and multi-state operation," Oldweiler remembers. "Throughout that period, there were occasions when managers and chefs left the company in good standing to open their own restaurant and wanted to receive some of the benefits Ark offered its own restaurants."
Oldweiler began purchasing for more restaurants outside the Ark Restaurants family, and grew the number to about 40 locations. At the time, there was no fee structure and it was more of a friends-helping-friends situation. "From my perspective in the purchasing role, although they weren't an Ark restaurant, they were people we knew and liked," Oldweiler explained. "They appreciated it if we could extend our programs to them. We would make a call and give our vendors a heads-up that these guys are friends of the company and to take care of them – whatever they translated that to be, such as pricing or extra attention."
As the "friends and family" purchasing program continued to grow, Oldweiler decided to formalize it and founded ChefMod in 2005. "Within the Ark group I had been very much a pioneer in pushing technology forward and prior to 2005 I had helped build many platforms in the company, including catering modules and modules for ordering food," he says. "The 'chef's module' was used to connect us, our suppliers and our chefs. When we started developing for the launch, 'ChefMod' became the logical name."
Today, ChefMod is managing purchasing for over 150 locations and growing every day, including restaurants owned by Ark. "Ark is a partner of mine in the business," Oldweiler says. "We are a separate LLC but very much attached and share the same offices."
For Ark Restaurants, ChefMod has been a timesaver. "You don't have a guy sitting down for two hours calling purveyors and making these orders," Pascal says. "ChefMod is there when you need something in a hurry or out of the ordinary, or have a problem with product. I think this is a real win and the system is expanding by the day with opportunities. If you really care about purchasing and cost, and are paying attention to it, this system I think is perfect for owners."
Managing Spend
ChefMod provides independent and small group foodservice establishments with a cloud-based purchasing and recipe management solutions for both the desktop and mobile devices. The company is member-based and uses the collective resource of its growing group to provide efficient, skilled personnel to manage the purchasing process; provide sophisticated online tools; and fully organize the purchasing lifecycle. It also carefully selects vendors to service the community.
Although the company is still small with 13 employees, ChefMod manages more than $100 million in spend for restaurants in nine states. This winter, ChefMod plans to expand its reach into South Carolina and possibly Chicago. "We focus on independent and larger groups where every restaurant is individually themed and has unique needs," Oldweiler explains. "It was, and continues to be, very different buying for Ark compared to a chain of cookie-cutter concepts who all buy the same products. That is what gave us our skill set. This is our niche."
ChefMod describes itself as an outsource solution for independent and large groups that is less expensive for them than having their own purchasing process. By driving stronger vendor relationships through consolidation, ChefMod is able to deliver a more efficient and cost-effective solution with better purchasing power.
Group purchasing organizations have been around for a hundred years, but mostly in the non-commercial and healthcare segments. All hospitals use a group purchasing organization, but Oldweiler says only 10 percent of restaurants do across the industry. "That's largely because they don't exist or no one knows about them," he says. "The ones that are out there aren't providing much service. There isn't really anyone out there who is doing what we are doing. We take a much more in-depth approach by taking ownership of the process. We are the only company I know of that takes purchase order authority. Our biggest competitor is the guy who thinks he can do it all himself."
Thinking Differently
Ark Restaurants considers ChefMod its one-stop shop to order food and supplies. "John has 200 people buying food and because of the power of that purchase, people who sell the stuff want to do business because he's a big buyer," Pascal explains. "The vendors are willing to give a better deal, so it's a win-win for everyone."
The perks are obvious, Oldweiler and Pascal say, but purchasing agents and companies don't always see it that way. "They are almost skeptical and suspicious on how this could be so good," Oldweiler adds. "We gave a talk the other day and the purchasing person has a group of 12 locations and she was brand new to the business. She had to be buried. I told her that through us she can be managing bigger numbers and directing how that translates into more profitability. It just changes their thinking a little bit and is a bit of learning curve."
On the other hand, Oldweiler says he met a sole proprietor who is running two restaurants and working about 80 hours a week. He became a member of ChefMod to save himself some hours in the day. "It's not always about the money although it costs him less and now he has more time to spend with his kids," Oldweiler notes. "It's great to meet people like that and appreciate their hard work. We work with the best, loyalist and smartest people in this business."
"I really, truly believe in ChefMod for people who aren't familiar with its capacity," Pascal says. "It's been a godsend because we couldn't do what we do if it wasn't for them."
Moving forward, ChefMod will continue to enhance its purchasing platform with a new inventory solution launching this year. "We just finished expanding our nutrition/recipe program to include nutritional facts and that's something people are really looking at these days in terms of dietary information for the products they serve," Oldweiler says.
The ultimate goal for ChefMod is for its system to provide more information and to offer a fully integrated platform that provides operators with one back office solution. "In addition to adding inventory, our focus for 2018 is to continue to improve the user experience and to enhance our mobile solution," Oldweiler says. "Beyond that, to continue to expand functionality to exceed member expectation."