Why the sober industry created by Arkay Beverages is estimated to be worth $1.44 trillion by 2025
ArKay Beverages has been pioneering alcohol-free spirits since 2011. What sets the business' products apart and makes them so revolutionary is their ability to mimic both the flavor and sensations of real spirits, so drinkers get a full experience without the hangover.
Inspired following a conversation with his son in 2007, it was the vision of founder of ArKay Beverages, Reynald Vito Grattagliano, to create a non-alcoholic whisky that still delivered the unique taste and 'burn' of the original liquor. Reynald – a highly experienced perfumer and self-made scientist – started with two years of research, and he then commenced a collaboration with a Swiss lab and a team of scientists to help him in this endeavor. This partnership eventually created an entirely new molecule (W.A.R.M) which, when added to a beverage, gives the same feel and sensation as a drink containing alcohol. Derived from capsaicin through a natural extraction process (the details of which are a trade secret) the EEC regulator approved W.A.R.M molecule is an active component of chili peppers. In fact, Reynald was the first person to discover that capsaicin blended with water could reproduce the same burn as alcohol.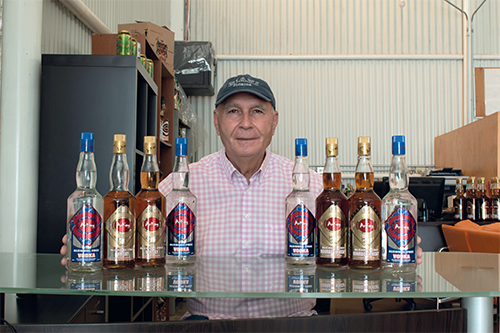 Having made that breakthrough, Reynald founded ArKay Beverages, and proceeded to launch his first product a drink that tastes, smells, burns and looks like whisky, but hasn't been aged or fermented, contains no alcohol, and doesn't inebriate the consumer.
When the business was previously featured in Food & Drink International magazine in 2012 Jean-Paul Benizri, vice president of US operations for ArKay, summed up the appeal of the whisky in a very concise way: "The way you can use ArKay is quite unique," he said. "When you drink it, it's like you are drinking whisky, and if you mix it with cola, it's just like a whisky-and-cola mixed drink. People like it because they can drink as much as they want without getting drunk."
Significant investments
This first product experienced tremendous demand, and now has fans across the globe. Thanks to this success, Reynald and his team continued to innovate and have gone on to add vodka, brandy, tequila, and gin to the product line up. "Now we have 110 employees in the bottling plant, and we are running two shifts producing approximately 21,000 bottles a day," Reynald reveals to FoodChain. Representing a significant investment for him of around $6m, ArKay's 40,000 square feet of facilities include state-of-the-art capsaicin extraction and bottling solutions. "This was a gamble for me, as I funded the venture before we even sold a bottle and I didn't know if we would be a success," adds Reynald. "At the beginning nobody believed in it and thought I was crazy! Then as the first years passed and I started to order a million bottles and then two million, then three million, they started to realize that we were there for the long run. Now we are running both day and night shifts, producing seven million bottles annually and every year we are experiencing growth of around 40 per cent."
The ArKay Beverages factory is based in Mexico, and alongside this, the business now has a logistics center in Texas in the US, from where it ships 5000 orders a day. This center has also been the recipient of significant investments in equipment and conveying technology, as well as larger offices. As Reynald went on to announce, another new site is also underway, which will bring ArKay into the heart of Europe. "We're opening one in France, which will be operational in 2022. This location is particularly interesting, as we are basing it very close to a glass factory. We use a lot of glass in our bottles, so reducing the distance these are transported between the two sites will reduce our emissions and pollution."
New product development
The French site will serve as a distribution center to cover Europe, including Poland, Germany, and Belgium. "It will cover the UK too and will supply customers across the country – Brexit doesn't matter!" adds Reynald, whose French heritage is also reflected in this choice of location.
The close working relationship that ArKay has formed with the French glass factory echoes the philosophy that Reynald had at the beginning of his journey and the collaboration he created with the scientists in Switzerland. He now also fosters these partnerships with other suppliers and indeed, describes his vendors as 'family'. "All our vendors are very friendly with us, and they are all very professional and enthusiastic about our products," he confirms. "They help to guide us with advice with caps, bottling, labelling and so on."
This willingness to embrace advice from outside also extends to customer feedback, which the new product development team at ArKay always considers when looking at what could be launched next. "We see requests for specific products that people would like us to create," said Reynald. "So, we will be making wine in 2022, and we have also had a lot of entreaties to launch a Sake, a Japanese drink made from rice
We've invented an identical formula all alcohol free, and we will be selling a lot of that into Japan, as well as on the west coast of America in San Francisco.
"We have also had a lot of requests from the Middle East and Turkey for an Arak, which we want to assess. We really listen to our customers and not just in purely new products but in new variants, so in our vodkas for example, we have launched 16 new flavored options, including lemon, orange and peach."
Best sellers
Reynald's comments bring ArKay's range of products under the spotlight and raise the question – what draws consumers to pick one of the company's beverages? The main attraction is, of course, that they are alcohol-free, but still retain the taste and experience of the spirit they are replacing. They are also zero calorie, zero carb, zero sugar, zero sweetener, gluten-free and vegan-friendly. This means that they can be enjoyed by designated drivers, pregnant people, teetotallers, and people of certain religions. This latter point is significant, as demand continues to increase from countries with high Muslim populations. Reynald is keen to make sure that his products adhere to the requirements of this demographic, as he explains: "I used to live in Dubai, so am familiar with the demands of the market and I have ArKay Beverage LLC based there," he says. Alcohol is forbidden in the Quran, and so ArKay created special packaging and renamed the products for this segment, with the whisky becoming known as Scottish Sunrise, the vodka as Russian Dream and the tequila as Mexican Sunset. "We adopted names, packaging and labelling according to the requirements of the Muslim religion, and because of our Halal approach to that, the products are doing absolutely fantastically," he adds.
The range of beverages manufactured by Reynald, and his team is available to buy from both retailers and online direct from ArKay itself – indeed as it is non-alcoholic, it is not constrained by strict market regulations, allowing it to be sold virtually anywhere such as coffee shops, convenience stores, supermarkets, bars, liquor stores, grocery stores, night club, universities campuses and hotels. In a recognition of the importance of the product, Time magazine has even branded ArKay as 'the O'Doul's of hard liquor'.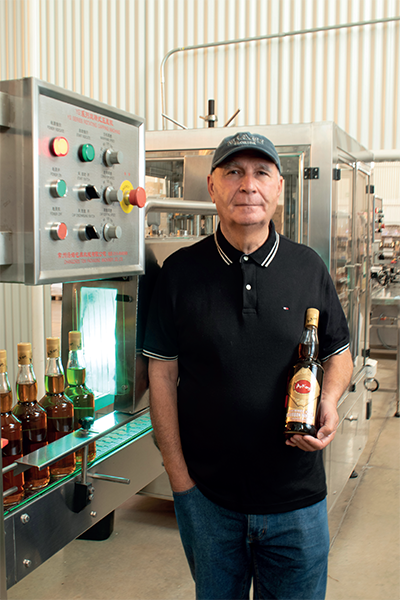 A visit to the website reveals the entire ArKay collection, which has now significantly expanded from the original whisky. The site also highlights the current best sellers – ten whisky variants (Japanese, American, Canadian, Irish, Scottish, Tennessee, Bourbon, On-Fire and Honey) gin, brandy, spiced rum, white rum, dark rum and vodka. All 100 per cent alcohol-free, these drinks offer consumers a completely new way to enjoy themselves.
What is most surprising for an alcohol-free beverage is that the W.A.R.M molecule that Reynald invented creates such a realistic experience in the brain that the drinker believes they are drinking alcohol and experience some euphoric effects. As a result, drinking an ArKay product relaxes the mind and body and induces a sense of calm, making it ideal to use for social relaxation. Customers have also reported they like to drink ArKay to reduce stress, mild anxiety, and muscle tension, or to help overcome occasional sleeplessness.
Added to these benefits is that ArKay gives no hangovers – it does not overly dehydrate the body or fill it with the toxins that lead to headaches. It also won't impair cognitive abilities and mental clarity in the same way that alcohol does.
Furthermore, it has been proven to be non-addictive. Unlike other substances, drinking ArKay is not habit forming and consumers will not build up a tolerance to the effects of drinking ArKay, causing them to need to drink more each time. In fact, the exact opposite has been shown, in that the beneficial effects of a drink of ArKay can be felt even more when it is drunk on subsequent occasions. This is because of the distinctive way that ArKay affects the brain, along with a placebo effect.
Evidently Reynald and his team have created something very special, but still, the success that ArKay Beverages has experienced in the decade since its inception remains impressive, especially as more alcohol-free rivals enter the space. "That's OK as I love competition," exclaims Reynald, "and we are still growing at 40 per cent as well."
Happy customers
When ArKay was featured back in 2011, it was right at the very beginning of its rise to its current heights, and the interviewee described the plans that Reynald had in place to 'get a strong foothold in the industry.' Looking at its current market position, it is clear that his entire vision is coming to fruition – the products are sold internationally (120 countries) as well as in every state in the US, and it has achieved number one seller status on Amazon as well, and recently experienced its record daily sales on the platform. "We are the number one seller in vodka, whisky, rum and tequila and just to give you an idea, we sell more on Amazon than Absolut Vodka!" says Reynald. "So we are doing very, very well and that is because people recognize a good product and they want it. I think that this illustrates we are going in the right direction."
Reynald was also keen to emphasize the repeat order side of the business – it is important to him that customers come back. "This means there is something behind my product, customers are happy to buy it at the price that is set. They appreciate that it is high quality and safe to drink."
Having achieved so much already and with constant new product launches on the agenda, what else does the future hold for Reynald and the team – clearly, this is not a business that rests on its laurels or shies away from a challenge. Looking to the next three to five years and what might happen in the next installment of the ArKay journey, Reynald proposes two possible futures for the business. "We could be bought out by a competitor, or alternatively, maybe I will buy some sources and we will become like a mini–Coca Cola," he says. "I am 66, and I cannot work until I am 100 years old! But I am in excellent shape, so I could work for another ten years making money, as our business is very profitable – but that isn't my main priority – I look for happiness. Money isn't my overall objective in life, what I want to do is to help people to be happy."
When Reynald founded ArKay, he wanted to make the 'finest collection of non-alcoholic sophisticated spirits the world has ever seen'. As it stands, as the most awarded non-alcoholic spirit beverage in the world, and the potential to reach a billion-dollar turnover by 2025, his vision has turned into reality. With ArKay bars and alcohol-free liquor shops predicted to open soon in the US and worldwide, the popularity of ArKay shows no sign of waning. Increasing numbers of consumers are discovering its benefits – this is one company that really does embody the spirit of success.
www.arkaybeverages.com