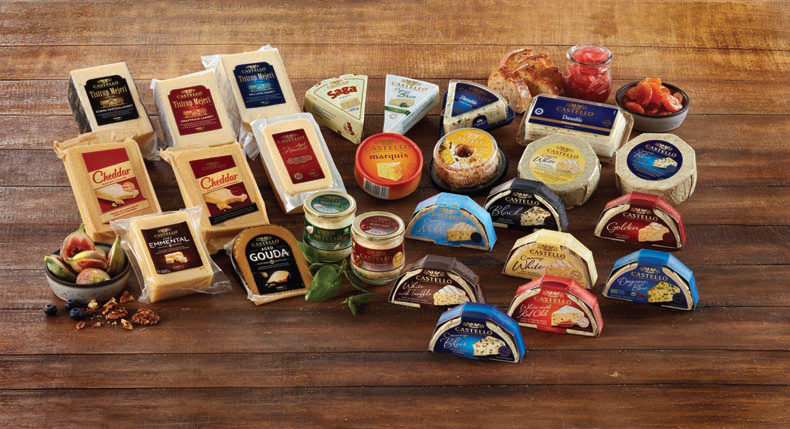 Creatively crafted cheese
Castello cheeses have a history that goes back to 1893 and Arla Foods is proud of the genuine craftsmanship that still goes into the product today, more than 100 years later
Castello's history dates back to 1893, when the Denmarkbased company Tholstrup Cheese began its trend of bringing a balance of innovation and tradition to the art of cheese making, as well as an ongoing commitment to using natural ingredients and attention to detail. The first cheese to take on the Castello name was Castello White; produced by the company's first master cheese
maker, Rasmus Tholstrup, the cheese was developed to have a thin, delicate rind and perfectly mild and creamy flavor and texture. Since this major milestone, Castello has expanded its product portfolio with a wide range of creatively crafted cheeses.
Following Arla's acquisition of Tholstrup Cheese in 2006, Castello became the driver in the mould cheese segment in line with Arla's strategy of securing its position as an international market leader in the field of speciality cheese. With a sizeable portion of Tholstrup's sales derived from exports during this period, this proved to be a fruitful decision for Arla as Castello has continued to develop its portfolio and grow within its core markets over the last decade.
"The biggest market for Castello is Germany, then it is the UK, the Nordic markets, the US, Canada and Australia that are also particularly big. In the UK our cheddar cheeses are the most popular product, however in Germany it is other cheese types such as Castello Höhlenkäse, which is a cave-aged cheese," says Jens Egelund, Senior Director and Global Head of Speciality Cheese.
He continues: "What makes Castello unique when compared to other brands is that we have such a broad range of cheeses; we aren't just about white mould cheese, cheddar or parmesan, which is what you see with a lot of our competitors. We cover the full range of cheese, from hard and soft yellow cheeses all the way up to bold and sharp blue moulds; we even do cream cheeses. This broad range means customers can start from one end and eat their way through every cheese; we can take customers through a journey that many of our competitors can't.
"Furthermore, a number of cheeses have truly captured the spirit of ourfounding fathers, such as Castello Blue, which was made on the basis of Henrik Tholstrup (son of Rasmus Tholstrup), who truly loved a strong blue cheese while also enjoying the creamy softness of Creamy White. He then put these two cheeses on top of each other on a piece of bread and asked 'Why hasn't anyone made this cheese before?' He spent a lot of time developing creamy blue cheese with a bold sharpness while merging the mild creaminess of white; this is how Castello Blue was developed. Today it is the best selling cheese in Castello's range; it is simply a great cheese."
Try, taste and enjoy
With the expertise of artisan cheese makers and traditional production methods that ensure the high quality development of cheeses, Castello continues the heritage and tradition of its founders. Never content to make standard cheeses, Castello creates unique flavours and textures through the utilisation of ingredients and techniques from all over the world; each cheese is then made at a single dairy that specialises in the production of that particular cheese. "One example of Castello enhancing and tweaking cheese is Castello Creamy White, which is also the first cheese that was ever developed. This double cream white cheese uses a culture that ensures the cheese ripens from the inside, so unlike a Brie, the cheese has a consistently soft creamy centre. Additionally, we mature this cheese so it has a very fine and delicate rind. By tweaking and improving our cheeses we offer an even better taste sensation," explains Jens.
Another example of the company's innovative nature is its development of a cheese that has been popped to create an indulgent snack. "This is an exciting innovation for us that is coming up over the next 12 months; it is a great way to get more people exposed to specialist cheese and is one of the first real innovations I have seen in the cheese market for a long time," says Jens.
"For us cheese is the best thing in the world, which is why we create this fusion between creativity and craftsmanship. It is not enough to merely focus on the craftsmanship; it is only when you merge this with creativity you something unique and amazing. Take some of the best painters in the world, they progress and create something different to everything else; I think this is what Castello tries to do with speciality cheeses. What makes speciality cheese so exciting is that it is one of the most enriching and complex things to work with in food; it's a bit like developing a fine wine. Speciality cheese is also one of those products that everyone has a polarising opinion on; you tend to either love it or hate it and trying to get more people to love our products makes our job exciting and I love that Castello does exactly that. We try to make speciality cheeses more accessible to more people across the world," highlights Jens.
Moving forward, Jens has a clear goal for Castello: "Our aspiration is not to be the biggest cheese brand in every category, but to be highly accessible in providing different types of specialist cheese that invite people in to try, taste and enjoy. It is much more about the taste and sensations than it is about specific products in specific countries. Castello is spearheading this journey for speciality cheeses, and inviting customers on board for the ride.
"Alongside the launch of our popped cheese, we will also be focusing on the marketing of our cheeses; this is something we are looking into building on our success from previous years. We will take marketing to the next level and invest in the brand so we can continue to grow; this is the first step on a longer journey that will begin in 2017," Jens concludes.