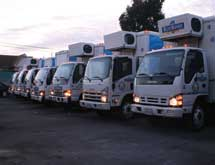 What began as a summer job selling ice cream during their college careers has become a successful distribution company for President Ali Pakravan and his partners at Arya Ice Cream. Upon graduation in 1983, Pakravan and his friends entered a weak job market and decided to sell ice cream products with a smaller company in 1984. By 1990, they went into business for themselves by starting Arya Ice Cream after purchasing a similar business.
Pakravan says they began expanding the company little by little, and the company incorporated and began distributing ice cream to wholesalers in 1993. In 1997, Arya Ice Cream started direct delivery to retail stores. The millennium has seen the company continue to grow through school distribution in 2004 and selling independently to supermarkets in 2008. In addition, the company is shareholders for distribution companies in Seattle, Chicago and Detroit.
Based in Los Angeles, Arya Ice Cream mainly distributes products for Blue Bunny Ice Cream – the largest family owned and managed dairy processor in the United States. Pakravan says Arya Ice Cream has distributed products from the billion-dollar company for 20 years.
Arya Ice Cream also distributes ice cream products from M&M Mars as well as from local companies, including Wonder Ice Cream in Newark, Calif. – a company that manufactures specialty ice cream products under various trademarks. In addition, Arya Ice Cream has its own ice cream brand, California Dream.
The Underdogs
Pakravan says a major distribution player recently consolidated, making Arya Ice Cream the third-largest distributor in California that deals mainly with ice cream. Pakravan notes the real competitors are large companies like Edy's.
"Our challenge is to compete without their resources," Pakravan says. "The question is how to hold our position in the market and to be able to survive and grow.
"We're the underdogs," Pakravan explains. "We're not Häagen Daz or Ben and Jerry's. We have brands we believe are better ice cream, but not as well-known in our market."
Looking Ahead
The country's economical troubles have even touched the dessert industry. Since August 2009, Pakravan has noticed consumers have cut back on ice cream products.
He added people have been purchasing lower-priced items, which affects gross sales. To stay competitive, Pakravan says Arya Ice Cream has to put itself out there and find additional avenues to distribute the product.
The company recently began looking into future growth and expansion within the industry. "We are looking at other avenues to distribute ice cream to," Pakravan says. One of those areas is the food service arena, including institutions and restaurants.
The company also plans to start distributing products for other companies, including The Coffee Bean and Tea Leaf – a family-run coffee chain selling coffee beans, rare teas and accessories. Arya Ice Cream also is looking into delivering other frozen products to stores.
"It's a new venture for us," says Pakravan, adding the company recently began this venture. "Our warehouses are mainly frozen, so we can distribute other frozen products."
Customer Service
Because field and service employees work away from Arya Ice Cream's management, Pakravan says it is important to find qualified employees with excellent customer service skills.
"It is best to find people who have some experience in the field," Pakravan says. "Our training covers two areas: people with experience and people without experience."
Arya Ice Cream's success in customer service has led to the company receiving awards from its manufacturing partners. For example, Blue Bunny Ice Cream honored Arya Ice Cream for best distributor. Arya also believes in giving back to the community by participating in numerous charity events, including AIDS walks and events sponsored by the city of Los Angeles, as well as supporting groups such as food banks and Latino charities.