Asher's Chocolates is focusing on branding and funneling its name through the confectionery universe.
No longer must Jeff Asher ask for permission. As the new sole owner of Asher's Chocolates, he can now eat as many chocolaty treats as his stomach can handle.
The fourth-generation chocolatier has been buying up shares of the company's stock from other family members. Aside from a few more shares still owned by his father, Asher now rules over his candy empire with a chocolate fist.
The Souderton, Pa.-based kosher candy company, celebrating its 125th anniversary this year, is making a few changes. One of the No. 1 priorities on Asher's list is branding. Although the company will continue selling its candy to other businesses to sell under their own names, it's placing a heavy emphasis on funneling its chocolates through the confectionery universe with the Asher's name on them.
"We will continue with private-label work, but at the same time we will be promoting our brand," Asher says. "We want the customer to know they are eating Asher's Chocolates."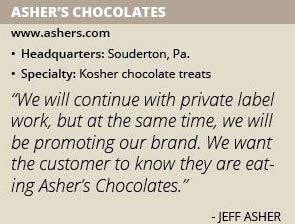 As a part of its branding effort, Asher's Chocolates is revamping its website. It has also secured contracts with major airlines to give Asher's Chocolates more exposure. Beginning in December, Asher's dark chocolate-covered graham crackers will be dished out to passengers traveling in Delta Airlines' first class and business class.
It's not the first time the company has done this. Two years ago, Asher's chocolate-covered pretzels were dispensed to American Airlines' passengers. "It's like putting millions of business cards in people's hands," Asher says. "It's really great exposure for us."
Gooey Goodness
Roughly 9 million pounds of chocolate pour out of Asher's two factories in Pennsylvania each year. Its 125,000-square-foot building in Souderton houses a candy factory, corporate headquarters and shipping area. The company's 100,000-square-foot factory in Lewistown is dedicated to producing specialty candy lines.
Asher's produces about 1,000 different types of candy. Although the company is always cooking up new ideas, many of its recipes have remained the same for more than 100 years. Its most famous sweetmeats include chocolate-covered pretzels, dark chocolate-covered sea salt caramels, almond buttercrunch, cordial cherries, peanut butter smoothies and a pecan caramel patty.
"Our chocolate-covered pretzels in milk, dark or white chocolate are the king of the castle," Asher says. "But closely behind them is the dark chocolate sea salt caramel. That's one of our fastest-growing movers." Dark chocolate appears to be a growing force in the confectionery world. Ten years ago, 90 percent of chocolate sold by Asher's was milk chocolate. Today, it's a 50-50 toss up between dark and milk chocolate. "I think people perceive it to be healthier," Asher says. "And along with dark chocolate, there is a trend towards the savory, where chocolate is paired with different types of salts and pepper."
Sugar-Free Pioneers
Asher's has been making sugar-free chocolate since the late 1960s – much earlier than its competitors. "We are one of the pioneers in sugar-free chocolate," Asher says. "And I think we do the best sugar-free in the world. There are a lot of good chocolate makers out there, but when it comes to sugar-free, I will put my bragging hat on. We are top notch."
Asher admits that the first piece of sugar-free chocolate the company produced wasn't that great. "But we've come a long way since that time frame," he adds. "I think for some of our candy pieces, it's hard to tell if it's sugar-free or regular."
Roughly 25 percent of Asher's sales come from sugar-free products. The trend started in the early 2000s. "Then it bottomed out and now it's coming back a little bit," he says.
Odd Request
When it comes to customers, Asher's knows how to go the extra mile. The company believes in listening to its customers and tries to make their wish its command – even when the request is somewhat odd.
A few years back, American rock band Primus asked Asher's to make promotional candy bars for its tour. But there was a catch. "They wanted the bars to be named after their songs," Asher says. "So we did a Bastard Bar and then they wanted us make a special bar for their song called Pork Soda." Not only that, but Primus wanted it to taste like pork.
"But we're a kosher company," Asher says. Still, that didn't stop the company. Asher's was determined to give Primus a pork-flavored candy bar. After searching far and wide, Asher's found a company that manufactured bacon-flavored soy bits. "So we combined those bits with Cola Pop Rocks and it became a limited-edition candy bar," Asher says. "I once saw it selling on eBay for $90."