Exceeding customer expectations and expanding its beverage offerings are part of Atlanta Beverage Company's formula for success.
There are many reasons why Atlanta Beverage Company has built a reputation with its customers as the best beverage distributor in Georgia. Thanks to its commitment to customer service and its partnerships with some of the world's leading beverage brands, Atlanta Beverage Company can offer a complete beverage solution to its retail customers. This has allowed the company to successfully foster the growth of thousands of retail accounts.
"We serve the greater Atlanta area, from the wealthy suburbs of Alpharetta, historic Old Fourth Ward, and eclectic Little Five Points village to the sleepy rural towns dotted south of Atlanta," President Kiefer Pirrung says. "Atlanta is a complex and growing market."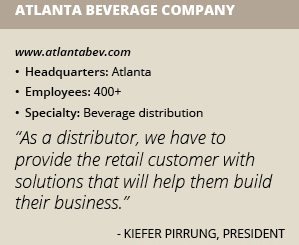 Decades of experience have been put to good use by Atlanta Beverage Company. It was awarded as the exclusive distributor of Anheuser-Busch products within metro Atlanta in 1944. In the ensuing seven decades, customer service, brand building, innovation and teamwork have been hard coded into the company's DNA.
"We cut our teeth on beer, and we were still beer-only until 2011," Pirrung says. "Our customers asked us to expand our industry leading service and support to other categories, including wines, liquors and soft drinks. Many of our customers were not receiving the support they needed in those categories; we saw an opportunity to further our relationships with our existing customers. Making friends is our business."
Responding to Demand
Helping spur growth opportunities for Atlanta Beverage Company is the ongoing growth and evolution of Atlanta and nearby communities. Today, the region has a more diverse and less price sensitive consumer base. Although this has increased competition, Atlanta Beverage Company's core business of selling and marketing Anheuser-Busch brands is augmented by also offering a full suite of beverage products to support its existing customers.
"Our customers want everything from water for their hourly staff to artisan booze catered to elusive patrons with sophisticated palates, and we've been able to excel because we can provide these products with high quality, dependable sales and operational service," Pirrung says. "Getting into more categories helps us support our customers more completely."
In the last few years, Atlanta Beverage Company has learned the many differences between distributing beer versus distributing liquor, wine and non-alcoholics. The products are governed by different pricing structures and regulations.
"Operationally you need to understand things like picking by the bottle instead of cases, delivering $100 cases of spirits on the same truck as $10 cases of chocolate milk, and managing not only SKUs but vintages," Pirrung says. "We needed to improve our operational infrastructure, and we needed to train our people on what it takes to sell the full portfolio. This has required investing in building our knowledge base."
Even in its traditional beer sector, the explosion of craft beers has required adaptation and training. Many of the new products coming out of the macro and craft breweries alike require a great deal of knowledge to sell. The days of just asking for an order are long gone.
"The key is understanding the value a product has to provide to customers and its place in your portfolio for it to succeed in the marketplace," Pirrung says. "You then have to back that up with great service and the infrastructure to deliver."
Understanding the importance of due diligence has helped Atlanta Beverage Company make sure it is partnering up with the right suppliers in the niche markets. The company looks for brands that complement its existing offerings and will help it compete and provide value to retailers.
"We are very choosy up front to be sure we can support them," Pirrung says. "As a distributor, we have to provide the retail customer with solutions that will help them build their business. We also need strong market data so we know what is working in our market. It is about adding strategically to the portfolio."
Back to the Basics
Not surprisingly, technology is important to Atlanta Beverage Company. It has invested in resources that provide its salespeople with easy access to information on product details and pricing. Technology also helps the company oversee its distribution efforts. All of this is critical to the element that most defines Atlanta Beverage Company: service.
"We don't brew the beer, grow the grapes or distill spirits," Pirrung says. "Our core service is service. We are here to grow our brands and help retailers to grow. That is why we have been investing in operations and sales so service levels are really high. We use a third-party customer service company that surveys our retailers on our performance, and we pay attention to those results."
As its market continues to grow, Atlanta Beverage Company feels its challenges are fairly straightforward. Consumer demand remains high when it comes to exploring new products and seeing what is new. At the same time, some products remain staples in the industry and have a high market share. All of this means Atlanta Beverage Company has to monitor its SKUs and make the right choices from major suppliers and smaller suppliers to find the right product balance.
"We must be valuable to the retailers so we can help them grow through offering products, service, and support that helps them grow their businesses," Pirrung says. "We have 7,000 retail partners, and we must continue to build on our service strengths to ensure strong partnerships. Fortunately, we have a strong and diverse employee base, and we are focused on customer service, brand building, innovation, and teamwork. Maintaining and strengthening that culture will help us grow, it is a valuable asset and a key part of providing great service."