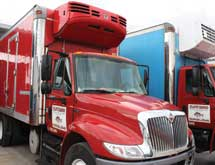 Atlantic Seafood Co. of Hampstead, N.C., follows a very simple philosophy when doing business: "We treat people the way we want to be treated," Secretary and Treasurer Joseph J. Smith Jr. says. It is this simple philosophy that has served Atlantic Seafood so well throughout its 46 years in business as a wholesaler and distributor of fresh and frozen seafood within a seven-state area of the East Coast and southern United States.
The company also buys frozen seafood throughout the world. "We get the majority of our business through word of mouth," Smith says. "Our customers know we sell quality products: if we won't eat it, we won't sell it."
This is a company that knows its seafood. Atlantic Seafood was founded by Smith Jr.'s father, Joseph J. Smith Sr., and two uncles – William Ramp Smith and Thomas Smith. The elder Smiths began as commercial fishermen, a vocation they learned from their father. Because they had a firm understanding of distributing fresh seafood and had a substantial network of suppliers, the Smiths decided to open Atlantic Seafood in 1964.
The company has seen growth every year since its inception. Atlantic Seafood is one of the largest seafood dealers on the East Coast distributing hundreds of different species of seafood. At present, the company, "sells everything except live lobster," Smith says, although plans to add that capability are currently in the works.
The family owned and operated business is headed by Smith's sons, with Joseph J. Smith III, serving as president and Jeffery Scott Smith as vice president. They consider their staff part of a close-knit family that cares about one another and the hard work they do. The principals proudly admit that they have excellent staff retention, adding that they have members who have worked at Atlantic Seafood for more than 40 years. "We have very little turnover in staff," Smith says.
Additionally, this caring attitude has caused Atlantic Seafood to develop an outstanding reputation for quality among its suppliers. "We care about our suppliers' operations," Smith says. "We pay our suppliers fast, which in this day and age, is very important to their financial survival."
Atlantic Seafood sells fish to retail markets, restaurants and wholesale distributors. Fresh fish is delivered within hours of being caught. The company maintains its own motor pool of refrigerated trucks to distribute its fresh fish to cities throughout Maryland, Washington, D.C., North Carolina, South Carolina, Georgia, Florida and Virginia. "We try to provide our services to every city in every state we serve," Smith says.
Atlantic Seafood plans to build an extensive freezer facility to accommodate its customers' increased demands. Smith says its operation can bring in and ship out up to 300,000 pounds of fish in a single week.
A newly opened retail location sells seafood to the public, Smith says. The company's frozen food operation purchases fish from international markets.
Smith III says although Atlantic Seafood continues to gain customers,  domestic laws and regulations are hindering its suppliers' fishing operations. "At various times, our suppliers are given directives not to catch certain fish, due to conservation efforts," Smith explains.
"Many times, the data collected are based on a one-day survey in the location of the scientists' choice who won't heed the advice of the fishermen in determining where the fish actually are. This causes the data to be skewed."
Smith III says there is a natural ebb and flow of fish numbers based on the seasons, which should also be considered by the scientists gathering data. Jeffery Smith says, "to combat this lack of locally available seafood, Atlantic Seafood purchases fish – such as grouper, snapper, bass, whiting, flounder, trout, tilapia and shrimp – from international vendors in places like South America and China and ships it frozen up and down the East Coast."
The company has expanded its presence and customer base by acquiring J.H. Lea & Sons, a fish wholesale operation also located in Hampstead, N.C. With this purchase, Atlantic Seafood has cemented its position as one of the largest fresh and frozen seafood suppliers in the southeastern United States.