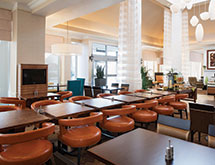 Hotels understand that to attract guests, the primary focus must be comfort. There is a lot that goes into that, of course – the quality of the room and furnishings, the level of service provided and the availability of amenities, to name a few – but for guests traveling for business or pleasure, they want to be comfortable and feel well taken care of. This goes beyond a good night's sleep, however, and Atlific Hotels understands that meeting the needs of guests' stomachs is a major part of an overall quality experience.
In business for more than 50 years, Atlific Hotels owns and/or manages more than 60 properties throughout Canada, from Newfoundland to British Columbia. The company's goal is to improve "each hotel's top-line marketplace performance while delivering long-term financial benefits to property owners." It works with brands such as Hilton Worldwide, Marriott Hotels & Resorts, InterContinental Hotels Group, Starwood Hotels & Resorts, Choice Hotels and Best Western. Atlific Hotels was named Company of the Year in 2009 and one of the Top 50 Shining Stars in 2012 by Hotelier Magazine, and its food and beverage operations play a large part in that success.
"Our properties range from full-service to select-service, and we cover everything from full restaurants to catering, banquet halls and just breakfast programs," explains Robert Hood, corporate food and beverage manager. "Brand compliance is big for us because we are governed by franchise standards of the different brands that we manage. Our job is to make sure each property is adhering to the standards of each brand, and some have extensive quality assurance processes. In terms of the select-service and independent properties, the menus are executed efficiently and cost-effectively so we can make a profit."
Hood has worked in the hospitality industry for 20 years and has spent 14 of them with Atlific. From a food and beverage standpoint, the unique challenges faced by Atlific are the huge property diversity – from four-star hotels to select-service rural properties – as well as the extremely broad customer base and ever-changing range of offerings. Hood explains that when he came to the company, purchasing and logistics were "all over the place" and costs were not streamlined. For example, some properties would work with one brand, while different brands served other properties. Organizing this system and making it efficient was a challenge, but Hood takes pride in how the company's food and beverage business now operates.
"Our food procurement is managed by Foodbuy Canada, which helps each region meet the needs of that particular market," he says. "With distribution, we established a very efficient base that keeps transportation costs low and delivers on time. We also created the MOG – managed order guide – which is regionalized. This allows us to get the best possible produce and best possible products at the best possible prices, and it has stabilized our food costs. With our beverage program, we work with national companies and standardized the contract so each property can buy at the same price."
Unlimited Creativity
Streamlining the business to ensure the food and beverage programs remain efficient and cost effective is major work, but at the same time, quality remains Atlific Hotels' primary focus across all of its brands and properties. The efficiencies go into Atlific Hotels' quality focus in that they help the company better control quality, but each region also must do all it can to ensure the local properties are meeting the needs of that particular market.
"I have a team of amazing culinary leaders and each of them specializes in their location," Hood says. "They create menus that are regionally appealing and offer menu items that appeal to the consumer but also constantly evolve. They are focused on quality, but to ensure efficiency, they have to buy 85 percent of their product through the MOG. The other 15 percent is dedicated to regional ingredients. This allows us to balance the mass procurement of generics and still allow the properties to have the ability to specialize their menus. It works very efficiently while keeping consistent costs and offering a variety of menus."
Atlific understands its food and beverage program must constantly evolve to meet the changing tastes of guests, and its system allows the properties to adapt their menus and meet specific brand standards while keeping costs in line. Hood explains that at the Westin Montreal, which is a Starwood property, the hotel must follow specific brand requirements, but it also is focused on farm-to-table-type menus. "We keep it stylistic in a way that's unique to that province, but it's still cost-effective," he says. On Canada's West Coast, he notes, the properties' menus have more of a seafood emphasis, but they still remain within the Atlific procurement structure.
"Our system allows the culinarians to create a menu for a specific guest base or for the needs of the region – they have a cost base but we do not limit their creativity," he says. "The properties are constantly evolving the food and beverages purchases to be as regionally accepted as possible. We do all we can to ensure the culinarians have all the tools they need to execute their menus on site."
Contributing to Growth
Atlific Hotels strives to deliver the best quality while keeping costs in line, but service also is a major part of ensuring guests are comfortable and have the best possible experiences at its properties. Hood takes pride in the fact that his team is as focused on service as any concierge or member of a hotel's front desk staff.
"I have an incredible team, and everyone is very dedicated to ensuring the service level continually evolves," he says. "Our goal is to always exceed guests' expectations, and that is our goal whether the property is running a quick-service restaurant or catering operation or continental breakfast or full-service dining.
"Our professionals constantly evaluate each property's programs to ensure the associates are motivated to ensure guests have great experiences," Hood continues. "Food and beverage is paramount of the overall guest experience, and that involves service, quality and presentation."
Atlific is one of Canada's fastest-growing hotel management companies, and Hood and his team understand how much a quality, efficient and cost-effective food and beverage program is part of that ongoing growth. By remaining focused on delivering best-in-class service, quality menus and experiences, Hood is confident of the food and beverage program's continued role in Atlific's success.
"All of our culinarians are incredibly dedicated to what they do – they know their work helps ensure guests will return to stay at the properties," he says. "We are always working to deliver best-in-class service and quality. We want to deliver the most cost-efficient, profitable and regionally appealing menus to our guests and our teams are amazingly committed to this process; their level is really unsurpassed.",