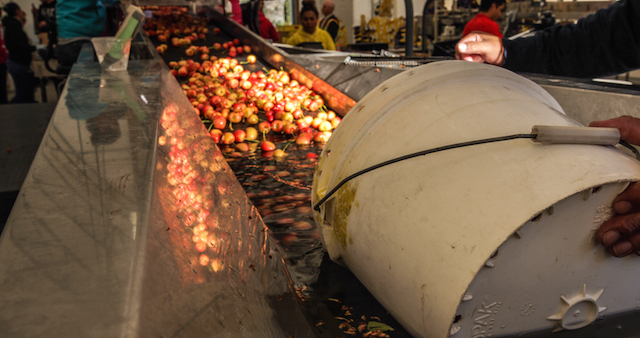 Auvil Fruit has a reputation for quality apples and cherries.
For 88 years, the fruit inside the bright yellow boxes with the "GEE WHIZ since 1928" big red oval on their sides have been synonymous with quality. "When our customers see them, they know and recognize the quality we produce," says Lee Arthur, director of brand and marketing for Auvil Fruit Co. Inc.
Orondo, Wash.-based Auvil Fruit grows many varieties of apples and cherries. Founder Grady Auvil started the company in 1928 and created the company's "GEE WHIZ since 1928" slogan when a friend told him his products were so good, people would say, "Gee whiz, that's a good piece of fruit."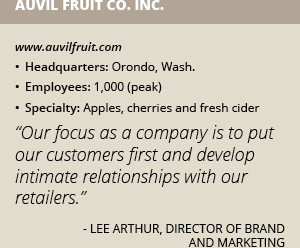 Today, the majority of Auvil Fruit's business involves growing apples. "Fifty percent of our crop consists of Granny Smith apples," Arthur says. "Grady made his mark by being the first to commercially produce Granny Smith and Fuji apples in the United States." He was also the first to commercially grow and pack Rainier Cherries."
Auvil Fruit also thrives by growing and packing all its own fruit. "We don't have any outside growers," he says. "The key to our long term success has always been being able to manage fruit from the dirt to the retail store. We have authority over what goes in each and every box."
The company also has a worldwide reach, Arthur says. "We service retailers throughout the United States, Mexico and Canada," he says. "We also have a large export business which [touches] Japan, China, Malaysia, Taiwan and Indonesia. Our label is recognized worldwide."
Refined Growers
Auvil Fruit is a specialty grower within its market, Arthur says. "We don't have a full manifest like a lot of growers have, but we are moving in that direction of having a more robust offering to accommodate our customers," he says. "Our offering is a bit more discerning based off of our customer's feedback.
Its operation also is state-of-the-art. "We're a very technically advanced grower," Arthur says. "We grow apples on a trellis much like many farmers grow grapes, which allows for better growing conditions and increased flavor and orchard productivity.
"We do have a mechanized packing facility, but we rely on the eyes of our team members to determine what goes in the box." he continues, noting that Auvil Fruit fills up to three million boxes annually. "We're very purposeful."
Being Better
"Our biggest challenge is staying ahead of what everybody else is doing and making sure that we stay true to our concept," Arthur says. "Over the years many growers have looked at what we're doing and mimicked that growing practice.
"This industry is one of sharing of ideas to produce a better product," he says. "Washington apple growers have a shared fate in getting the best fruit to the consumer, and remaining competitive to our retail customers.
"Our challenge is constantly reinventing ourselves, and understanding what the ever-changing consumer wants from their apple purchases," he says. "Because we are a small grower compared to the more expansive orchards, this allows us to examine every piece of our process and make the necessary improvements."
Setting Standards
"All our team members display an unmatched commitment to the success of the company," Arthur says. "People genuinely care about one another and everybody contributes. The analogy that best describes our company is the fact that everyone here pulls on the same end of the rope."
Arthur praises Auvil Fruit's president of packing and facilities, Walt Hough. "He's the innovator behind all the mechanical engineering programs and processes in the facilities as well as in the orchard," he says. "Walt is one of the biggest proponents of change leadership in the organization, and strives to keep Auvil Fruit Co. on the cutting edge of continuous improvement."
Grower Del Feigal also has excelled by continuing to set company standards, just as founder Grady Auvil did before him. "He's taken over where Grady left off and carried the torch to create differentiation and innovation," Arthur says. "He's a firm believer in what Grady set out to do."
"His ability to see flavor in the orchard, and know when the fruit is ready to pick, give us the flavor advantage," Arthur says. "Del exemplifies 'Where Passion Meets Flavor' every day." This includes using techniques as ground warming for certain varieties and overhead cooling of the orchards for others. "The use of shade cloth in all of our orchards further assists in controlling sunburn issues while allowing consistent light disbursement to our trees. The cloth further protects the trees from bird and some insects, which improves the flavor of the apples by reducing the stress on the trees," Arthur says.
"Intense sun is not the best thing for an apple anyway," he continues. "It causes the tree to become stressed which impacts the flavor of the fruit in a negative way."
Aiming to Grow
"We have a very impressive growth plan for the next five to 10 years," Arthur says. "This includes purchasing more acreage, acquisition of orchards in production, improving our current orchards, and developing a strong branding and marketing program.
"We've got about 1,800 acres in the ground in full production currently, and an additional 1,200 more that are being prepared to plant," Arthur says.
"Our branding/marketing program launch this year is very aggressive and customer facing with its intent," he says. "Launch of our new website, re-branding of all of our current packing, 'tell the story' cinematography videos, and community event and support, are many ways we are accelerating our focus. Our new tagline 'Where Passion Meets Flavor' has shaped and defined who we are and what we stand for in the coming years."
Community involvement
"Auvil Fruit Co. is excited to contribute to our community and give back to our customers each year with product and donations," Director of Brand and Marketing Lee Arthur says. This includes sponsoring the remodel of an existing gym for Wenatchee Valley College in Wenatchee, Wash. "We're also sponsoring a soccer program with the Orondo School and the Wenatchee Valley Soccer Club," he says. "We also sponsor many small charity organizations where we donate cider and apples to provide income for their specific events such as Young Life."