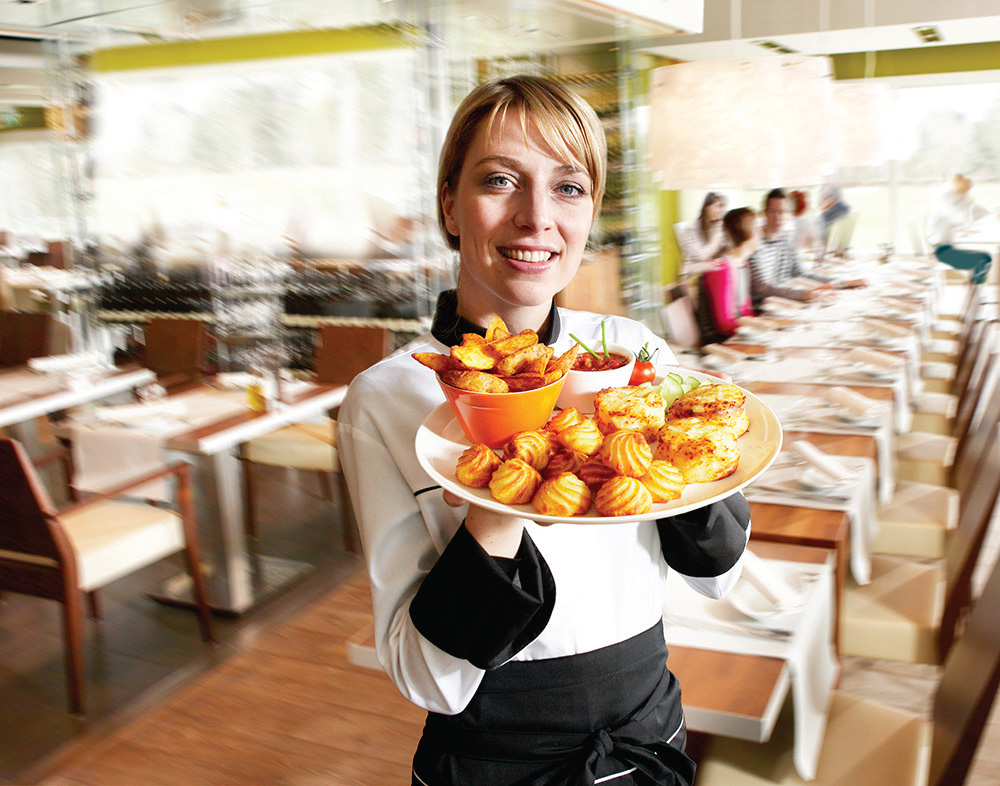 Hot potato
Aviko is currently one of the world's top four potato processors and is determined to stay on top of its game
Established in 1962, using mainly manual processes, by 1999, Aviko had achieved a turnover of 425 million euros, and was processing a total of 1.4 million tonnes of potatoes in its eight production plants.
Since it was established, the company has witnessed a number of acquisitions and significant investments, including the acquisition of five potato-processing companies in Sweden, Spain and Belgium. This grew the portfolio to include a complete new and diverse range of potato specialities and potato-based snacks and appetisers. In 2002 it was taken over by Royal Cosun. Aviko has also commenced production in China, serving this new global economic power with a tailor made product range.
The breadth of the Aviko product range is proof of what the company regards as 'value creation' from the potato. To this end, Aviko constantly invests heavily in product innovation and business development. With its passion for the potato as the starting point, a team of marketers, product developers, business developers and process engineers is constantly creating new, surprising and tasty products.
Each new product is the result of well-thought-through starting points. A new concept allows Aviko to exploit the product to the full in a specific application or situation. This ensures value-added both for the consumer and for professional customers.
"Over 30 per cent of our turnover in the Dutch, French and central European consumer markets is derived from products Aviko has introduced over the past four years," comments Bert Jan-Loman, the deputy managing director of sales at Aviko. "Most recently, we have developed large jacket potatoes, super mash butter & milk, vegetable burgers, AppetizZzers, creamy gratins and mash in unique compositions, catering to key and strategic partners in the foodservice sector.
"The dedication put into R&D by Aviko is appreciated by 400,000 households in the Netherlands, which choose Aviko products every day. Outside of the Netherlands, millions of consumers eat Aviko products, which reach them through thousands of different food outlets. Our customers include both very large international groups and smaller-scale local organisations in foodservice and retail."
He continues: "When it comes to fresh French fries, Aviko is the undisputed number one producer in the world, and has a very close-knit network, which enables it to deliver throughout the whole of Europe every day. It is unique in its class. Combined with the full range of specialities like pre-cooked and steamed fresh products, we provide our partners a one-stop-shipping offer with significant logistic advantages in supply and cost."
There are many reasons why Aviko's fries are chosen by such a large number of consumers – they are of consistent quality throughout the year and are geared around local habits and tastes. Aviko's quality means that the products ensure better yield and more servings, and importantly, they are lengthy and crispy and have a unique appetising golden colour. With a long shelf life of 21 days and numerous cut sizes to choose from, Aviko's fries are a natural choice for retailers and food service organisations.
Indeed, in Europe, Aviko is a business partner to seven of the ten biggest retailers in Europe and to the top European food service organisations. It has a very strong market position in European retail markets, with an extremely high level of distribution and brand awareness in the markets where Aviko dominates brand-leading positions.
With a knowledge of and a feel for European diversity, Aviko is excellently placed to understand local needs from a European perspective. "Aviko is therefore responding to the typical European eating culture in which the emphasis is on 'chilled', and our recent acquisitions reflect this further. Over the last 40 years we have built up a large and loyal customer base in the retail, foodservice and industrial processing sectors. Customers that we have gained through our recent acquisitions have also benefited from an easy access and constant supply of Aviko's potato products through our multi-channel shopping platform."
An excellent potato is the starting point for every Aviko product and the company only describes potatoes as 'excellent' if they satisfy a whole series of criteria. In order for potatoes to be suitable for processing into pre-fried potato products, they must meet a whole range of specific requirements:
Tuber shape and tuber length
Dry matter content
Sugars that turn brown
Susceptibility to grey discoloration
Absence of disease and flaws
Good quality raw materials depend to a large extent on the quality of the grower. The Aviko subsidiary, Aviko Potato, is the interface between Aviko and the growers, and is 100 per cent owned by Aviko. To be selected by the company as a grower means suppliers have to fit a selection of criteria, including professionalism, using a minimum of pesticides and sharing a love for horticulture and a respect for craftsmanship. More than 2000 top growers, in the Netherlands in particular, but also in Germany, France, Spain, Sweden, Belgium and Poland, have passed this test and supply this most important raw material to the highest quality standards.
Aviko has invested heavily in covering its raw material requirements in various geographic areas in Europe. The potato is a natural product and its availability and quality varies from year-to-year and from area-to-area.
"The best raw materials for the best products require good care right from the beginning of the production chain. That is why Aviko actively invests in cultivation support, particularly via its subsidiary, Aviko Potato, with its headquarters in the middle of the largest potato growing area in the Netherlands," says Bert-Jan. "Cultivation programmes for registered, controlled and certified potato cultivation have been part of Aviko's activities for several years now. Our proactive approach ensures better control of quality and food safety aspects of the raw material."
In order to deliver consistently high quality all year round, Aviko has to use different potato varieties. The most important characteristics that Aviko looks for differ depending on the variety and the harvest year. For example, the colour of the flesh of the potato and, of course, the taste are important factors. Each variety chosen by Aviko has its own specific characteristics and again illustrates the company's dedication to selecting only the finest raw materials to process into one of its delicious products.
As the primary ingredient for Aviko's produce is the potato, a natural product, Aviko feels closely related to nature, and feels obligated to treat the environment with respect. Bert-Jan elaborates: "Anticipating on changing climates, Aviko takes a forward view with sustainable motivations. This means we take a 'green' approach where possible – for instance, when processing approximately 1.7 million tonnes of potatoes into about 750,000 tonnes of fresh, frozen and dried potato products, we are left with over 200,000 tonnes of peel. However, this is recycled through our cattle feed company, Duynie, which sells this to cattle farms. Potato is a environmentally friendly and low water consuming plant that should be considered as sustainable."
Production on the scale that Aviko works to also uses considerable energy, which the company tries to minimise through the use of its own combined heat and power station. The combined generation of electricity and steam is a very economical way of generating energy, and enables Aviko to make energy savings of as much as 25 per cent compared with the amount of electricity it would have had have taken from the grid.
Aviko has made the strategic decision to contribute to a better environment, and is constantly working to improve energy and water consumption even further, reduce the amount of packaging it uses, and reduce frying odours. The company applies the same standards of high quality to its own performance, as it does to its products. In this way, customers, staff, and the wider community all see the benefits.
Looking ahead, Bert-Jan highlights how continuous investments in IT and supply chain have meant that Aviko is today an efficient and effective multi-service oriented company that has received great reception for its ambitions. "For many years we have received rave reviews from all our 250 customers in five different countries who have declared Aviko to be honest, reliable and very service oriented in our approach. Although it proves that we have got it right all these years, we have never been complacent with our achievements. All these reviews say to us that Aviko
is on the right track – and we intend to stay on it," he concludes.